Mulholland Challenge Century KOM #1 of 3

04-13-09, 08:46 PM
www.ocrebels.com
Join Date: Aug 2006
Location: Los Angeles area
Posts: 6,189
Bikes: Several bikes, Road, Mountain, Commute, etc.
Mentioned: 1 Post(s)
Tagged: 0 Thread(s)
Quoted: 83 Post(s)
Likes: 0
Liked 0 Times in 0 Posts
Mulholland Challenge Century KOM #1 of 3
---
The Mulholland Challenge
by Planet Ultra
April 11, 2009
Why Do This?
For the past several years, Planet Ultra, along with Santiago Cycling, has sponsored a series of three rides, which comprise the King of the Mountains competition. Anyone who completes all three centuries within the time limits, and without any penalties, is allowed to buy the coveted King of the Mountains (or Queen of the Mountains for the ladies) jersey, shorts, vest, etc.
So, you may be thinking, "Let me get this straight . . . You say you pay the entry fees, suffer the pain of these rides with horrendous amounts of climbing, then if you do it all within the time limits you get to BUY the kit? Is that right?" Yes, actually, that's about it!
Three Parts of KOM
The Mulholland Challenge is the first event of the KOM season, Breathless Agony (presented by Santiago Cycling) the middle, and the Heartbreak Hundred (another Planet Ultra event) is the final KOM event each year. I've done Breathless three times, so I'm not worried about that, and I rode Heartbreak last year, even though the weather was mostly frozen, but I'd never tried the Mulholland Century. Actually, I'd tried it as a Double Century last year, and dropped out at mile 167 totally dehydrated. Well, almost totally. So zippo credit for that! This year I revised my goals downward, and decided to try for the Century instead. Not that it would be easy, with 101 miles and 12,000 feet of climbing (as advertised), but still, I thought it would be do-able within the 11-1/2 hour time limit.
Photos Before the Start
Some of my club-mates (Rebels) drove out to Calabasas the day of the event, others (like myself) stayed overnight, but in either case, most were ready to ride at the earliest start time of 6:30 AM. The good news is that it was light by this time, the bad news was that it was cold (about 42 deg.F) and likely to get colder on the descent of Las Virgenes Canyon Road. I was wandering around with my camera at the start, so please note the soon to be frozen Rebels (and other colorfully kitted riders) awaiting the start in the following photos. The photo with me in it was taken by David Slaton.
Pre-Start, Linda, Rick@OCRR, Paul, Keith and Elise
Freezer Effects
Once "signed out" by one of the time keepers, everyone was free to cycle off, right out of the base hotel (Good Nite Inn) on to Agora Road, left on Lost Hills, then right on Las Virgenes to become the most frozen we would be all day. One guy I was riding with had a thermometer on his bike computer, and it was reading 33 deg.F on this descent, so even if that was off by a degree or two, it was still very cold! Eventually Las Virgenes becomes Malibu Canyon Road, we ride through the tunnel, and the temperature goes up dramatically. By that, I mean up into the high 40's or low 50's, which is quite livable by comparison!
The First Climbs
A short ride on Civic Center in Malibu (at the light) to Cross Creek, and finally a left turn onto Pacific Coast Highway (PCH) for a delightful 6 mile cruise down the coast, to a left on Topanga Canyon, where you begin the first real climb of the day. Honestly, Topanga is not very steep, and is a good warm up. Not that much sunshine is really reaching the road surface yet, but its mostly an easy climb (3% average) with two noticeable blips into the 7 and 8% range. From there it's six miles on Old Topanga, then a left turn onto Mulholland Highway, where we will spend the next 21 miles riding up some wonderful climbs, down some equally wonderful descents, broken up by the first "sticker stop" at mile 27.6. There will be six different "sticker stops" throughout our route today, just to verify that we have, in fact, ridden the correct course, and have not taken any of the short-cuts that could (read "do") exist throughout the Santa Monica Mountains. My event number (pinned to my Camelback) was properly stickered by Tom Parkes, and I proceeded on my way.
First Checkpoint
The first real Checkpoint was at Peter Strauss Ranch, at mile 39.9, and while it wasn't a "sticker stop" on the way out, it would be on the way back, later on this afternoon. As I rolled into the Peter Strauss checkpoint, I heard Lynn Katano call out, "Hey Rick, can you fix this guy's derailluer?" Not what I had in mind at what I hoped would be a quick Checkpoint stop, but whatever . . . "Sure Lynn, no problem!" I replied. It turned out that this gentleman couldn't get into his high gears in back (which he called "low gears"), due to his derailluer cable being too tight. I told him, "Get a 5 mm Allen, loosen this right here (I showed him where), pull the cable back, re-tighten and you'll be fine. I went off to fill my Camelback, and when I returned, he wasn't fine. His high gears worked now, but his low gears didn't. Yes, he'd loosened the cable too much. So I just twisted the adjuster on the rear derailluer five or six turns (yes, really), until he could get his low gears too. Then he was a happy camper!
Checkpoint Duties
Okay, so balaclava, jacket, glove liners off and into jersey pockets (yes, the day was warming up!), Camelback filled with Sustained Energy and Chocolate Hammer Gel (plus water), and I'm off to some of the most difficult climbs on Mulholland Highway. This next bit after Peter Strauss, after the Rock Store, has some very steep sections, so I was using my triple (30t x 25t-27t) fairly often, keeping in mind that I had something over 12,000 feet to climb before this was all over, and wanting to conserve energy at this relatively early hour. I passed Linda and Julie along here, riding a medium speed, passing some riders, being passed by others, everyone still in a positive mood, as far as I could tell.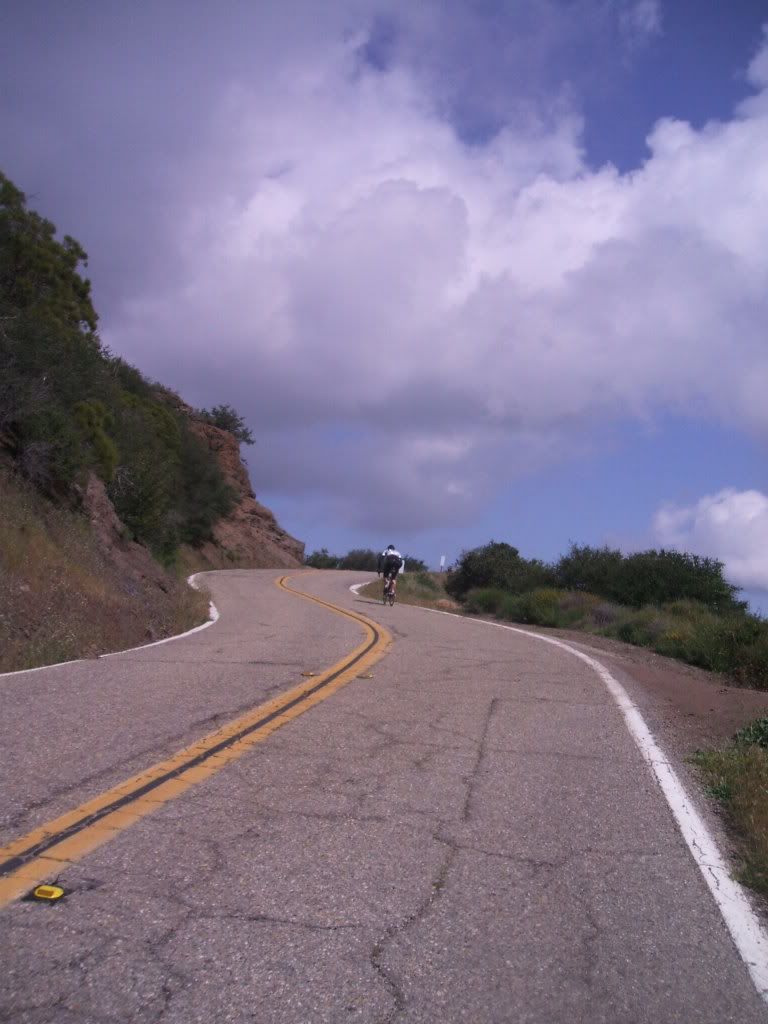 Climbing Cotharin and Descending Deer Creek
Cotharin was the next major climbing effort, just after the 2nd "sticker stop" (where I happened to see Joey for the first time), and after a rather bumpy descent on Yerba Buena. Cotharin has several very steep sections, so I was back in the 30t "Granny" gear again, still lots of other riders around, but overall the road was not too bad with some delightful twisties (some even had descents!) to make the ride quite interesting indeed. Once Cotharin became Deer Creek, however, the descent became very bumpy (horrible road surface disintegration) while at the same time transitioning to Very Steep. On long descents like this, steep (of course) equals fast, yet to maintain bike control on the undulating surface required the often heavy use of brakes. As an added incentive to keep things "under control" your right side peripheral vision was mostly The Pacific Ocean, i.e. that's about where you'd be if you got in all wrong and went off the road on one of these sharp corners. A sobering thought.
Sticker Stop #3
Eventually, I did make it down Deer Creek without overheating my brakes, or going off the road, finding my way to "sticker stop" number 3 at the bottom of Deer Creek and (almost) PCH. A left turn onto PCH brought me into a noticeable head wind, but the otherwise relatively flat bit of roadway was a pleasant change from the constant up and down I'd experienced for most of the morning. So here I was at mile 62.1, over half way, but still with some of the most daunting climbs yet to come. The first of these was a 7 mile stretch of Mulholland Highway (yet again), this section from PCH at Leo Carrillo State Park, up to where Mulholland meets (The Dreaded) Decker Road. You may (or may not) remember Leo Carrillo from the TV series Cisco Kid, but in either case, that's who the park was named after. I just felt, somehow, you needed to know that! Regardless, and certainly not related in any way, the climb up that section certainly took its toll on my spirit. Yes, it did have a few descents thrown in, but it was mostly just up, and up, and more up, plus I was being passed by (what seemed like) a never-ending stream of young and skinny riders. Yes, I guess it would have been worse if they were old and fat and passing me, but still . . . it seemed to sap my spirit somewhat.
Note: See how skinny they are! Not fair!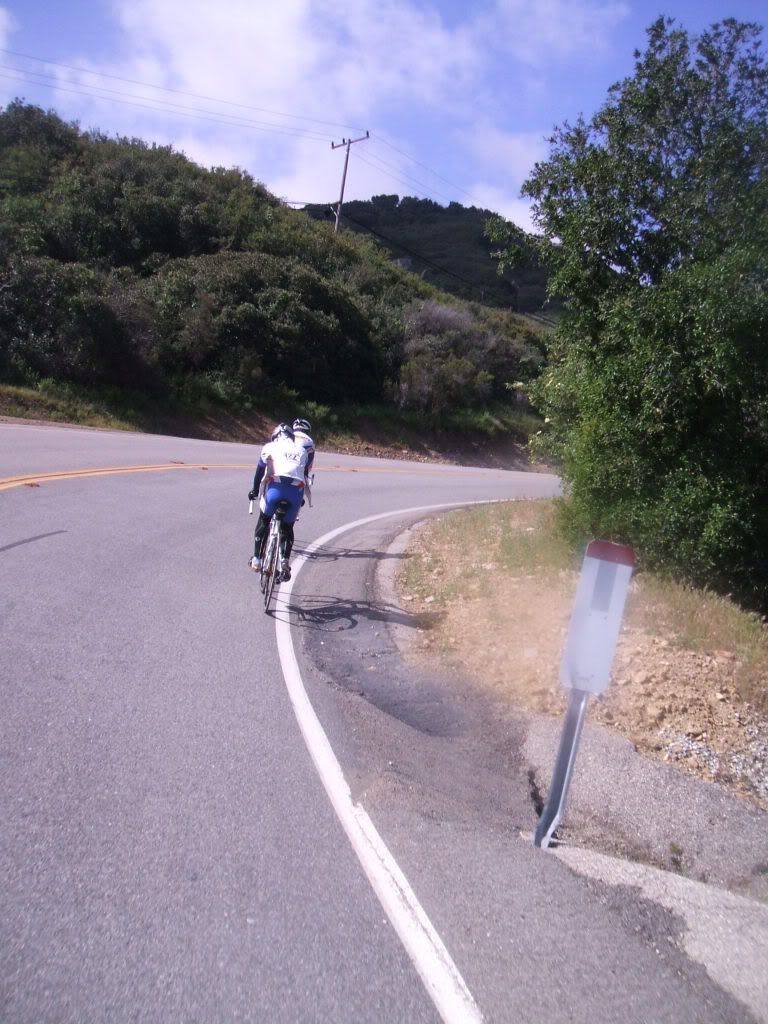 Decker Fire Station the First Time
Eventually, at long last, etc. I did make it to the top, with the next instruction being a right onto Decker, which I thought would be downhill; but no. It was, in fact, a mile climb to a short descent to the Fire Station, which was a Checkpoint and "sticker stop" number 4. There was a pretty good sized crowd when I arrived, yet I was able to get my sticker, fill my Camelback and water bottle, eat a banana or two and get on my way (back up the way I'd just come) without undue delays (no one's derailluer to adjust here!). From Upper Decker it was a right onto Encinal Canyon, which was a delightful drop down to PCH on beautiful pavement with sweeping turns and a wonderful change from the (seemingly) endless climb I'd just done. An Attractive Young Blonde Woman passed me along here, but otherwise this roadway seemed to be devoid of the endless ribbon of riders I'd seen elsewhere.
Back on PCH, then Up Decker
Once back on PCH it was a short hop (.06 mi.) to Hwy 23, otherwise known as The Dreaded Decker Canyon. Looking at the Big Picture, this was mile 79.6, so over on the good side of the ledger, just 20 miles to go. On the "less-good" side, Decker starts out Very Steep (I saw 16%) before tapering off to "Just Steep" (think 10 – 12%) for the first two miles. After that, it "levels off" to 6 and 7% for the remaining mile and a half for a total of 3.7 miles.
Attractive Young Blonde Woman, the start of Decker
Further up Decker (still Brutal)
The Brutality of Decker
I found myself right behind and occasionally beside the aforementioned Attractive Young Blonde Woman (who'd passed me on Encinal), on the first part of Decker, and I was amazed at how talkative she could be, whereas I was using all my breath to keep the bicycle upright! She was wearing Fast Friday kit, but we weren't going particularly fast at that time, certainly (see photo). Eventually I pulled ahead of her, and was left riding on my own, with the exception of (rarely) passing someone, or (more often) being passed by one of the afore noted "young and skinny" types. Decker had quite correctly lived up to it's label as "Brutal" so you can imagine my heartfelt joy upon seeing the Decker Fire Station in the distance, this time from the opposite angle (thankfully!). I saw Paul and Elise Haussler there (see photo), and persuaded Paul to take a photo of me (to prove to Jackie that I'd actually made it Up Decker), then I took photos of Linda Adams (relaxing upon her first visit to Decker Fire Station) and David Slaton who was taking a break from his SAG driving duties.
Me at the 2nd Decker Checkpoint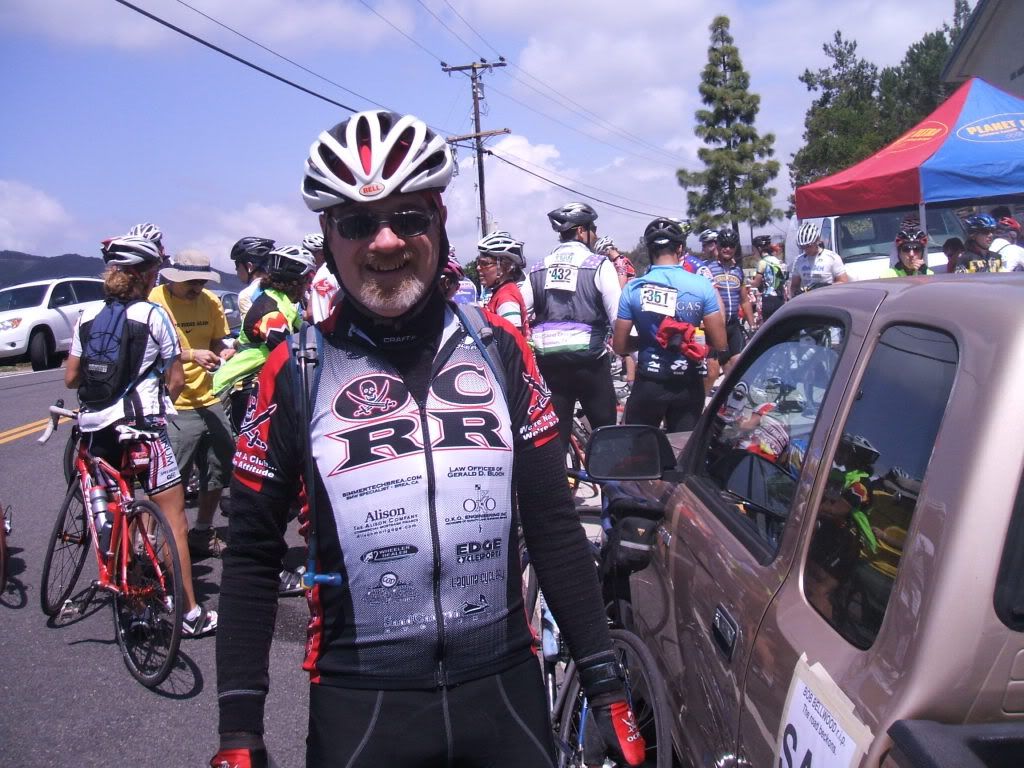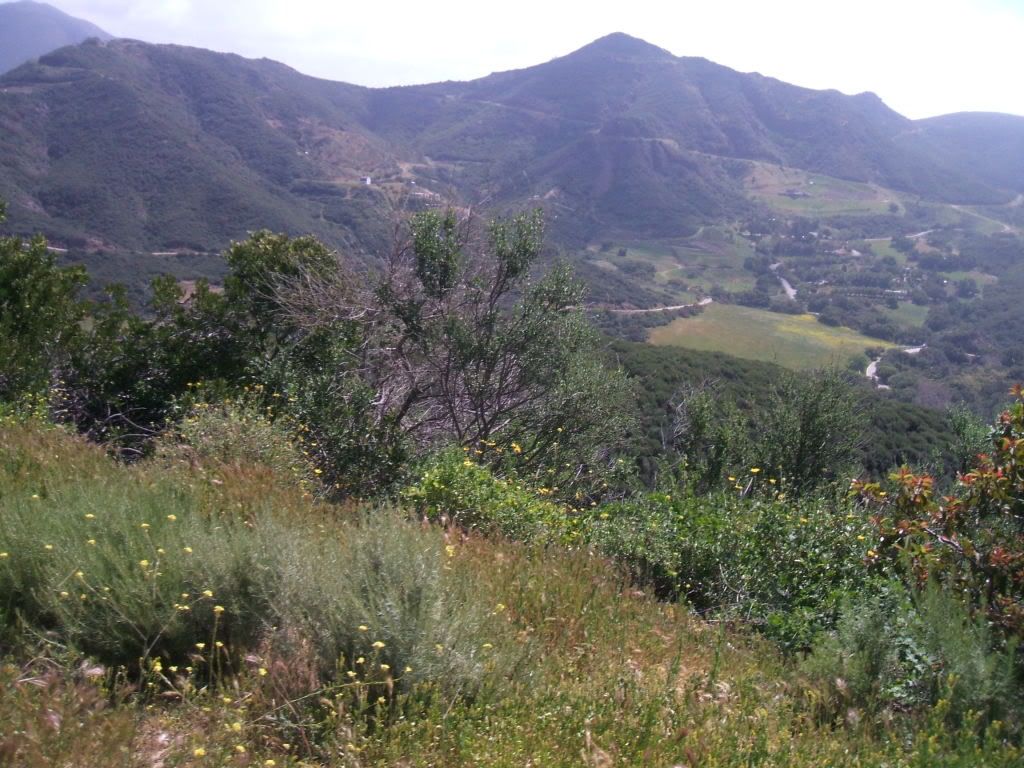 Feeling Good!
Of course it was time to collect another sticker (that would be number 5), leaving only one sticker remaining to be stuck to my event number. So yes, I was feeling good, with all of the Really Horrible Climbs behind me now, standing at mile 83.3 with only 17 (approx.) relatively easy miles to go. Yes, of course I was tired by this time, but I had a huge cushion on the time limit, and wasn't really hurting. A couple of times riding Decker I'd felt near cramping in my legs, but when I let off the pressure a bit that cramping feeling went away too. Plus, I was taking E-Caps at all the Checkpoints, so overall, no serious problems at all. From the second Decker stop, it was back onto the Mulholland Highway, this time riding in the opposite direction from this morning, heading back toward Peter Strauss Ranch to pick up my final sticker and visit the Final Checkpoint. Compared to my earlier visit, this time the Peter Strauss Checkpoint was almost deserted! One fine gentleman affixed the final sticker (#6) to my event number, then I went over to visit with Lynn Katano of the All Day Ordeal Gang and Brian Bowling of Planet Ultra.
Lynn Katano, the Mulholland Challenge Easter Bunny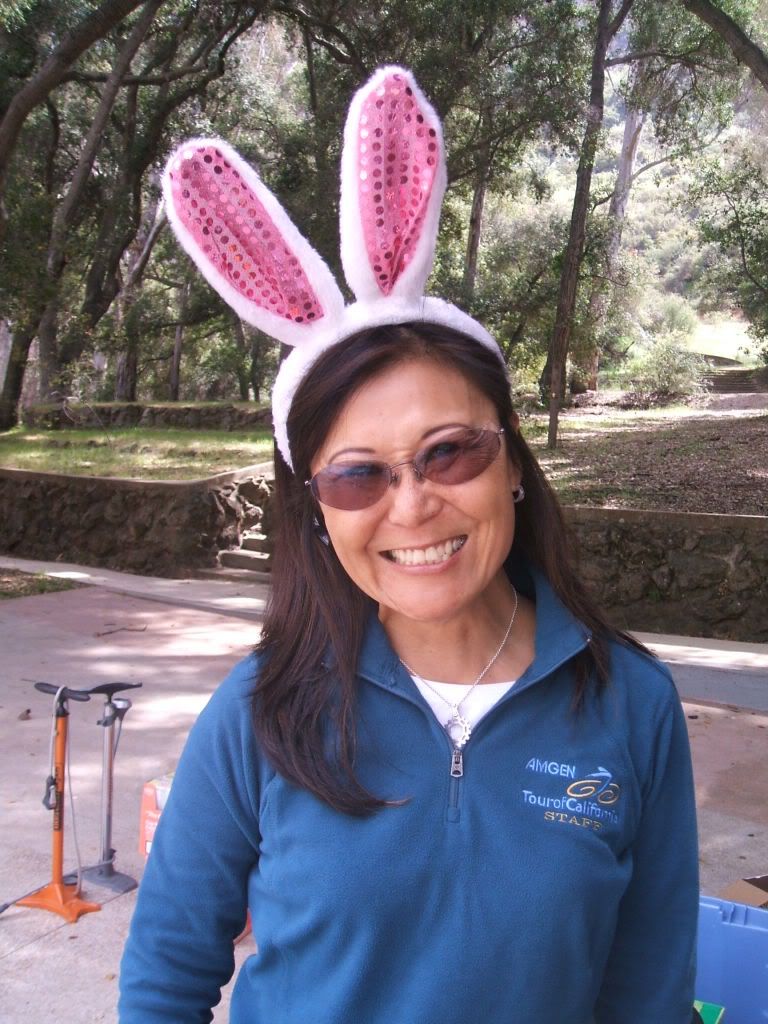 Time for the Easter Bunny!
Since this was the Day Before Easter, Lynn had an Easter Theme going, so please see the photos above of Lynn Katano as The Easter Bunny, and Brian Bowling as the Easter Bunny's Helper. Since you are now no doubt thinking, "Awe, too cute for words!" I won't waste any more words on that subject! Well, except to note that Lynn also had Marsh-Mellow "Peeps" in pink and yellow (your choice), something I'd never seen as Checkpoint Food before. After a nice visit and in no particular hurry, it was back on the bike for the final leg into the finish. There were three noticeable climbs, but not too severe, as noted in the photo below. I also came across an informational sign, which I found kind of amusing, since I'd been abusing my legs all day and I didn't even have a radio to tune into Visitor Information!
Finally the Finish
After Mulholland the route continued to be a reverse of this mornings, leading to the final left turn into the Parking Lot of the Good Nite Inn in Calabasas. I saw Terri Boykins getting ready to go out for SAG duties with Tom Parkes just as I rode in, so a quick hug for Terri, then back to the Planet Ultra "office" to sign in, right at 3:15 PM. Chuck Chen held onto my bike for me, as I scurried back to check in, so I managed to get a good Finish Photo of Chuck (see below) and fellow Rebel Joey the Mouth. I also hung around long enough to eat a Subway Sandwich (wouldn't be a Planet Ultra event without one!) and a few chips. Also saw Keith and Curt Christensen finish, Frank (Grumpy Pig from bikeforums.net), Rebel Frank Sesson and Brett, the friendly and knowledgeable sales person and mechanic from Two Wheeler Dealer in Brea.
Chuck Chen at the Finish
Post Finish
I probably spent a good hour and half just greeting riders I knew as they finished, plus talking to Chuck Chen, David Slaton, and whom ever else was around in the Finish Line area. My total time was 8 Hours 28 minutes (ride time 7:47). For more detailed information on the Mulholland Challenge and the KOM competition, please see the Planet Ultra website here:
http://www.planetultra.com/MulChallenge/index.htm
Thanks to Debbie and Brian of Planet Ultra for another excellent event, and a HUGE Thanks to all the volunteers at the Checkpoints and Sticker Stops throughout the day.
Orange County Rebel Rider
times:
Chuck Chen 7 Hours 00 Minutes
Rick Burneson 8 Hours 28 Minutes
Frank Sison 8 Hours 54 Minutes
Joe Guzzino 9 Hours 04 Minutes
Keith Christensen 9 Hours 05 Minutes
Curt Christensen 9 Hours 05 Minutes
Elise Haussler 10 Hours 04 Minutes
Linda Adams 10 Hours 17 Minutes
Julie Stokes 10 Hours 17 Minutes
Chuck Wentworth 10 Hours 23 Minutes
Rick / OCRR
---
Last edited by Rick@OCRR; 04-15-09 at

08:41 AM

.

04-13-09, 09:15 PM
Senior Member
Join Date: Sep 2006
Location: Bakersfield, Host of the 2012 ToC ITT
Posts: 1,747
Bikes: Waterford 2200
Mentioned: 0 Post(s)
Tagged: 0 Thread(s)
Quoted: 1 Post(s)
Likes: 0
Liked 0 Times in 0 Posts
Great write-up and job Rick!!!!!!! Are you doing the CCD?
__________________
Make mine a double!

04-13-09, 09:57 PM
www.ocrebels.com
Join Date: Aug 2006
Location: Los Angeles area
Posts: 6,189
Bikes: Several bikes, Road, Mountain, Commute, etc.
Mentioned: 1 Post(s)
Tagged: 0 Thread(s)
Quoted: 83 Post(s)
Likes: 0
Liked 0 Times in 0 Posts

04-14-09, 12:35 PM
feros ferio
Thanks for the writeup, Rick. I have fond (?) 1970s memories of Decker, Topanga, and Tuna Canyons, Mulholland Drive, and Rambla Pacifica. I never dared to descend Tuna, having heard horror stories of overheated rims and melted sewup cement.
__________________
"Far and away the best prize that life offers is the chance to work hard at work worth doing." --Theodore Roosevelt
Capo: 1959 Modell Campagnolo, S/N 40324
Capo: 1960 Sieger (2), S/N 42624, 42597
Peugeot: 1970 UO-8, S/N 0010468
Bianchi: 1982 Campione d'Italia, S/N 1.M9914
Schwinn: 1988 Project KOM-10, S/N F804069

04-14-09, 02:52 PM
www.ocrebels.com
Join Date: Aug 2006
Location: Los Angeles area
Posts: 6,189
Bikes: Several bikes, Road, Mountain, Commute, etc.
Mentioned: 1 Post(s)
Tagged: 0 Thread(s)
Quoted: 83 Post(s)
Likes: 0
Liked 0 Times in 0 Posts
Yes John E,

Climbing Tuna is tough, descending does heat up the brakes!

I've gone up Decker four times now, and it's getting just a tad bit easier because I know exactly what to expect on any given section of it.

Topanga, overall, pretty easy. I climbed Rambla Pacifica in the late 70's, descended it in the late 90's, but haven't been back for awhile. Good thing there are so many different roads in the Santa Monica Montains!

Rick / OCRR

04-14-09, 05:48 PM
Senior Member
Join Date: Sep 2006
Location: Bakersfield, Host of the 2012 ToC ITT
Posts: 1,747
Bikes: Waterford 2200
Mentioned: 0 Post(s)
Tagged: 0 Thread(s)
Quoted: 1 Post(s)
Likes: 0
Liked 0 Times in 0 Posts
I was hoping you would be there so I could read your write-up and see how much fun I had doing the ride.

__________________
Make mine a double!

04-14-09, 07:11 PM
Has coddling tendencies.
Join Date: Jul 2005
Location: Topanga Canyon
Posts: 8,352
Bikes: 2008 Blue RC8 w/ '09 Rival
Mentioned: 0 Post(s)
Tagged: 0 Thread(s)
Quoted: 0 Post(s)
Likes: 0
Liked 0 Times in 0 Posts
Excellent write-up and pictures! Thank you. My connection to the MC was riding on some of the same roads that day, plus stopping at the top of Stunt Road (last sticker stop for those on the double century) for a chat with the SAG folks. I can't even imagine what that must have been like to climb Stunt as the last climb of the day after 180 some miles already completed!
Don't know if this has been mentioned, but if you note the finishing times over on the
MC site
, all those young and skinny types certainly had a stiff challenge by the 50 and over group! Check out the top five finish times.

04-14-09, 07:54 PM
Senior Member
Rick, I had fun out there but I skipped the Decker loop. Self supported, I was about out of food and my stomach wasn't doing great. Turns out it was the right distance, I don't think I would have enjoyed Decker.
I thought maybe I would see you, but I guess you started earlier.

04-14-09, 09:31 PM
www.ocrebels.com
Join Date: Aug 2006
Location: Los Angeles area
Posts: 6,189
Bikes: Several bikes, Road, Mountain, Commute, etc.
Mentioned: 1 Post(s)
Tagged: 0 Thread(s)
Quoted: 83 Post(s)
Likes: 0
Liked 0 Times in 0 Posts
Hey
big john
.
Look at the third photo above, I think you were just ahead of me on PCH. But you were going faster, so I never caught you. Re: Decker, no, I don't think anyone has ever "enjoyed" it. Well . . . until it was over, then I enjoyed it being
over

!
I started at 6:45 and finished at 3:15 approx. and Debbie has a 8 Hour 28 minute time for me. Sounds about right! I did spend a lot of unnecessary time talking with Lynn and Brian at the last checkpoint, but I got my first KOM done, so I'm happy

.
My good friend Chuck Chen finished at 7 Hours even!
Rick / OCRR

04-15-09, 07:58 AM
Senior Member
I started at about 7:20 and I don't think I passed you, although I didn't go into any of the sticker stops. I carried food/Heed and I know where the faucets are up there. I was waiting a few times for my friends to catch up, and I waited a long time at the bottom of Deer Creek, then I saw them go by when I stopped at Neptune's Net!
I finished at 2:50 but I did skip the Decker loop, so you and I were probably traveling at the same speed.
My friend Keith finished in 6:01.

04-16-09, 09:10 AM
www.ocrebels.com
Join Date: Aug 2006
Location: Los Angeles area
Posts: 6,189
Bikes: Several bikes, Road, Mountain, Commute, etc.
Mentioned: 1 Post(s)
Tagged: 0 Thread(s)
Quoted: 83 Post(s)
Likes: 0
Liked 0 Times in 0 Posts
Hi
big john
,
Yes, I think I would have recognized you if I'd seen you pass me. Quite likely you passed me when I was at a Sticker Stop or a Checkpoint. Those sticker stops were usually pretty quick, although if it were a combined Sticker Stop and Checkpoint (w/food, etc.) then I no doubt stopped awhile longer!
Rick / OCRR
Thread
Thread Starter
Forum
Replies
Last Post

Posting Rules
You may not post new threads
You may not post replies
You may not post attachments
You may not edit your posts
---
HTML code is Off
---