Cheated the Wind, Kind Of

04-26-09, 09:12 PM
Senior Member
Join Date: Aug 2006
Location: Central Louisiana
Posts: 3,055
Mentioned: 0 Post(s)
Tagged: 0 Thread(s)
Quoted: 39 Post(s)
Likes: 0
Cheated the Wind, Kind Of
---
So on Wednesday, my buddy Ryan let's me know he wants to ride on Saturday. We come to a tentative agreement on a route. He's fairly new on the bike, but he is in excellent shape. He runs marathons and has his eye on competing in an iron man event. I watch the forecast as the weekend approaches.... more wind! 20 mph sustained out of the South. I call him Friday morning and allow as how I'm sick of wind and will go non-linear if I have another ride like a couple of weeks back. (last 4 weeks... wind, rain, you name it) and that I have a viable alternative. Let's park the vehicles, take one to Alma, AR, south of here, and ride back up U.S. 71. He volunteers his truck and his lovely and charming better half to do taxi duty. Done!
On Saturday, we park at Drake Field in the extreme south part of Fayetteville and head for Alma. On the way down, winds are blustery, trees are whipping around. OK, that's fine. Go ahead and blow. I do predict, however, that since
I
will be on the ride, the wind will either lay or shift.
We get to Alma, known in these parts as the Spinach Capital of the World. To wit: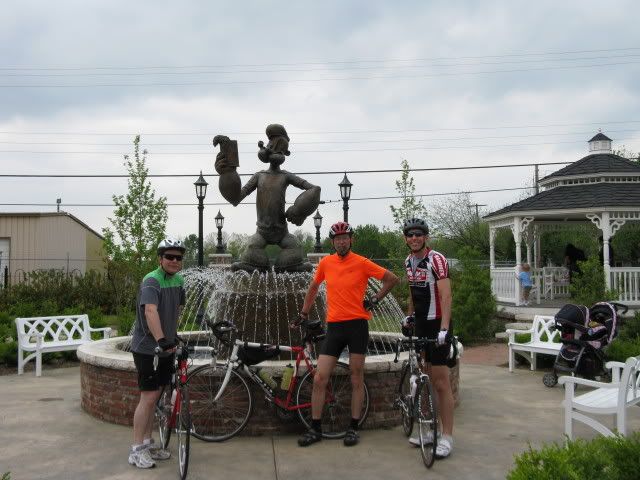 That's Jeff on the left, yours truly and Ol' Fuj in the middle, and Ryan on the right. We're standing in front of a statue of none other than Popeye himself with a can of spinach hoisted and ready for action.
We rode from Alma (at 424' elevation) to Cain (1,128') to Mountainburg (700') and stopped the top of Mt. Gaylor (2,086'). About 22 miles to the top of the mountain from Alma.
The dogwoods are still in bloom but about a week past peak. They were perfect last weekend when my lovely, charming, and long suffering better half came up for a mini vacation.
Also, on the way up the mountain, I noticed these bell-shaped blooms. They're nice, but I haven't the foggiest of notions what they are.
We made it to the top of the mountain and took a little break at the old well.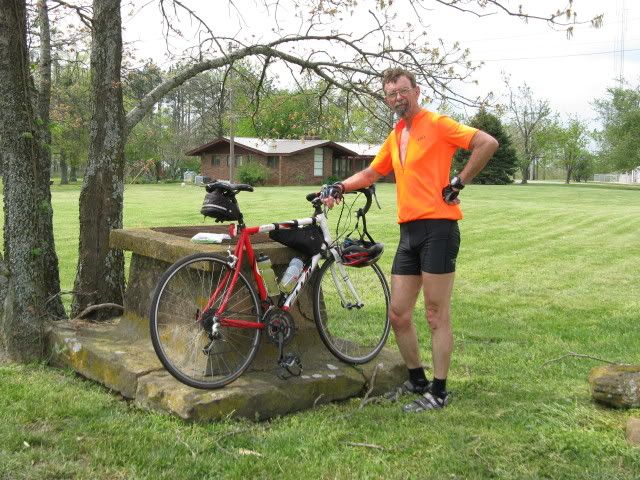 The chows stationed at the house in the background usually come out to challenge intrusions into their territory. They're usually pretty aggressive until you stroke their fur, then they're your friends for as long as you want to stay and stroke. I suppose they were inside taking a nap.
After we reached the top of the mountain, the wind finally picked up to what it should have been and wasn't during the 2,090 feet (estimated from max and min values quoted) of climbing! Remember the prediction? On the ascent, the wind was fairly wimpy, maybe 5 or 10 mph. On the way down, it was back to what we experienced as we were driving to Alma. It was fun, and we did more or less cheat the wind.

04-26-09, 09:35 PM
Senior Member
Join Date: Dec 2005
Location: Deep In The Heart
Posts: 2,661
Bikes: Seven Ti Tandem, Blue T12 tri bike, 92 Paramount, 93 Schwinn Mesa MTB, Soma Saga
Mentioned: 0 Post(s)
Tagged: 0 Thread(s)
Quoted: 107 Post(s)
Likes: 0
Liked 0 Times in 0 Posts
FYI, from another Spinach Capital of the World...Crystal City, TX
__________________
"When buying and selling are controlled by legislation the first things to be bought and sold are legislators"......P. J. O'Rourke


04-27-09, 09:09 AM
Senior Member
Join Date: Aug 2005
Location: monroe (sw) wi
Posts: 1,327
Bikes: cannondale 400st, dean el diente, specialized hybrid
Mentioned: 0 Post(s)
Tagged: 0 Thread(s)
Quoted: 16 Post(s)
Likes: 0
Liked 0 Times in 0 Posts
doctor j-when it comes to wind, I feel your pain. It feels that the last couple of summers have been windier than usual here in sw wi. While I've come to accept wind as a fact of life and don't let it stop me(at least to often) I sure would appreciate an extended break from it. I'll have to suggest your plan to Skipper and see if we can convince his wife to provide taxi service for us.

Nice pics!

04-27-09, 07:33 PM
Senior Member
Join Date: Jul 2006
Location: Katy Texas
Posts: 5,496
Bikes: Specialized Roubaix
Mentioned: 3 Post(s)
Tagged: 0 Thread(s)
Quoted: 42 Post(s)
Likes: 0
Liked 0 Times in 0 Posts
Thanks for the pictures, and the ride report. Over here the winds have been blowing longer than I would like to say. When I leave the house it's usually blowing 15 mph and by the time I'm headed back it's around 25. It would be nice if it was pushing you though, wouldn't it.

__________________
George

04-27-09, 07:45 PM
aspiring Old Wart
Join Date: Oct 2005
Location: Left bank, Knoxville TN
Posts: 488
Mentioned: 1 Post(s)
Tagged: 0 Thread(s)
Quoted: 6 Post(s)
Likes: 0
Liked 0 Times in 0 Posts
The purple bell-shaped flowers are princess tree (
Paulownia tomentosa
) They are pretty, but
invasive
.

04-27-09, 08:45 PM
Road Nazi Hunter
Join Date: Jul 2007
Location: Slow! But Ahead of You.
Posts: 409
Bikes: Kuota Kredo, Litespeed Vortex, Aegis Victory, Burley Tandem, Cannondale Rush
Mentioned: 0 Post(s)
Tagged: 0 Thread(s)
Quoted: 0 Post(s)
Likes: 0
Liked 0 Times in 0 Posts
Welcome to Spring..... I live in North Georgia and we had a rather blustery spring, transition from cold to warm creates all kinds of it. Let me describe a ride I had the other night.........
Left the house, took a regular route that takes an hour to hour 20 minutes. It will be just getting dark in about 1:15. I work all the time and have to take my rides when I can. I took off at a gallop to conserve time.
My warmup leaving the subdivision is a climb up to 13%. It's hilly here.
I got from my neighborhood to the industrial park in 10 minutes, ~5 minutes faster than usual, average speed close to 20. I usually warm up the first 15-20 minutes. I get on the parkway and start cranking. Heart rate stays down, power feels up, I am climbing like a champ. I top a hill at 22 mph instead of 18 and feel strong. I was working toward a 18 mph average while remaining below my lactic threshold. the direction I was running was primarily uphill. I got to the end of the parkway, checked my speedometer 18.9 mph (yippee, look at me), average heart rate 141, easy. I turned around at the bridge and OHMYGOD.

I usually run 22-26 on the rollers on the direction toward home. I started in the drops at a whopping 14 mph. So much for the King Kong syndrome. By this time, I am not going to back off, I have to keep moving to be home before dusk. I ride on some busy country roads and bike lights are not exactly like aircraft landing lights. I put my head down and the hammer too. I made it home with an 18.2 mph avg. and an average heart rate of 156. My tongue had been dragging in the front spokes. I got off the bike and shook my fist at the sky............Haha, didn't get me, at least not all the way. If the ride had been 10 miles longer, I would have folded up. Moral of story, yes, wind sucks........

04-27-09, 08:48 PM
Senior Member
Join Date: Aug 2006
Location: Central Louisiana
Posts: 3,055
Mentioned: 0 Post(s)
Tagged: 0 Thread(s)
Quoted: 39 Post(s)
Likes: 0
Sluggo, thanks for the information on the Princess Tree. The area where I saw them was indeed hilly and rocky as the article stated. Some of the trees were fairly tall, 30 - 40 feet or so. I didn't realize they were an invasive species.

04-28-09, 01:17 PM
Senior Member
Join Date: Dec 2008
Location: Kansas
Posts: 1,875
Bikes: Cervelo RS, Specialized Stumpy, Schwinn 974
Mentioned: 0 Post(s)
Tagged: 0 Thread(s)
Quoted: 0 Post(s)
Likes: 0
Liked 0 Times in 0 Posts
I rode downwind in 30 gusting to 40 last week, with pick-up and drive back. Fun!

Then did 16 mi in 30-45 crosswind. Took quite a lean-over to maintain a straight line. Not so much fun.

For spinach capital, I think Salinas Valley ("Salad Bowl of the World") is the real deal-- remember the E coli outbreak that got national news and a recall? Salinas was the source. Check the bag label addresses at your supermarket (Fresh Express, Dole, "Popeye", Earthbound Farms).

Spinach loves daytime temps 55-75, low 40-55 (tolerates light frost, bolts in heat), and coastal valley Cali has this Feb-Nov (harvestable starting in Apr), with planting shifting to the irrigated Imperial Valley desert in Nov for Jan-Mar harvest. AR only has good growing conditions from Feb to early May, or maybe Oct-April along the Mississippi.