Moving along, Slick and I got to LSUA, reloaded a water bottle, and drained the crankcase (TMI?)
At LSUA, there are several huge live oaks. The lateral limbs on these things are amazing. As you can see in the pic below, some of the lower limbs stretch out horizontally for quite a distance. Iíve always be amazed that they donít break at the trunk. I persuaded a couple of co-eds to snap the pics.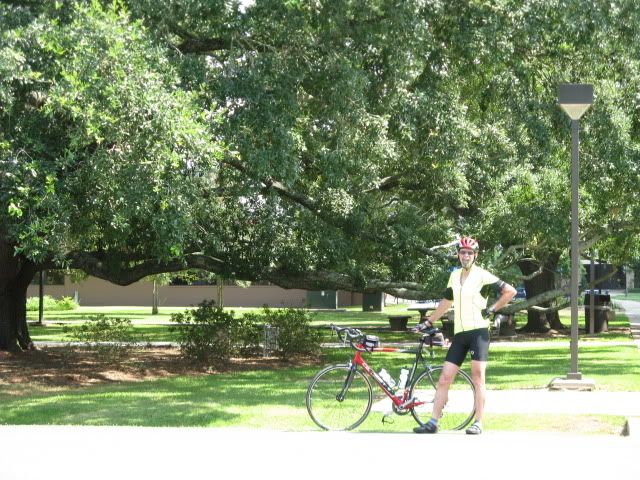 We ventured out on the highway to make our way to LeCompte (pronounced luh COUNT) about five miles south. This is the same highway, U.S. 71, that we ride in northwest Arkansas. There are a few less mountains/hills on 71 down in these parts, as in none.
We made our way through LeCompte and turned on a road which is parallel to another bayou.
On one side of the road are several large fields. There are soybeans, corn, and a bunch of sugar cane. Itís early in the season, so the cane isnít all that tall. This will end up in all of those treats that we really like and deprive ourselves of, except once in a while for special occasions.
On down the road, we welcomed some shade. At this point, it was getting a bit toasty. In this area there are willow trees, live oaks, hickory, pecan, and pine.
And across the road from the crops was the bayou. At this point, it is fairly narrow, and there was a good bit of duck weed in the water. On down the road, it gets wider, and you don't see the duckweed.
It was a great ride. I needed to get out and get some miles in, and this was the perfect route for it. I enjoyed getting to ride on 71 about 450 miles south of my normal 71 ride.
See you on the road!