I'm preparing for a tour of the C&O & GAP later this month. After much thought, since I've never been there, I finally decide on the Trek 520 with a set of Conti Travel Contacts.
The Conti's arrive and the front tire fits fine, though my Gilles Berthoud 40mm fenders won't fit, which is no surprise. So if I want fenders I'll probably buy some SKS and maybe slim them down around the fork.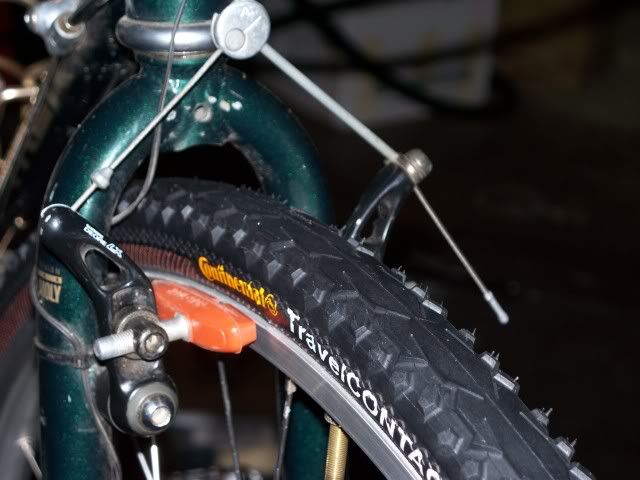 Then I move to the the back wheel, let the air out and what do I next see? A cracked rim. Further inspection reveals the opposite eyelet is also cracked. And so are several others. Bummer. The rims are Mavic 319's, good but not the best, with probably 8,000 miles or so on them so I suppose it was bound to happen.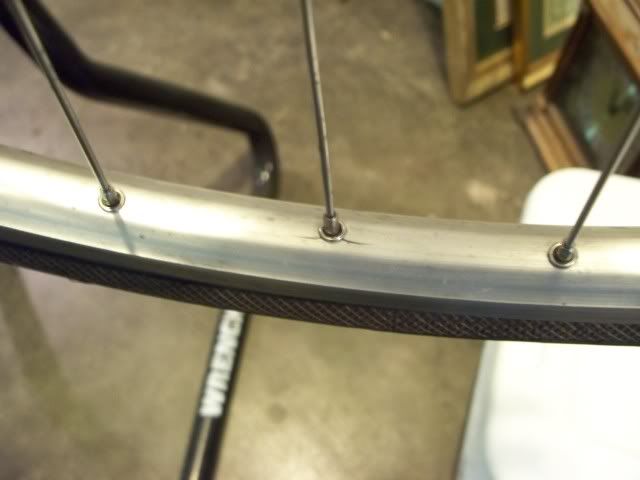 I broke down and ordered a set of 36 spoke White Industry hubs with Mavic A719 rims. These are going to cost more than the bike originally cost. I'd have preferred a set of Phil Woods, always wanted some, but Joe Young couldn't get them for a week and that was going to run tight on timing for the trip.
This will be the third set of rims for this bike. At least there are no cracks in the frame (yet).
If the new wheels are as good as the ones Joe Young built for our tandem, they'll probably outlast me.
Here's a shameless plug for Joe, just in case someone needs some new wheels. He's a very interesting man whose roots go way back in the bike racing and building business. His wheel building machine (shown on his info page) was once owned by Bridgestone/Grant Petersen, if I remember the story correctly. He's an artist, a straight shooter, and highly recommended.
One thing I particularly like about Joe. Rather than asking me "what do you want", he asks how much I weigh, what kind of bike, all the places I'll be riding, range of tires sizes, etc. etc.
http://www.youngwheels.com/