New Helmet, trying to beat the heat

07-01-11, 04:46 PM
Senior Member
Join Date: Jul 2010
Location: Florida Panhandle
Posts: 572
Mentioned: 0 Post(s)
Tagged: 0 Thread(s)
Quoted: 0 Post(s)
Likes: 0
Liked 0 Times in 0 Posts
New Helmet, trying to beat the heat
---
Early last week I started a thread about helmet design and cooling; I really didn't know beans about it before, now I know beans and not much else. But I'm learning. I really didn't wear a helmet last year but increasing awareness of the implications of Russian Roulette had me in the helmet through the winter, spring and into hard summer when brain temps approaching poached egg have had me often riding helmetless again.
My previous helmet (the black Schwinn shown below) was made by Pacific Cycle and cost a total of $25. It works well in the winter but happily I haven't tested it for its main purpose yet. As a quick guess, I would venture that aprox 25%- 30% of the surface area of the helmet is vented. The new helmet is a Bell Influx (sell price $65-$75) and even a quick visual will tell you there is massively more vent area than the old helmet, pushing or exceeding double. I've around 400,000 miles motorcycle experience, all in Bell helmets so I like them; my secondary search characteristic was reviews saying the helmet was very well vented. The Influx reviews consistently remarked on that point. It came with a visor that I immediately yanked because I tend to climb head down and the reduction in forward vision had caused me to almost come to grief on several occasions.
It just came in but I haven't ridden with it yet since it is very close to 100 degrees here now and it probably doesn't cool that well; tomorrow AM will be fine.
I have Shimano sandals coming too, not here yet. I suspect that there won't be a magic bullet to beat the heat, just a collection of small tricks.
Pictures of old (black) and new below. Look at how small the vents are in the black helmet as they get to skull level. Also no vents at all on the side. Can you imagine wearing that in high humidity 100 degrees?
BTW: No relevance to the aircraft pict I took today, just thought one or two of you might like it.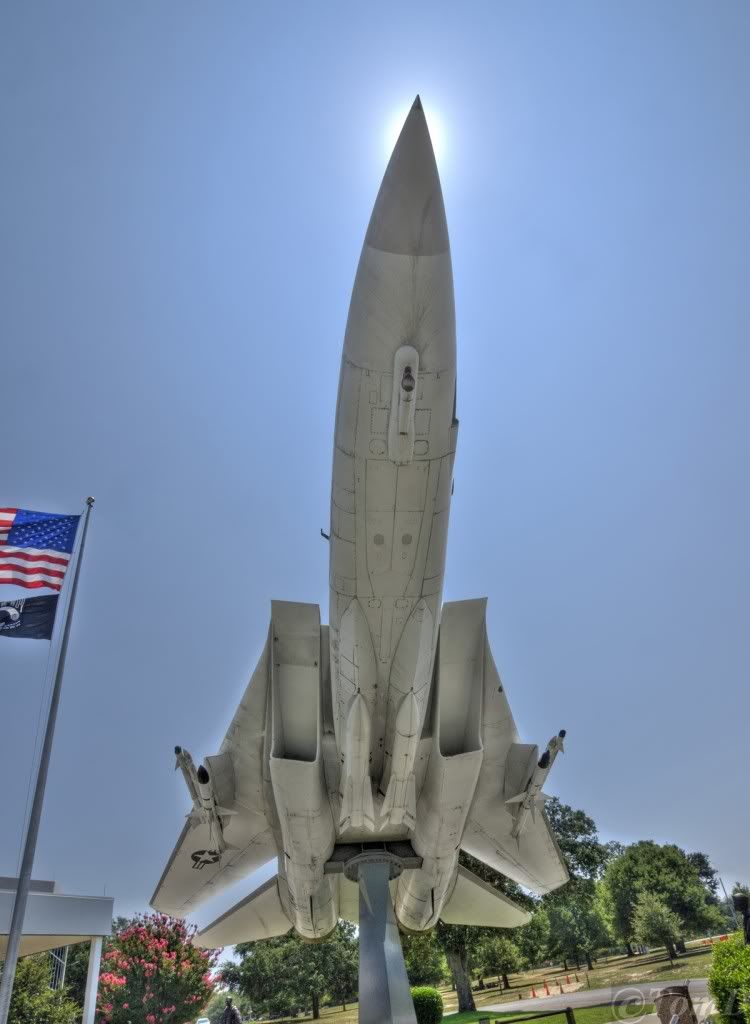 07-01-11, 06:19 PM
Senior Member
I wear a Specialized helmet that runs around $40.00. It is vented OK, but I guess it could be a bit better. I guess one day I am going to have to break down and get myself a really good one, but I haven't found one that I really like.

I know all too well about the heat and humidity you ride in. I use a thick sweat band that I bought at WalMart for two bucks for a pack of two. When it gets really hot, I stop somewhere and wet it down with ice water, put it across the back of my neck for a minute, wet it down again and put it back on. That normally keeps me going for another hour or so before I have to do it again.

Where was the photo of the jet taken?
__________________
HCFR Cycling Team
Ride Safe ... Ride Hard ... Ride Daily

2017 Colnago C-RS
2012 Colnago Ace
2010 Giant Cypress

07-01-11, 06:37 PM
Senior Member
Join Date: Jul 2007
Location: South shore, L.I., NY
Posts: 3,140
Bikes: Flyxii FR322, Soma Smoothie, Miyata City Liner, Specialized FSR Comp, Fuji Professional
Mentioned: 11 Post(s)
Tagged: 0 Thread(s)
Quoted: 1022 Post(s)
Likes: 0
I just landed on and cracked my Giro Pneumo, a high priced (over $100) mt. bike helmet that I got a few years back to help with the heat issue.

Is it better then the $40 Giro Havoc that I used to use ?.

Nope, not much. I sort of learned that you don't really improve the heat problem a huge amount with a big increase in budget, sad to say. Does it get a little better, ?, maybe but not that I noticed much.

Does expensive fit better ?. Maybe, but the current crop of Giro's all seem to use the exact same internal padding and fit adjustment system, once you hit the $60 mark, right up to the $150 line, so if the $65 fits, go with it.

SB

07-01-11, 06:49 PM
Senior Member
Only thing I have against a Giro is the way the straps are twisted between the helmet and the buckle. I wish they would make them to where they lay flat instead of having that uncomfortable twist in them. I would have a Giro if it wasn't for that. Bell is the same way.
__________________
HCFR Cycling Team
Ride Safe ... Ride Hard ... Ride Daily

2017 Colnago C-RS
2012 Colnago Ace
2010 Giant Cypress