As Seen on Today's Ride

12-27-11, 08:21 PM
Senior Member
Join Date: Aug 2006
Location: Central Louisiana
Posts: 3,055
Mentioned: 0 Post(s)
Tagged: 0 Thread(s)
Quoted: 37 Post(s)
As Seen on Today's Ride
---
We had rainy, dreary weather on 12/25 and 12/26, and I chose not to ride on those days. I had just cleaned and serviced the primary road bike and didn't want to get it grimy again.
Today, however, was a beautiful day, and the temperature got up into the 60's. It was a bit "air-ish" with northwest winds.
This van caught my eye on the way up U.S. 165 toward Alexandria. The owner of this van needs to learn how to keep from suppressing his feelings and to let the world know how he
really
feels.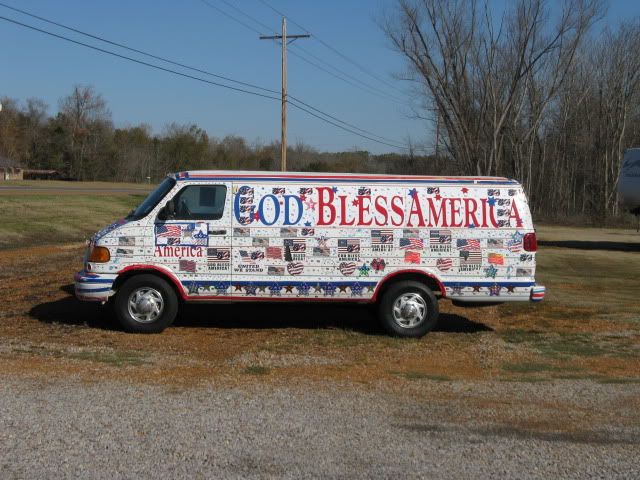 Traffic was fairly busy on the major thoroughfares, and I was glad to make it up to and through Alexandria unscathed. My route took me through England Air Park, which was once England Air Force Base. It was closed several years back, but the city took possession of it and has been developing it for all sorts of commercial uses.
The "Flying Tigers" were stationed at England for a few years. In the middle of the air park, there is a display of the modern day aircraft flown by the Flying Tigers. The last plane flown by this group at the time of the base closing was the A10 Thunderbolt (a/k/a Warthog). I would hate to be in this vantage point if this aircraft were on a "business" flight.
In a former life, I worked at a plant around 30 air miles (give or take a little) from the base. It was not unusual to see the A10s on training missions in the area of the plant. They are very nimble aircraft. The A10 drivers were impressive in their skills. We went to the base and watched them fly in from Desert Storm. It was impressive, and everyone in attendance was very proud of them.
Not far from the airfield proper is one of the businesses that located at the Air Park. It is UTLX, which produces tank cars. At our plant, we loaded tank cars routinely, and I was accustomed to seeing them everyday at work. As I was riding by a train was switching flat cars into the facility. They were bringing in heavy steel plate for new cars. As I rode by, this sight caught my eye as I've never quite seen [I]this many[I] shiny new tank cars in one place all at the same time. They were lined up literally as far as the eye could see.
Around 4 or 5 miles from the point at which I turned and headed for the barn, this sign (the blue one) caught my eye. They're fairly common in these parts. Fortunately, this year in our area, we were not compelled to use this route for the purpose indicated on the blue sign. We're happy about that.
After the turn, I enjoyed a nice tail wind all the way home. After two days of rain and dreariness, it was really nice to get out and ride in the sunshine. It was even nicer to be able to burn off the gastronomic excesses in which I indulged on said rainy and dreary days.
Happy New Year and great rides to all!

12-27-11, 08:37 PM
Banned.
Join Date: Aug 2001
Posts: 20,917
Mentioned: 0 Post(s)
Tagged: 0 Thread(s)
Quoted: 0 Post(s)
Nice story and pics. Tx for sharing.

When I was in high school I had a summer internship at Convair > now General Dynamics or perhaps something else. Anyway, I worked on testing and charting radome dispersal patterns.

One of the funs things was seeing the F102's and F106's that had been built at the plant taking off from the Lindbergh Field runway in San Diego. The pilot would get a bit down the runway, then cut in the after burners.

As I worked in a shack on the very top of the plant, we had a great view!!

Pretty neat for a 17 year old.
---
Last edited by DnvrFox; 12-27-11 at

08:41 PM

.

12-27-11, 08:56 PM
Senior Member
Join Date: Apr 2011
Location: Jupiter Florida
Posts: 242
Mentioned: 0 Post(s)
Tagged: 0 Thread(s)
Quoted: 5 Post(s)
Nice ride!!!!!!!!!!!!!
Speaking of A10s, I learned to fly at Republic airport back in the day (1973-74 time frame) when Fairchild was ramping up to build the A10. Ugly aircraft, but I love the things!!!!

12-28-11, 07:20 AM
Banned.
Join Date: Jan 2008
Posts: 12,243
Mentioned: 76 Post(s)
Tagged: 0 Thread(s)
Quoted: 912 Post(s)
Best plane in the Air Force inventory, ask any Marine grunt or Army infantryman. These guys like in the mud with the ground fighters like they need to. Been to the Plant in Hagerstown, Maryland.

Bill

12-28-11, 09:10 AM
Senior Member
Join Date: Nov 2006
Location: New Hampshire
Posts: 600
Bikes: A slate grey mountain bike & a grey road bike
Mentioned: 0 Post(s)
Tagged: 0 Thread(s)
Quoted: 0 Post(s)
Nice ride. I like your photo of the train of tank cars.

12-28-11, 09:13 AM
Galveston County Texas
Join Date: Nov 2007
Location: In The Wind
Posts: 30,995
Bikes: 2010 Expedition, 03 GTO
Mentioned: 14 Post(s)
Tagged: 0 Thread(s)
Quoted: 708 Post(s)
Good ride and thanks for the good pics.
__________________
Fred "The Real Fred"

Posting Rules
You may not post new threads
You may not post replies
You may not post attachments
You may not edit your posts
---
HTML code is Off
---