Any 50+ track racers out there

02-09-12, 09:55 PM
Senior Member
Join Date: Jan 2012
Posts: 97
Mentioned: 0 Post(s)
Tagged: 0 Thread(s)
Quoted: 0 Post(s)
Likes: 0
Liked 0 Times in 0 Posts
Any 50+ track racers out there
---
Since this will be my rookie season riding track , I would like to pick your brains a little about training and recovery. Particularly sprint event training and weight lifting programs. Btw I am 53. Thanks

02-10-12, 07:48 AM
Semper Fi
^^^ What he said. Hermes and his wife do a good bit of track training and racing at the national level. He hangs out here, especially in the 50+ Racing and Training thread in the stickies.

Bill
__________________
I Didn't Choose To Have Parkinson's Disease, I Have Chosen Not To Allow It To Define How I Live
Life Member "Hairy Eared Engineer's Society"
"I Can Do All Things Through Christ, Whom Strengthens Me" Philippians 4:13

02-10-12, 11:29 AM
Version 3.0
I read your posts and it seems like you received feedback in the Track Forum. IMO, training and racing at the track is much more subtle and sophisticated than road racing. I am NOT putting down road racing just trying to draw a distinction. Learning to race is an apprenticeship. One starts out at the very bottom and over time learns from masters. Masters can take the form of 3rd party paid coaches or other much more experienced racers. What is not clear to me is where you live, do you own a track bike and how often will you get to the track to practice and race.
To a large extent, training can be done on the road and in the gym. However, learning to ride and race at the track takes months and years of practice. I started by taking several beginner sessions and then advanced to open track sessions training with my peers. I have used three different coaches and I now race and train at
Hellyer Velodrome
in San Jose, CA and the
Home Depot Center
in Carson, CA. I have a Planet X pro carbon track bike in a locker at HDC and I use a Felt at San Jose.
The track is divided into sprinters and endurance. It sounds like you want to be a sprinter or think you will do better as a sprinter. The track favors sprinters with the proviso that for some events, one has to have enough endurance to be at the right place and time to actually sprint.
IMO, pure sprinting occurs in the match sprints where two or three racers go head to head for three laps from a standing start. Team sprint and the 500 meters are somewhat specialty events that require a massive standing start and acceleration. Points races and scratch races favor sprinters but one has to have the endurance to stay with pack to sprint to win.
Pure endurance racers do pursuit and team pursuit.
You want sprint training programs for the gym and track. IMO, this media does not support that type of interchange. You need someone to observe you and provide feedback and a program. My advice is to go to the track as often as possible and train a lot with other racers. You need to learn to ride at speed in a pace line under controlled conditions in close proximity to other racers fixed gear with no brakes safely.
I am happy to answer questions but training plans are not in my purview.
Here is a video to get the juices flowing.

02-10-12, 11:51 AM
Version 3.0
Paracycling Track Worlds are going on right now. The broadcast usually starts 2pm or 4pm but refer to the schedule on the web site.
http://www.paracyclingla2012.com

02-10-12, 01:05 PM
Dharma Dog
Join Date: Mar 2006
Location: Vancouver, Canada
Posts: 2,073
Bikes: Rodriguez Shiftless street fixie with S&S couplers, Kuwahara tandem, Trek carbon, Dolan track
Mentioned: 0 Post(s)
Tagged: 0 Thread(s)
Quoted: 1 Post(s)
Likes: 0
Liked 0 Times in 0 Posts
I used to race on the track, pretty much retired in 2008 after about 35 years, but I still train at the 200-meter indoor velodrome in Burnaby, BC.
If you think you would like to be a track sprinter (or to do the sprint events - match sprints, team sprint, 500m or kilo, or even Keirin (which I consider to be the one place where sprint and endurance riders meet), you can schedule your training to optimize for those events, but if you're interested in reaching the top level, be aware that real sprinters are born, not made. One good way to tell if you have the right muscle fibers to be a decent sprinter is to just get timed doing a flying 200. If you can get near 12 seconds flat on your first, untrained attempt, you are probably a born sprinter. If the best you can do is around 14 seconds, I would suggest taking up track endurance events. Another way to tell is to just go as fast as you can in an 88-inch gear. If you max out at around 66 kmh, you are a sprinter. If you can't get past 60 kmh, you're not. Simple.

That said, masters-age track racing tends to heavily favor sprinters, even in the endurance events. For example, if you are over 50, you do a 2000-meter individual pursuit. A good sprinter doing a bad kilo can usually hang on to win a 2000-meter pursuit over a track endurance rider able to sustain a high average speed, and whose strength kicks in at between 1500 and 3000 meters. This really makes me mad, and is one reason I stopped racing. I am competitive at 3000 meters, but I don't have the speed to beat sprinters at 2000 meters. Grrr! Ah, excuses!

If you are a track endurance rider, you will find that track riding/racing REALLY helps your road racing. For one, you get to practice way more finishes (the most important part of a race) on the track. For another, good pursuiters tend to be good road sprinters. Track sprinters are usually not around to contest road finishes. I don't consider anyone to be a complete bike racer unless they also ride the track; it is SO invaluable! The smoothest riders around are trackies.

Luis

02-10-12, 02:15 PM
Version 3.0
Here are the first 3 places in last year's flying 200 meters at Masters Track Nationals 50 -54 years old.

Kurt Sato (1 - Cat2) San Pedro, CA 12.08 45892 206 South Bay Wheelmen
2 Gabriel Thomas (1 - Cat4) Fair Lawn, NJ 12.149 322452 253 Affinity Cycles
3 Darrell McPherren (1 - Cat3) Chula Vista, CA 12.172 116628 217 CA Pools Racing/De Walt

If you can turn near a 12 second flying 200 meters without training you could have placed well at US Nationals this year. A flying 200 meters is a technical event that needs a lot of practice and training. The best pursuiters last year that participated in Masters Track Nationals and last year at Masters Track Worlds in the 50+ categories were not great sprinters and typically did poorly (relative term) in the 500 meters. In fact, they try to get away from the field in a scratch race or lap the field in a points race.

IMO, the best way to determine if one is a sprinter or an endurance racer is to race and see how you do. However, if you look like MacClean or Hoy, you are probably a sprinter.
---
Last edited by Hermes; 02-10-12 at

02:26 PM

.

02-11-12, 12:21 PM
Version 3.0
Here is a video of one friends who is a sprinter. Last year, he won the Masters Track Nationals in the kilo. He has podiumed at elite nationals. If you can jump and spin like Pete, you are probably a sprinter.

02-11-12, 01:20 PM
Senior Member
Join Date: Jan 2012
Posts: 97
Mentioned: 0 Post(s)
Tagged: 0 Thread(s)
Quoted: 0 Post(s)
Likes: 0
Liked 0 Times in 0 Posts
Thanks for the response. I am really interested in training volumes and recovery tips for the over 50 track cyclist. I have been following a training plan , but I seem to have developed quite a bit of fatigue. At present 2 gym sessions and two sessions on the bike are all I can handle. The training is all done at high intensity. Does seem about right or am I over training. Thanks in advance

02-13-12, 01:32 PM
Version 3.0
Without seeing what you look like and how you ride, I cannot say what is too much. IMO, two high intensity sessions in the gym and on the bike per week for a returning BMX racer is too much even if you were 20 something. If I do two hard sessions in the gym, my legs are cooked for the road. And it is not clear to me that weight training will improve much more than the first pedal stroke which is why I posted the standing start video. There are a lot of big strong men who cannot sprint. The standing start and the jump are somewhat technical much like a tennis serve or golf swing. The standing start requires numerous muscles all working together properly to get an explosive start. Leg strength and muscle size are a component. If I do a standing start workout, my legs, back, core and upper body are shot. It is a complete body workout.

I do not think that age is a big factor vis a vis volume and recovery for sprinters. IMO, it sounds like you need to go easier since you are just starting. I work out with track sprinters at the track. We do a 40 lap warmup and then 4 100 meter jumps to train the ATP CP system and improve our jump for the first few pedal strokes. After that, the sprinters BS for about 1/2 and hour and gear up. They then do a few efforts that are intense with lots of recovery between efforts. If they ride on the road, it is mostly for recovery. Typically, they are in the gym a couple of days a week but it includes plyometrics.

IMO, the 50+ track racer has to be aware of potential injury in the gym doing heavy weights with explosive moves. We all get spinal degeneration as we age which is susceptible to injury. In other words, do not miss a lift or jump. It can be a disaster.

I am in the gym 6 times per week and on the road / track 5 to 6 times per week. However, my gym work is about training muscles that are not trained by cycling. I work on core, stability, back and glute strength. I do a lot of Roman Chair work. I can drive nails with my back and core which, IMO, is crucial for explosive efforts, accelerations and injury prevention.

As far as recovery, I use compression tights, foam roller, massage, leg elevation and ice. Some of my elite track racers swear by ice baths. I have not tried that yet. Enough sleep is crucial for me.

When I started track racing, I attended a beginner session and rented a track bike to see if I like it. I watched others and over time learned what works which was augmented by a coach.

I do not do any heavy or explosive lifting in the gym. I rely on hard efforts on the track and simulated track sessions on the road using my road and TT bikes.

Last year, I podiumed at Masters Track Nationals in the 500 meter TT in a field of 16 and in team pursuit in the 60 - 64 age group. I started track racing 3 years ago. YMMV.

02-15-12, 10:59 AM
Version 3.0
I would not over think this too much. Do not worry about the 50+ matter. Listen to your body and use your experience to know that it make sense to start easier and work up to harder efforts either on the road / track or in the gym. If you feel the least bit tired or think you need more recovery, then take it. If you go hard in the gym, know that it will affect your performance on the road for a couple of days. After a hard day in the gym, do a recovery ride the next day. We all love to ride our bikes so just go easy on the days after the gym and / or do a couple of efforts versus numerous until your body adapts to the training. Good luck.

02-15-12, 05:05 PM
A might bewildered...
Join Date: Oct 2011
Location: Loovul
Posts: 6,529
Bikes: Bacchetta Giro ATT 26; Lemond Buenos Aires
Mentioned: 3 Post(s)
Tagged: 0 Thread(s)
Quoted: 80 Post(s)
Likes: 0
Liked 0 Times in 0 Posts
The video was über cool. The Brits certainly have owned track racing, so it seems. The Elite of the Elite.
__________________
We are on earth to help others; what on earth the others are here for I don't know.

02-15-12, 06:28 PM
Version 3.0
I am glad you liked the video. I like to play it before going to races. I raced at Masters Track Worlds in 2010 in Anadia, Portugal. They set up the championships such that each country has an area in the infield of the velodrome.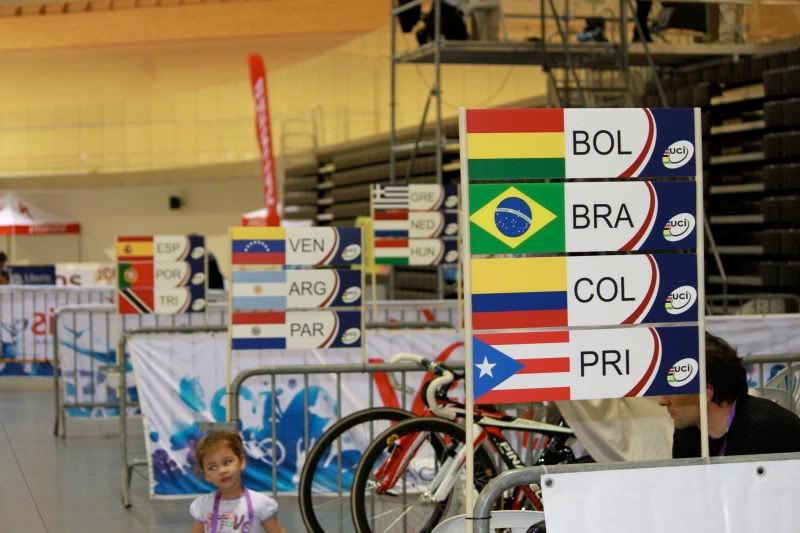 Anadia's was brand new and was 250 meter indoor wooden track made of pressed board (plywood) but the surface was the end grain not the flat surface. It was more oval than Manchester or the Home Depot Center. Also the Home Depot center in LA and Manchester, England is made of Siberian pine where the surface is the smooth side of the wood.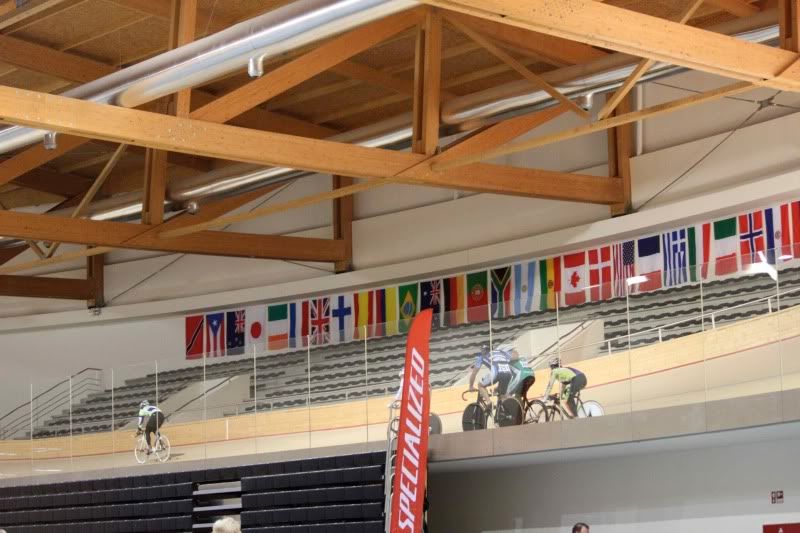 Our area was next to the Brits and just like in music there was a British invasion of the USA area since they were short of space. We got to know a few of the Brits and had a great time. They are fanatically into track racing and every detail is given attention.
My wife (on right) hanging out with one of the British female racers who won gold. My wife won 3 silver medals.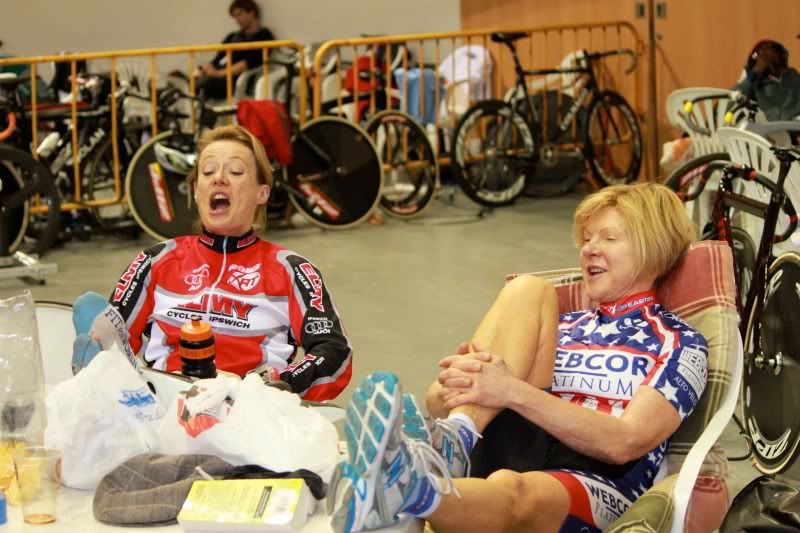 Here I am on the left with the Brit's mechanic and coach. He did all the work on the team's bikes so the racers focused on racing.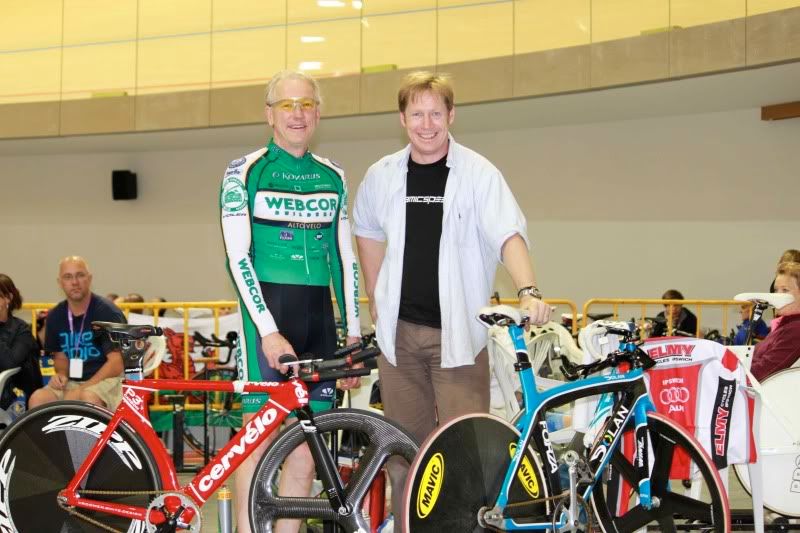 I am coming out of the starting gate in pursuit. Not quite as explosive as MacClean.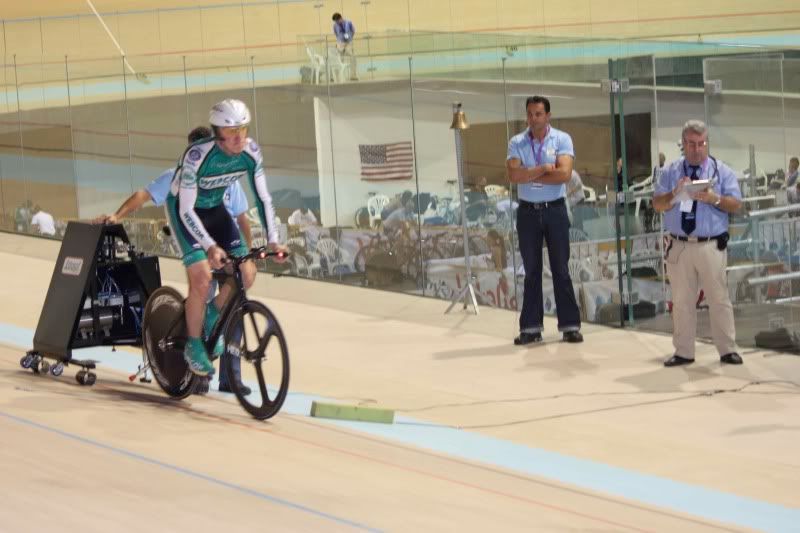 45 to 49 points race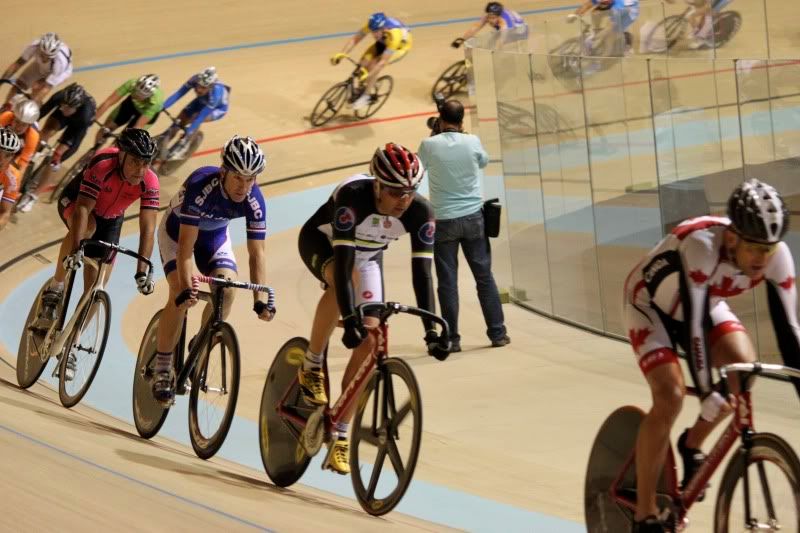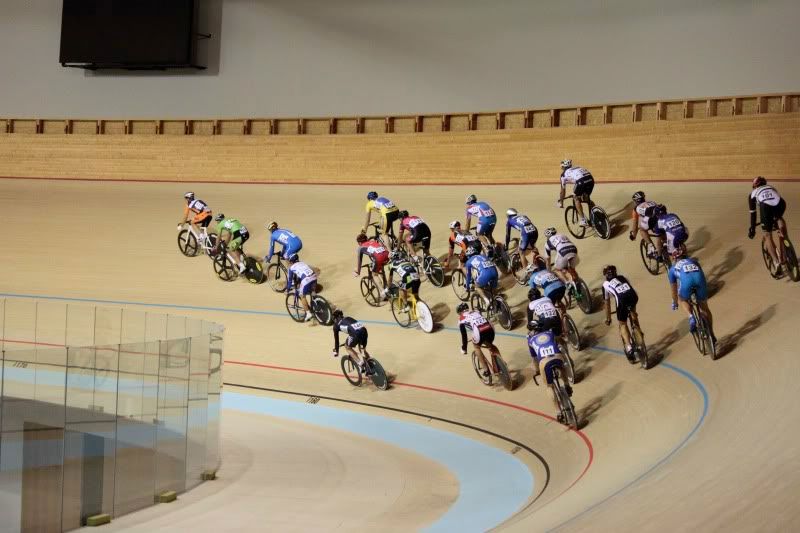 My 60 to 64 points race. The Aussie in the white jersey won. He also won the scratch race but was disqualified for head butting. I love the passive older men.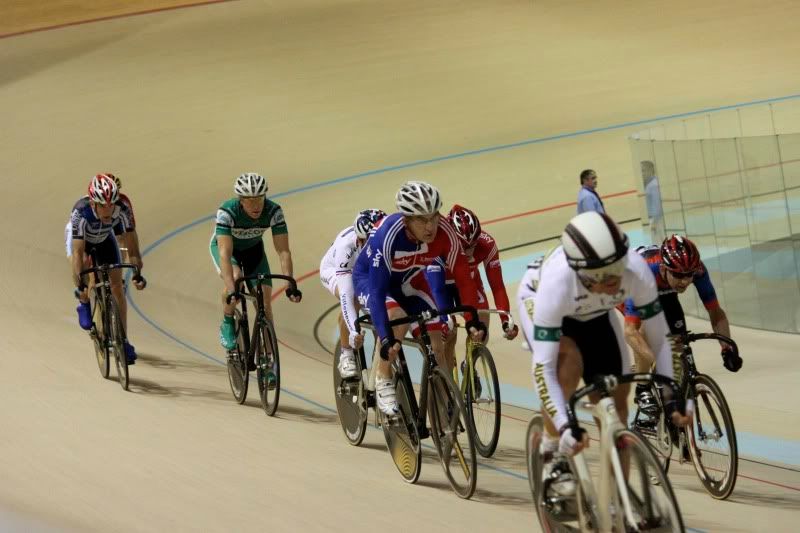 A little eye candy... Racer from Argentina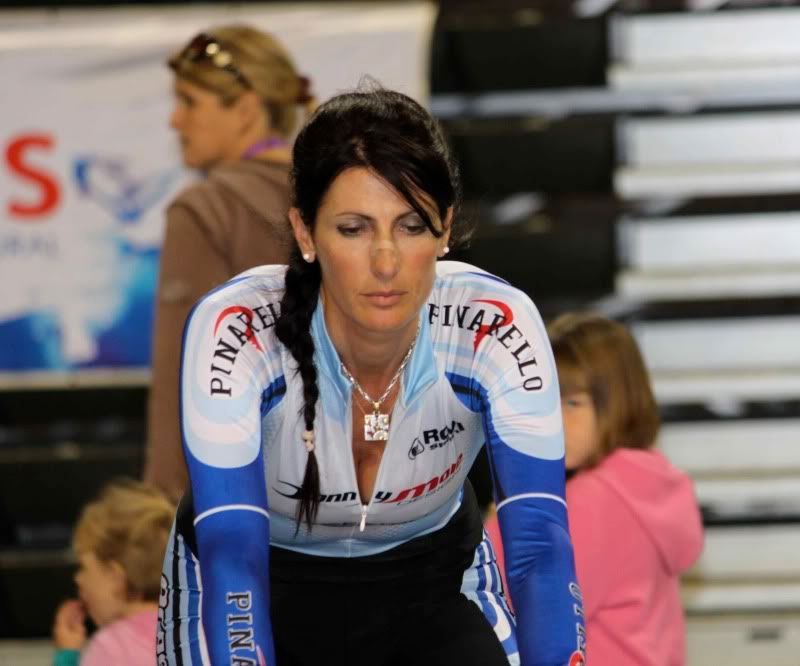 It was a total and memorable more fun that we should be allowed to have event.