Time for a change.
Join Date: Jan 2004
Location: 6 miles inland from the coast of Sussex, in the South East of England
Bikes: Dale MT2000. Bianchi FS920 Kona Explosif. Giant TCR C. Boreas Ignis. Pinarello Fp Uno.
Posts: 19,915
Mentioned: 0 Post(s)
Tagged: 0 Thread(s)
Quoted: 1 Post(s)
Pics and thoughts on the night ride.
---
It was supposed to start at Midnight but problems with traffic lights 100 yards from the start meant a delay of 30 minutes. By then Riders were restless with the wait and it was going to be a manic start. This is the crowd behind me and only some of the 5,000 entries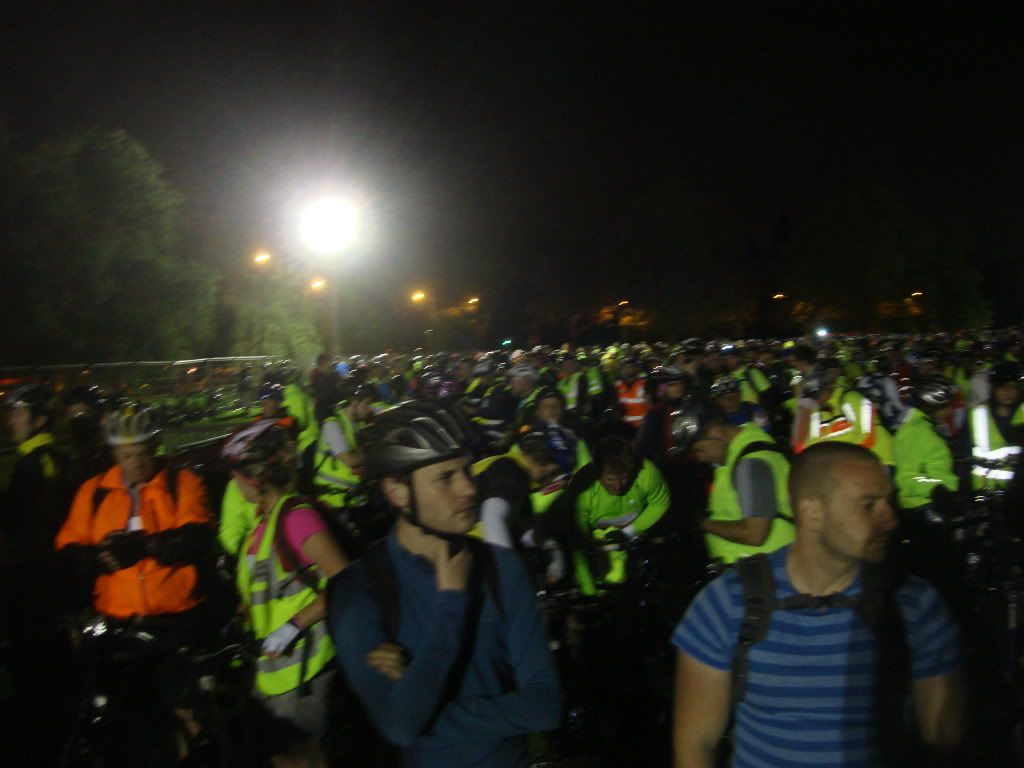 It was manic and 200 riders set off at 5 minute intervals. I hung back a bit and got away at 1.pm. No pictures during the ride but Riding in London was manic. Surprising what a few beers can do to a bunch of youngsters but the real problem were the riders running red lights- riding too fast for the conditions and no respect for other riders- let alone traffic. This made for a lot of disgruntled cars drivers and I don't blame them.
Street lights and I used the lamp on Blink--easier to spot and no necessity for more. But into darkness and there were many with inadequate lights that were struggling. My lamp is powerful and 3 modes of strength. Rode most of it on the medium setting but uphill to save battery I used the low mode. I also found out that I could not get to the camera easily through the pertex that I had to put on against the "Cool" temperature and the wind hence no ride pics till the end.
But on that lamp of mine. Medium setting was good. There were one or two with good lights but I used full beam on the downhills and due to the number of uphills- there were quite a few of them. Had a rider come alongside me at the crest of a hill with a Good light and you could see well with his lamp. Could see by the red lamps disappearing into the distance in a dead straight line that it was a downhill so I just switched to full power. The bike in front of me turned towards the kerb and yelled out "Car". It was that good. The rider alongside me with the good light just said "Whoa--I thought my lamp was good". Problem is that if you cannot see very well you cannot take the downhills fast. I may have been slow uphill but my bike rolls well. And no matter how good your lights are- You cannot see potholes. There were lots of punctures and broken tyres and damaged wheels. Lots of riders with out of true rims riding slowly and the mechanics at the restpoints were kept very busy. At least with my powerful lamp I could see the worst of the road but still had a few Clunks as I hit something in the road.
Just one more word on lights.Several Magicshine on the ride and they are not as effective as mine that is supposedly less powerful but does cost 3 times as much. Lens technology pays. Separate battery packs and if you do not secure them fully- you will lose it. And don't try a ride like this on a couple of Cateye's- They are not good enough. Rear lamps and make certain you have a good one--OR TWO. Black clothing can be seen but High Vis works better. The black can be seen as a Void in your view ahead but you can see the bike ahead with the lamps- and anything that is a different colour. And some of those rear lamps are over the top- Particularly when put on Blink. I had to lose a few wheels because I could not take the brightness of those lamps.
Now this was not a cold ride but it was cool. I had the Pertex as an emergency coat and it went on before the start. That caused a problem as I could not reach the pockets for the camera or food easily and I think this was my problem on energy. But cool at the start but just before dawn it got cold. Carry an extra layer for that time. I was riding after the finish so I put in a yellow lens on the glasses. I can tell you now- use clear at night. Yellow lens does work in the daytime but everything looked funny with a yellow tinge.
But coming to the end of the ride and out came the camera. Just a couple that may interest you
Before the start sorting the bike.
At the end.
And the supposed latest Icon for Brighton. Haven't found any one that likes it yet
Hope Wobbly does as it is not too far from his new house in Brighton.
__________________
How long was I in the army? Five foot seven.


Spike Milligan