A might bewildered...
Join Date: Oct 2011
Location: Loovul
Bikes: Bacchetta Giro ATT 26; Lemond Buenos Aires
Posts: 6,351
Mentioned: 1 Post(s)
Tagged: 0 Thread(s)
Quoted: 4 Post(s)
Here's the cyclist and dad in question, from a clip on the 10 o'clock news:
Ever the shrinking violet.
What's cool is in about a year the furthest eastern leg of the Louisville Loop will be completed, and there will be some great MUPs, if there truly is such a thing.
This weekend while JRA I stumbled across unopened trail.
Here's a section to the south:
They route this amazingly close to the lair of the Pope Lick Goat Man. It'll make a great Halloween ride.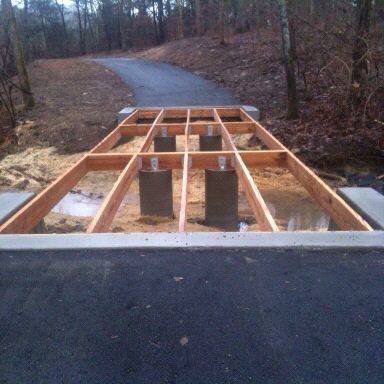 This bridge leads to Pope Lick, etc. Strange and stupid as it seems, I actually gave thought to balancing me and my bent on the 2x6s. As with dumb things, it would have been cool if it worked. If I had remember my Androgel that day, I might have given it a try.
This will connect the Beckley Creek section and the Pope Lick section and will be super cool:
So, within the year we should have a safe environment for her to gain confidence on a road bike. It won't also hurt for her to study for her drivers license and bicycle safety at the same time.
__________________
Signature line for rent.