Birthday Ride

12-01-14, 10:58 AM
Seat Sniffer
Birthday Ride
---
One of the advantages of being born near the Xgiving holiday is that I almost never have to work on my birthday. We've been having ridiculously nice (warm) weather down in SoCal, so I spent the day riding up Highway 39 with a few friends. On the way up, we encountered other friends, bringing our group to 10 or so.
What a beautiful day! A little chilly in the shadows in the morning, but spectacular.
Highway 39 has been closed to autos for a long time, but recently, a sign was erected, closing it to bicycles and pedestrians as well. To be honest, I'm not a fan of this section. It is cut out of a section of the mountain that landslides and avalanches fairly often, and the rocks that fall down onto the road are quite sharp. That means a lot of flats and cut tires. IMHO, there are better choices.
But the rest of the group wanted to get to Dawson Saddle, so we scofflawed past the closure to check it out. Turns out they had good reason to close it. There is some significant construction going on up there, and we had to hoof it several times.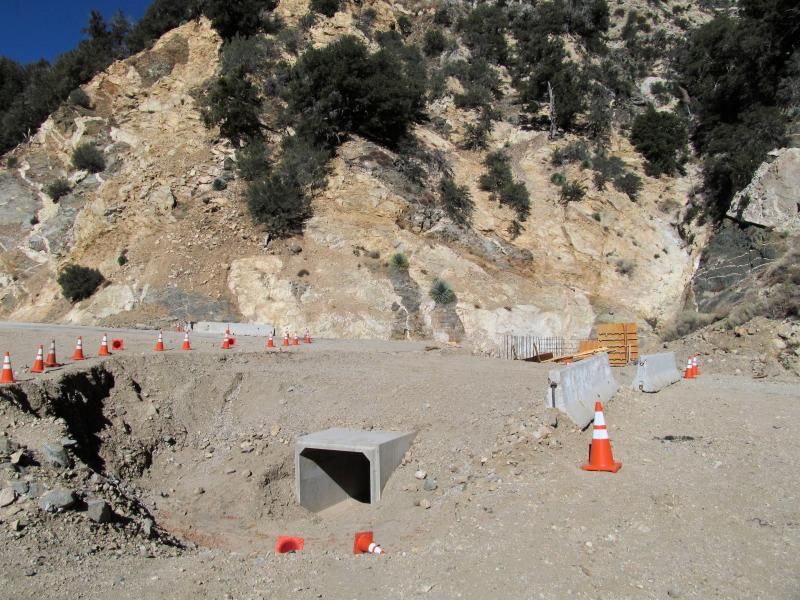 We made it with "only" one flat. Here we are at Dawson's Saddle. Ridiculously warm and clear for late November.
We paid the price on the way back. Two more flats ... and we were trying to be careful.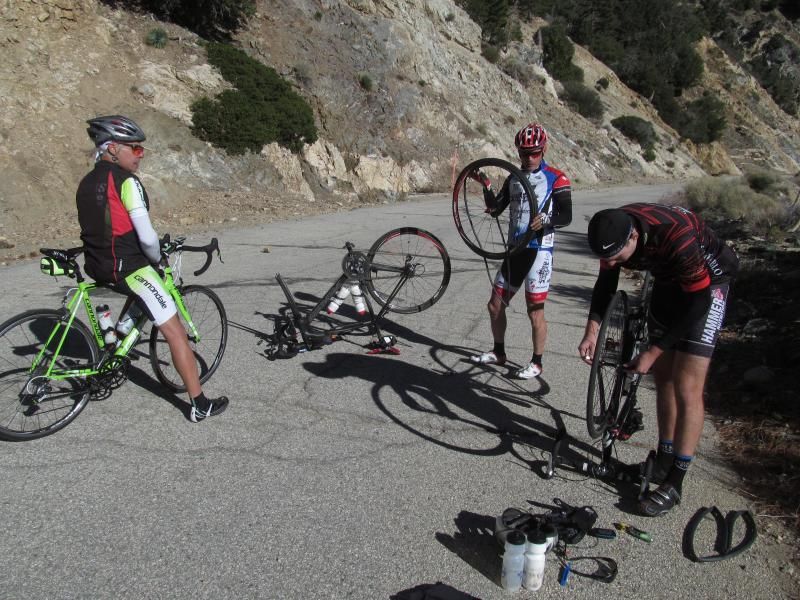 Great views, though. That's Catalina Island in the back, there. The distance is about 70 miles.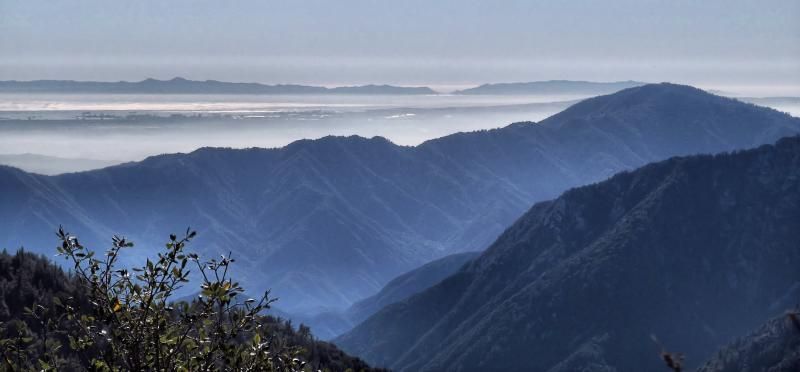 Great day ... and we finished it by polishing off pastrami sandwiches.

__________________
Proud parent of a happy inner child ...
www.photo395.com

12-01-14, 11:06 AM
Senior Member
Join Date: Dec 2012
Location: Okanagan, BC
Posts: 1,265
Bikes: Cannondale Caad 8; Jamis Aurora Elite, Kona Disc road bike, Rocky Mntn Equipe, Apollo Imperial, KHS Aero Comp SS
Mentioned: 0 Post(s)
Tagged: 0 Thread(s)
Quoted: 39 Post(s)
Likes: 0
Best wishes for yet another birthday and another year of safe riding!
Love the view - from where I sit, I'm glad that
you
put the effort into the climb to share the photo with us.


12-01-14, 11:20 AM
feros ferio
Join Date: Jul 2000
Location: www.ci.encinitas.ca.us
Posts: 19,282
Bikes: 1959 Capo; 1980 Peugeot PKN-10; 1981 Bianchi; 1988 Schwinn KOM-10;
Mentioned: 28 Post(s)
Tagged: 0 Thread(s)
Quoted: 668 Post(s)
Likes: 0
That sounds like a "high" point of your Thanksgiving weekend. Congrats, and thanks for posting. Great pictures!
__________________
"Far and away the best prize that life offers is the chance to work hard at work worth doing." --Theodore Roosevelt
Capo: 1959 Modell Campagnolo, S/N 40324
Capo: 1960 Sieger, S/N 42624
Peugeot: 1970 UO-8, S/N 0010468
Bianchi: 1981 Campione d'Italia, S/N 1.M9914
Schwinn: 1988 Project KOM-10, S/N F804069

12-01-14, 11:56 AM
Senior member
Nice ride! November birthdays would be so much better in southern climates, I must say.

12-01-14, 01:53 PM
Senior Member
Join Date: Nov 2008
Posts: 1,074
Mentioned: 1 Post(s)
Tagged: 0 Thread(s)
Quoted: 26 Post(s)
Likes: 0
Liked 0 Times in 0 Posts

12-01-14, 06:01 PM
Semper Fi
A belated Happy Birthday wish for you, Vic. Enjoyed the pictures and your report, thanks.

Bill
__________________
I Didn't Choose To Have Parkinson's Disease, I Have Chosen Not To Allow It To Define How I Live
Life Member "Hairy Eared Engineer's Society"
"I Can Do All Things Through Christ, Whom Strengthens Me" Philippians 4:13