New online bike geometry calculator

04-10-18, 12:18 AM
Senior Member
Join Date: Mar 2018
Posts: 50
Mentioned: 1 Post(s)
Tagged: 0 Thread(s)
Quoted: 17 Post(s)
Likes: 0
Liked 0 Times in 0 Posts
New online bike geometry calculator
---
Sometimes I need to record and compare bike fits or frame geometries. Previously I've used a bike CAD software for that, but it's a bit overkill, so I've made an online bike geometry calculator which you run directly in the web browser. Perhaps others may find useful too so I thought I'd share it.
There's a foldout help panel with complete documentation as well as a step-by-step workflow to measure and make a geometry chart of a real bike you have, but you can also enter manufacturer's geometry diagrams. One use case is to enter the bike you have and like, and then from a geometry chart enter a bike you consider buying to see which frame size you need.
A screenshot below, and the address is
https://www.bikegeocalc.com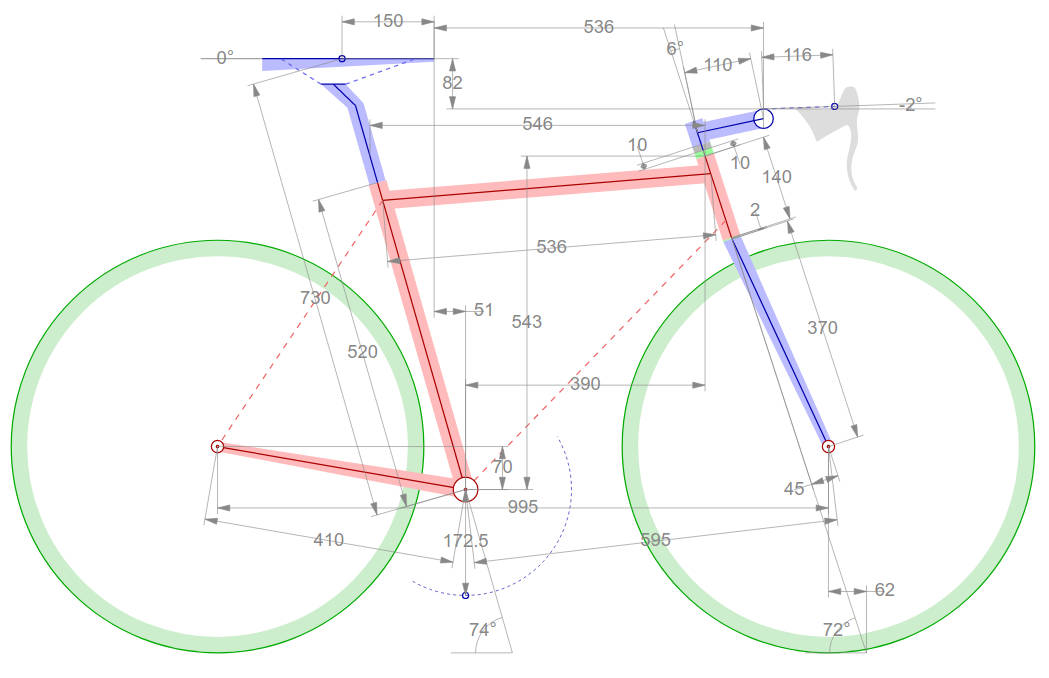 ---
Last edited by torger; 04-11-18 at

08:40 AM

.

04-16-18, 02:52 PM
Have bike, will travel
Join Date: Feb 2006
Location: Lake Geneva, WI
Posts: 12,003
Bikes: Ridley Helium SLX, Canyon Endurance SL, De Rosa Professional, Eddy Merckx Corsa Extra, Schwinn Paramount (1 painted, 1 chrome), Peugeot PX10, Serotta Nova X, Simoncini Cyclocross Special, Raleigh Roker, Pedal Force CG2 and CX2
Mentioned: 40 Post(s)
Tagged: 0 Thread(s)
Quoted: 709 Post(s)
Likes: 0
Very nice, can't wait to try it.
__________________
When I ride my bike I feel free and happy and strong. I'm liberated from the usual nonsense of day to day life. Solid, dependable, silent, my bike is my horse, my fighter jet, my island, my friend. Together we will conquer that hill and thereafter the world.

04-18-18, 02:19 PM
High Plains Luddite
Join Date: Jul 2013
Location: Colorado
Posts: 571
Bikes: '90s MTBs, '96 Allez
Mentioned: 4 Post(s)
Tagged: 0 Thread(s)
Quoted: 143 Post(s)
Likes: 0
Super cool! Thanks for taking the time to create and share that.

Bookmarked for future use.

04-18-18, 07:54 PM
Junior Member
Join Date: Sep 2016
Location: Aurora, IL
Posts: 19
Bikes: 2007 Fuji Roubaix, 2018 Trek Marlin 5, Huffy Baron (boat anchor)
Mentioned: 0 Post(s)
Tagged: 0 Thread(s)
Quoted: 6 Post(s)
Likes: 0
Liked 0 Times in 0 Posts
Very cool! There is a lot going on, but I will admit I have never looked quite that far into geometry.

I will be tucking this back into my archive of cool things that do in fact exist.

04-19-18, 12:39 AM
Senior Member
Join Date: Mar 2018
Posts: 50
Mentioned: 1 Post(s)
Tagged: 0 Thread(s)
Quoted: 17 Post(s)
Likes: 0
Liked 0 Times in 0 Posts
It's pretty niche, and I guess the main thing to figure out is what to use it for :-).

At least one of my bikes don't have geometry charts available from the manufacturer, so there I've used the measurement feature to record the geometry. Some manufacturers provide quite poor charts too, and in those cases one can often use the calculator to fill out more. Knowing the trail for example is nice to get a sense of how the steering behaves.

Then with my current bikes entered I can fantasize about which bikes to get and then enter the geometry chart and compare how the size compares to what I already own. I've also entered some of my remote friends bikes to see how they match up and how we can exchange components to match fit to see if it's feasible to try out each-others bikes next time we meet.

I've also helped out friends to evaluate which bike to buy, comparing different manufacturers sizes and geometries.

04-20-18, 10:55 AM

04-20-18, 07:23 PM
Senior Member
Join Date: Jul 2013
Posts: 208
Mentioned: 10 Post(s)
Tagged: 0 Thread(s)
Quoted: 44 Post(s)
Likes: 0
Liked 0 Times in 0 Posts
Well done, thanks! I just started using bikecad yesterday. After an hour with your web geo calc, I much prefer it over bikecad. It's faster and easier to use for what I want to do.