KickStart Successful for Belt Drive Folding Cruiser

09-26-17, 06:33 AM
Heck on Wheels
Join Date: Sep 2015
Location: USA Midwest
Posts: 1,096
Bikes: In Signature
Mentioned: 2 Post(s)
Tagged: 0 Thread(s)
Quoted: 199 Post(s)
KickStart Successful for Belt Drive Folding Cruiser
---
This popped up in the Industry News section, and I did not see it mentioned here.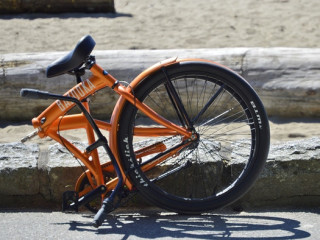 Kickstart
concluded in August, deliveries in Feb 2018. $495 US for the single speed, $719 8 speed, shipping not included.
__________________
"I had a great ride this morning, except for that part about winding up at work."
Bikes so far: 2011 Felt Z85, 80's Raleigh Sovereign (USA), 91 Bianchi Peregrine, 91 Austro-Daimler Pathfinder, 90's Trek 730 Multitrack, STOLEN: 80 Schwinn Voyageur (Japan)

09-28-17, 04:47 PM
Grumpy old man,...
Join Date: Aug 2012
Location: Mastic Beach, NY
Posts: 2,532
Bikes: 7+,...
Mentioned: 10 Post(s)
Tagged: 0 Thread(s)
Quoted: 441 Post(s)
This was posted awhile back. The way the threaded handlebar has to be removed for transport/storage made me pass on it.
__________________
If it wasn't for you meddling kids,...

09-28-17, 05:16 PM
Senior Member
Join Date: Sep 2012
Location: Trekland
Posts: 1,563
Mentioned: 10 Post(s)
Tagged: 0 Thread(s)
Quoted: 252 Post(s)

Posting Rules
You may not post new threads
You may not post replies
You may not post attachments
You may not edit your posts
---
HTML code is Off
---