Success! Neos Derailleur Replacement with Adapter

11-27-22, 09:28 AM
Senior Member
Join Date: Jan 2009
Location: Colorado Springs, CO
Posts: 5,902
Bikes: 2015 Charge Plug, 2007 Dahon Boardwalk, 1997 Nishiki Blazer, 1984 Nishiki International, 2006 Felt F65, 1989 Dahon Getaway V
Mentioned: 54 Post(s)
Tagged: 0 Thread(s)
Quoted: 1342 Post(s)
Success! Neos Derailleur Replacement with Adapter
---
I'm not the greatest bicycle mechanic, but I managed to replace the
broken Neos
compact rapid rise derailleur on my 7-Speed Dahon Boardwalk with a conventional Shimano unit. I had fitted a wider spread of rear gears and the Neos couldn't handle it...especially the small 11-tooth cog.
First I ordered a Litepro derailleur hanger/adapter from Ali Express, just $13. I had originally ordered a similar part for $30 from Tern thinking it would be better quality since they stamp their name on it, but they cancelled the order a few days later due to insufficient stock.
Next I installed the adapter and drove the bike to the co-op so one of the mechanics could see the gears and help me pick out a capable derailleur which ended up being a used Shimano 8515 for $5. I also picked up a new shifter cable and longer cable housing and a new chain All in all about $36.
I screwed on the new derailleur and connected the new cable and sheath. Then I installed the new chain and sized it which was a first for me. I had replaced chains many times, but was always able to use the old chain to match for size. The Park Tools Youtube video series is very helpful. I referred to it again to adjust the derailleur settings, which I had done before a couple of times on this and other bikes.
And son-of-a-gun it works!
I have a 7-speed indexed Shimano thumb-shifter that I use on the right side of the bull-bars i Installed, except now it shifts in the opposite direction. With the original rapid-riser style Neos derailleur 1st gear was with the lever pointing towards me, with 7th pointing forward. Now first is forward and seventh points back towards me. I mis-shifted quite a few times on the first ride yesterday, but I'm sure my brain will adjust. I have 5 bikes with four different shifter types (brifters, downtube, bar-end and thumbies) and I seem to keep them straight for the most part. (I also used to have rapid-fire on my MTB before converting it to drop bars).
Total cost for the project was just under $50.
Here's some pics, including my combination bicycle work station/out-door grill.
Happy riding/grilling!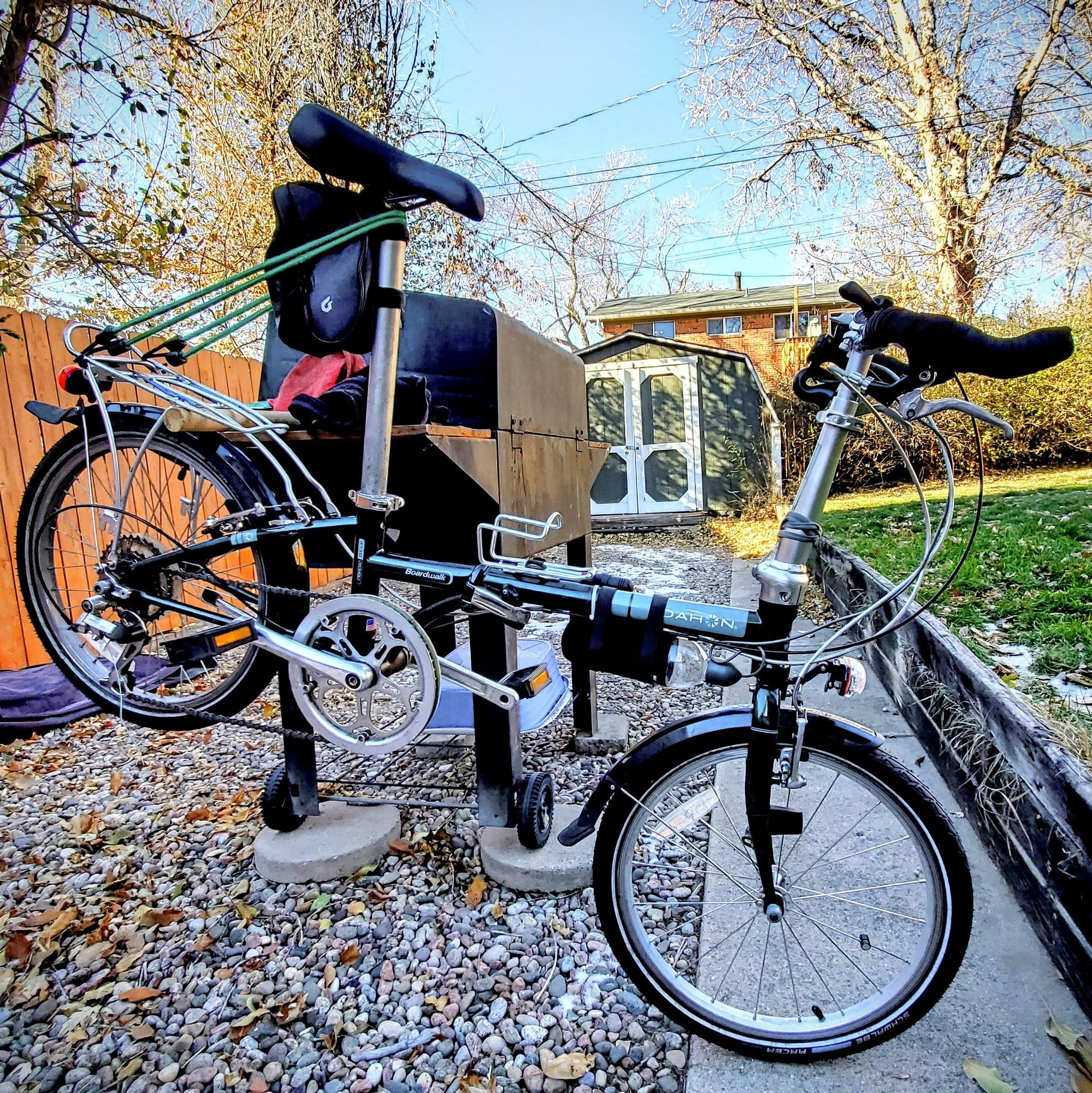 Posting Rules
You may not post new threads
You may not post replies
You may not post attachments
You may not edit your posts
---
HTML code is Off
---