Short review: Barbieri "bath" chain cleaner

12-01-09, 03:41 AM
Senior Member
Join Date: Oct 2008
Posts: 65
Mentioned: 0 Post(s)
Tagged: 0 Thread(s)
Quoted: 0 Post(s)
Likes: 0
Liked 0 Times in 0 Posts
Short review: Barbieri "bath" chain cleaner
---
Hi !
I suspect that a few folding-bike owners live in city flats or other confined spaces, with no easy access to a place where the bike can be jet-washed, or even just thoroughly cleaned-up (due to the muck spaying around when using brushes).
I just recently purchased a chain-cleaning gadget for my Brompton, which I think is worth reviewing here.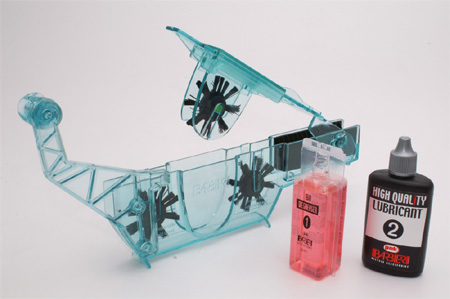 I find it really handy because (1) it easily removes the greasy dirt stuck in between the chain rings, and (2) it does it with minimal mess.
It's only 9 GBP (in the UK) and comes with a reasonable amount of degreaser and lubricant. It's called the "Barbieri Chain Cleaner PRO", there is a slightly cheaper non-PRO version, but it doesn't come with a cleaning extension that I find quite useful (a "tunnel" of flexible rubber flaps that catch a fair amount of dirt before or after the chain reaches the bristle rings).
It's not a perfect product though: the plastic body is very hard and prone to crack...I'll have to be very careful if I want this gadget to last ! In addition, the PRO version is quite long and just about fits on the Brompton chain. It takes some adjusting to get it right, trial and error with the upper and lower part of the chainset.
Overall though, this is serving me well so far, and it's good value.
Cheers, Daniel

12-01-09, 03:52 AM
Senior Member
Join Date: Sep 2008
Location: York UK
Posts: 3,027
Bikes: 2X dualdrive Mezzo folder,plus others
Mentioned: 4 Post(s)
Tagged: 0 Thread(s)
Quoted: 107 Post(s)
Likes: 0
I tryed one before of a different make. I did not think it was very good, but I may try it again as a monthly maintenance routine on the 9 bikes in the family. I see if its effective again,

12-02-09, 03:00 AM
Senior Member
Join Date: Oct 2008
Posts: 65
Mentioned: 0 Post(s)
Tagged: 0 Thread(s)
Quoted: 0 Post(s)
Likes: 0
Liked 0 Times in 0 Posts
I find the long black extension on the "pro" version to be a useful feature: it dries the chain as it exits the bath thanks to a series of tight rubber flaps (=> no splashes all over the place). The 3 brush wheels (hard bristles) do a good job at cleaning the outside of the chain, but what's even better is that this little device pushes the chain down into the bath, so the links are forced to rotate on their axle, which in turn allows the degreaser to dislodge more dirt out of the chain.
Cheers, Dan