Out fishing with Annie on his lap, a cigar in one hand and a ginger ale in the other, watching the sunset.
Join Date: Mar 2006
Location: South Florida
Bikes: Techna Wheelchair and a Sun EZ 3 Recumbent Trike
Posts: 16,128
Mentioned: 1 Post(s)
Tagged: 0 Thread(s)
Quoted: 0 Post(s)
We've got the worst flood in 20+ Years going!!!!! (And I got video)
---
I got video too. This is the Wabash River in Tippecanoe County.
The road toward the end from the overhead view that is submerged is State Highway 43, just North of West Lafayette. As you look across the river, the far tree line is the normal bank. Currently, that Wabash is about a mile and a half across, instead of 150 feet or less. It's at 22.6 feet and that's WAY over flood stage.
2 formats
Photobucket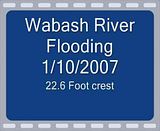 You Tube, if you like that better
http://uk.youtube.com/watch?v=MP8itZcYwOU
Totally bizarre, eh? This is from the melt off of the big snow we had and the big rain that followed.
__________________
. "He who fights with monsters might take care lest he thereby become a monster. And if you gaze for long into an abyss, the abyss gazes also into you."- Fredrick Nietzsche

"We can judge the heart of a man by his treatment of animals." - Immanuel Kant