I work on the 6th floor of a building, with a good view of the people on the street below right from my desk. Since I started here, I've seen a few interesting things, but nothing extraordinary.
But I have seen this one guy maybe 5 or 6 times, who, I guess, must be commuting on one of these things: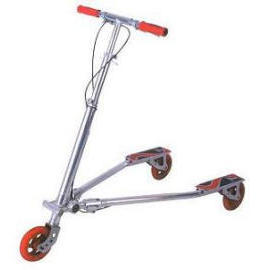 ...just jamming down the sidewalk. If you've ever seen the commercial on TV, you know how stupid they look. But whatever, to each his own. Nobody on the street ever gives this guy a second look as he blazes by, weaving back and forth, in full commuting garb.
But, I also see many, many bikers. Some mountain bikes, some fixies, but mostly typical road bikes. There is one guy, who've I've seen a few times towing a trailer behind, just like this:
Maybe I should be more concerned with my work, but I couldn't help but try to look and gauge the reaction from people on the street. Well, probably every other person within my view who notices this guy, basically drops their jaw in amazement, or stops, looks, and even turn around to continue looking in amazement.
Seriously, I don't get what's so amazing about this.