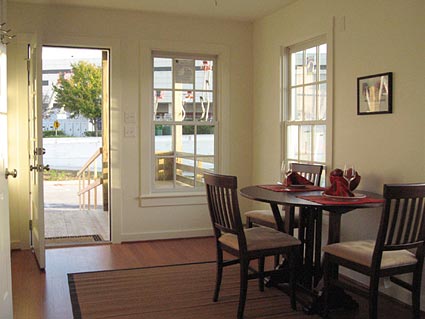 It's Katrina Cottage 1, a 308 square-foot tribute to coastal Mississippi style designed by Marianne Cusato during the October Mississippi Renewal Forum in Biloxi. At a built-out cost somewhere south of $35,000, it was a huge hit when it debuted as a two-dimensional drawing during the forum. Now it's going national.
Cusato is a New York designer. But just about everything else connected with the house is pure Mississippi. Jackson architect Michael Barranco fine-tuned the plan so that Jackson builder Jason Spelling and his crew could construct the prototype in a barn on the Mississippi State Fair Grounds. They completed it in 20 days, then hauled it to Florida to display for an estimated 100,000 attendees at the International Builders Show here through Saturday.
"People are loving it," Spelling said Wednesday. "I can't tell you how many people have come by already and said they personally want one. I even talked to a guy who wants to make it his deer-hunting cabin." Developers who've toured the cottage have told Spelling and Cusato they're considering the design for high-end beach communities on other coasts.
That's not exactly what Cusato has in mind, but she takes it as affirmation that she achieved her purpose: To prove that affordable emergency housing in the wake of Hurricane Katrina didn't have to be a trailer that ends up in a landfill in 18 months. She downsized a perfectly scaled Mississippi-style coastal cottage, complete with an inviting porch. She created clever built-in storage under porch benches and beneath bunk beds. And she gave the sparse interior space a roomy feel with oversized windows.
"People can't believe it's only 300 square-feet," said Cusato. "Just about everybody who's come by says it feels so much bigger."
This particular model is one of a set of Katrina Cottages created by the local and international designers at the Mississippi Renewal Forum. They are collected as plans, soon to be available at a discounted rate to South Mississippians in a series of plan books published by the New Urban Guild.
The designers have been encouraged by the response of state builders, developers and even manufactured housing executives who want to use the cottage designs to help replace the 65,000-plus homes lost to the hurricane in Mississippi.
"And it could catch on nationally," says Cusato. In fact, if the reception this first version has received in Orlando is any indication, says Cusato, Mississippi "can lead the nation in what could be a revolution in affordable housing."