52-week commuter
Join Date: Mar 2005
Location: Washington, DC
Bikes: Redline Conquest, Cannonday, Specialized, RANS
Posts: 1,929
Mentioned: 0 Post(s)
Tagged: 0 Thread(s)
Quoted: 0 Post(s)
Welding a trail-a-bike hitch?
---
I have an Adam's Trail-a-bike tandem that I use with my twins. Adam's has discontinued the tandem, so they're no longer available. Recently the hitch broke, and I'm trying to figure out a way to fix it.
The hitch looks like this: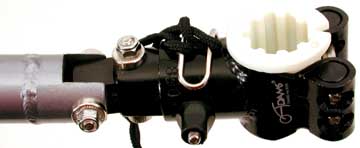 The hitch is a universal joint, black in the picture, which allows the trailer to go up and down and side to side, but it is important for handling that it not twist relative to the lead bike. I guess a loaded trailer can exert a fair amount of torque, because the "ears" of the hitch (silver in the picture) got fatigued and broke. Fortunately no one was hurt. (I suspect this may be why the tandem is no longer sold).
What I would like to do is weld on the kind of hitch used by the Burley Piccolo, which is a superior design. I have purchased the hitch from Burley. The connection to the Burley hitch is a piece of 1/8" thick by 3" wide steel, which attaches perpendicular to the tube, or at a slight angle. I have to figure out a way to attach it to the tube. The tube is 1" steel.
So a couple of questions:
1. Any thoughts on the best way to do this joint?
2. Since my kids are back there, I want to be safety concious, so I'd like to do a prototype first and then test it destructively. Are there any rules of thumb about the kinds of forces a bike should be able to withstand?
3. I last welded about 20 years ago, and I have no equipment. Any recommendations on what to use for this job? I'm thinking TIG or brazing.
Thanks.