C3 H6 O3 ACID
Join Date: May 2008
Location: Old Peoplesville
Bikes:
Posts: 1,138
Mentioned: 0 Post(s)
Tagged: 0 Thread(s)
Quoted: 0 Post(s)
Please help a carbon newbie
---
Hi,
So...before the bashing commences on the frame...I want to know if I am hosed here.
Bought this off CL. Went to take it my LBS to have bearings put in the headset and they called me and said the rear stays were cracked. When I checked it out when I bought it off the guy I didnt see anything... not saying my LBS did it, but ultimately it falls back on me for being an unknowledgeable (if that is a word) buyer of carbon.
sent pics off to calfee and another cf repair shop I found online.
see for yourselves... what do you think? repairable? or will it be a chunk of wall art?
[IMG]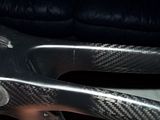 [/IMG]
There are more pics in the album when you click on the pics.
Thanks for the open lashings I am about to receive.