Anyone Work Off Their Thanksgiving Dinner Today?

11-30-16, 09:02 AM
Senior Member
Join Date: Aug 2014
Location: Columbia, SC
Posts: 2,994
Bikes: 2014 Cannondale Synapse Carbon 4 Rival; 2014 Cannondale Trail 7 29; 1972 Schwinn Suburban, 1996 Proflex 756, 1987(?) Peugeot, Dahon Speed P8; 1979 Raleigh Competition GS; 1995 Stumpjumper M2 FS, 1978 Raleigh Sports, Schwinn Prologue
Mentioned: 3 Post(s)
Tagged: 0 Thread(s)
Quoted: 212 Post(s)
Likes: 0
Liked 0 Times in 0 Posts
Haven't gotten a ride in since Turkey Day. We were at my BILs house in Atlanta and I didn't bring a bike. Just lots of food and booze. Hopefully I'll get a commute in tomorrow. Most of the groups have shut down until the spring. Eventually I'll get my mountain bike recabled and will at least be enjoying the trails for a bit

11-30-16, 09:58 AM
Journeyman Bike Commuter
Join Date: Aug 2009
Location: Alexandria, VA
Posts: 4,961
Bikes: '71 Jeunet 630, '79 Peugeot PXN10LE, '88 Fuji Saratoga, '13 Motobecane Fantom29 HT, '16 Motobecane Turino Pro Disc, '16 Motobecane Gran Premio Elite, '18 Velobuild VB-R-022
Mentioned: 11 Post(s)
Tagged: 0 Thread(s)
Quoted: 536 Post(s)
My Thanksgiving was a bit different. Just a small family gathering. No alcohol, since my Mom and daughter (and her fiancé) would find our drinking uncomfortable. I'm sensitive to how they'd react, so we abstained. I also avoided the desserts and only ate a normal portion. No seconds and no late snacking. This kind of bland living suits my personality...

11-30-16, 06:48 PM
Senior Member
Join Date: Jun 2012
Location: Central Ohio
Posts: 856
Bikes: All 80s Schwinns: 88Prologue, 88Circuit, 88Ontare, 88KOM, 86SS, 88Tempo, 88V'ger, 80V'ger, 88LeTour, 82LTLuxeMixte, 87 Cimarron, 86H.Sierra, 92Paramount9c
Mentioned: 5 Post(s)
Tagged: 0 Thread(s)
Quoted: 181 Post(s)
Likes: 0
Liked 0 Times in 0 Posts
Yeah, it was a fun read. I had already been running barefoot before I read it though. I've got a couple pairs of five fingers I wear around this time of year when it starts getting colder, but usually just casual wear. Since relearning to run barefoot I really have a tough time running in anything now lol.
Here is a couple pics from the race on Thanksgiving.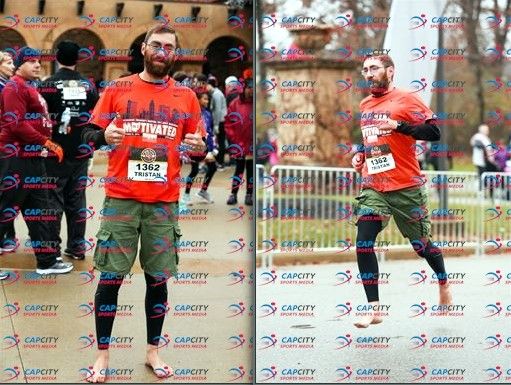 I was a bit overdressed actually, was a bit warmer that morning that I thought it would and I wasn't really used to these fall temperatures yet. Should have left the long sleeve and tights off. I was pretty surprised others actually had hats and gloves on too. I had em with me but left those in the car.
Thread
Thread Starter
Forum
Replies
Last Post

Posting Rules
You may not post new threads
You may not post replies
You may not post attachments
You may not edit your posts
---
HTML code is Off
---