riser bar conversion for old steelies

05-03-17, 05:14 PM
riser bar conversion for old steelies
---
hello,
I have several vintage road bikes (ok...more than 3) mostly 80s Italian lugged steel, all w/ drop bars. I've developed some carpal tunnel/wrist issues, and so looking to convert 1 of them over to riser bars but I'm trying to retain the look and feel of bikes of the era. No carbon or colored bars or mountain dew logos.
DT shifters will remain.
I trying to find what might work, and I like some of offerings from Nitto, but wanted to get some suggestions as to bars, brakes, grips. I'll probably need to get ergo grips of some sort (to avoid nerve compression). Bars should have some rise, some sweep.
Any ideas would be welcomed.
Thanks,
Christian

05-04-17, 08:25 AM
Heck on Wheels
Join Date: Sep 2015
Location: USA Midwest
Posts: 1,100
Bikes: In Signature
Mentioned: 2 Post(s)
Tagged: 0 Thread(s)
Quoted: 206 Post(s)
Likes: 0
You might also get good responses in the Classic and Vintage forum, especially if you post pictures of the bikes.
__________________
"I had a great ride this morning, except for that part about winding up at work."
Bikes so far:
2011 Felt Z85,
80's Raleigh Sovereign
(USA),
91 Bianchi Peregrine
,
91 Austro-Daimler Pathfinder
,
90's Trek 730 Multitrack
, STOLEN:
80 Schwinn Voyageur
(Japan)

05-04-17, 10:16 AM
Half way there
Join Date: Sep 2015
Location: Durham, NC
Posts: 2,352
Bikes: Many, and the list changes frequently
Mentioned: 5 Post(s)
Tagged: 0 Thread(s)
Quoted: 744 Post(s)
I am using Nitto Nordeast bars on my Raleigh Super Course. They are similar to All Rounder type bars. They have 15 deg of rise and 20 deg of sweep. Mine are chromoly, which I opted for after my previous aluminum bars (GB Allrounders) broke while riding. I do believe that Nitto does have an aluminum alloy version, though.

05-04-17, 02:20 PM
Senior Member
Join Date: Nov 2013
Location: Central Texas
Posts: 104
Mentioned: 3 Post(s)
Tagged: 0 Thread(s)
Quoted: 42 Post(s)
Liked 0 Times in 0 Posts
I just put a set of Sunlite Northroad Touring handlebars on my old Hardrock. The bars I got are alloy, but they also are available in chromed steel.

05-04-17, 04:04 PM
Me duelen las nalgas
Join Date: Aug 2015
Location: Texas
Posts: 12,292
Bikes: Centurion Ironman, Trek 5900, Univega Via Carisma, Globe Carmel
Mentioned: 186 Post(s)
Tagged: 0 Thread(s)
Quoted: 3958 Post(s)
I swapped out the flat bars on my Univega Via Carisma mountain bike-lite for low riser bars like those Nitto Nordeast shown above. Much more comfortable, still reasonably efficient for cruising at 12-14 mph. Above that wind resistance becomes a factor.
The Via Carisma as I bought it, with the original flat bar but aftermarket racks and fenders (which I've removed)...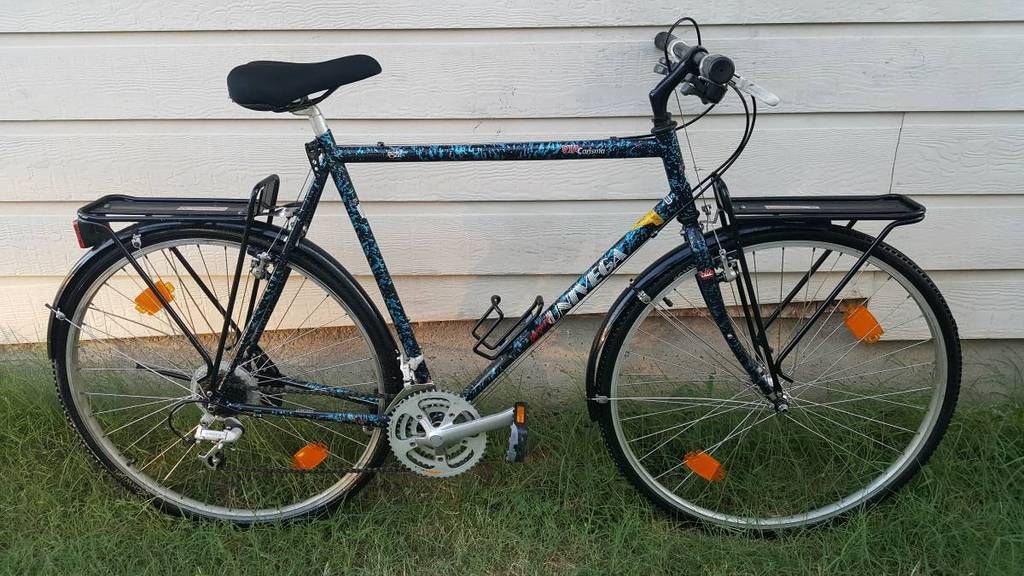 And with the riser bars, pretty close to my current setup. I've since reduced the extension of the Mirrycle by removing the elbow joint -- I worried about clipping people on the narrow parts of the MUP, and in fact did snag the arm of a friend during a group ride. No harm done but it worried me. These riser bars are rather wide and I didn't really need the Mirrycle's extension arm to see behind me. It no longer can be easily pivoted forward/backward for height adjustment, but doesn't need to be -- once I set it and locked it in, I only need the side to side pivot adjustment.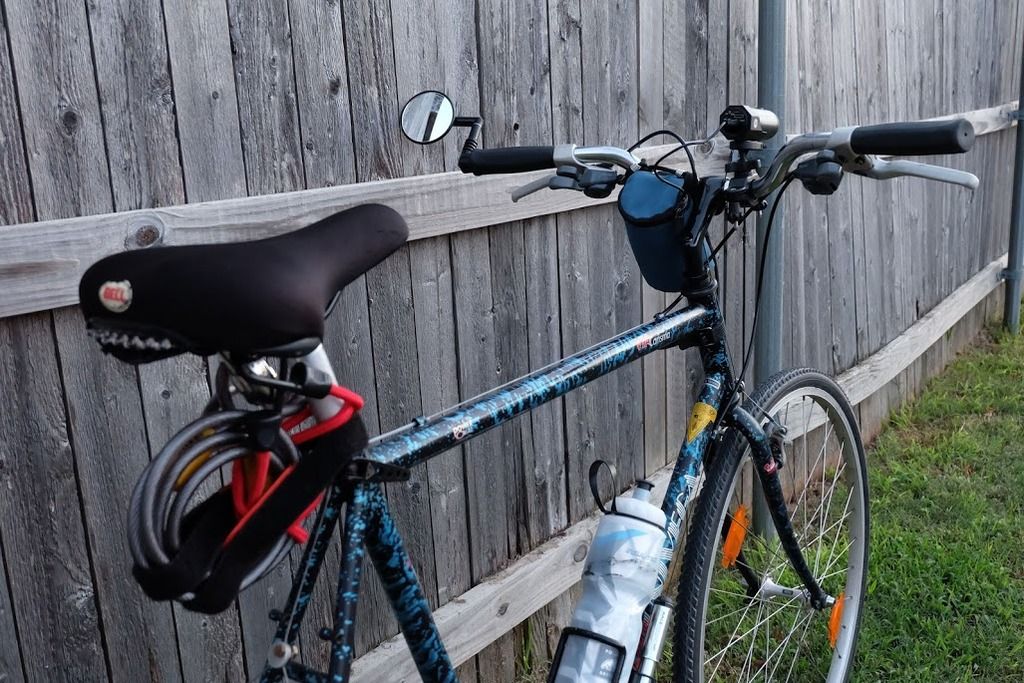 I've been satisfied with the bike with riser bars for about 6 months but I'm considering some albatross bars with little or no rise. A friend put 'em on his hybrid and they're very comfortable and more efficient than my riser bars. He's slightly lower but more relaxed, and with his elbows tucked against his torso he's more aerodynamic. Looks like the best compromise between comfort and efficiency. He also flipped his albatross bars upside down after awhile. Not sure I'd go that far but it works for him.

05-04-17, 05:13 PM
Tortoise Wins by a Hare!
Join Date: Feb 2006
Location: Looney Tunes, IL
Posts: 7,203
Bikes: Wabi Special FG, Raleigh Roper, Nashbar AL-1, Miyata One Hundred, '70 Schwinn Lemonator and More!!
Mentioned: 21 Post(s)
Tagged: 0 Thread(s)
Quoted: 1451 Post(s)
Handlebars are a personal thing, you're going to have to try some to see what works for you. The On One Mary bar is popular with many. I have it on my winter ride: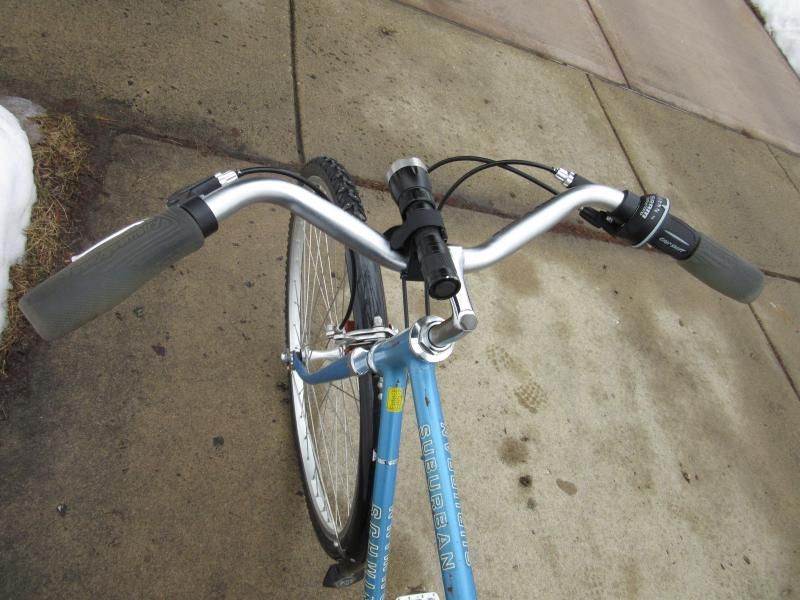 I second the North road style that were common on 3 speeds of the day. These look nice on old road bikes too.
The nice thing about the old road bikes is they have a quill stem, making it easy to raise or lower the bars as needed.
Most of my bikes have less sweep than the bars above, and feel good to me. I even put this Nitto B2500aa with zero rise and zero sweep (yep, perfectly straight!) on a fixed gear conversion and it works well.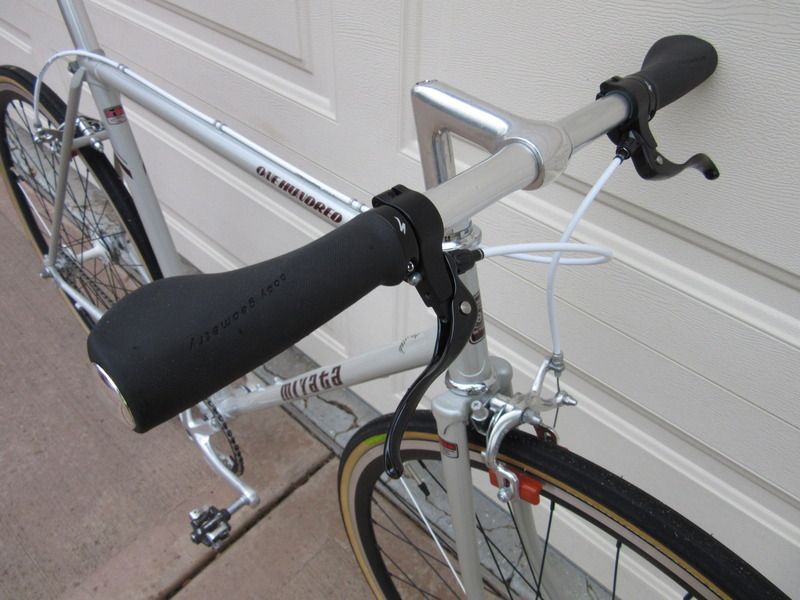 Just get some cheap bars to start and see how they feel/look to you. Generic low risers with a little sweep can be found for $20 or less.
Thread
Thread Starter
Forum
Replies
Last Post

Posting Rules
You may not post new threads
You may not post replies
You may not post attachments
You may not edit your posts
---
HTML code is Off
---