Any CAAD9 owners? Would 28c tires fit?

05-31-17, 11:39 AM
Senior Member
Any CAAD9 owners? Would 28c tires fit?
---
Hello all, just scored last night my 'forever bike', a 2010 Cannondale CAAD9 5 Compact in mint condition for $450. I'm quite excited, always wanted one and this is a nice frame to grow with

I had purchased Schwalbe One folding clincher 28c's and a pair of Campagnolo Zonda C17's that are due to arrive in a few days (for my other road bike until this deal transpired, i sold it and bought this one) and i wonder what my chances are that the whole package will fit. The bike has on some Michelin 23c's that look a tad big for 23's.

Anyone try this tire size on a CAAD? Some results online don't seem to be evidence based, just discourage it based on tight chainstay clearance and the front fork clearance. Hoping someone has tried it and can offer some insight on their experience with the clearances.

Thanks!

06-03-17, 06:14 AM
Senior Member
Welp....turns out the back clears fine but the front rubs the apex of the fork so slightly at 85 psi.

Going to have to pick up a 25 for the front. :/

06-03-17, 10:25 AM
Generally bewildered
Join Date: Aug 2015
Location: Eastern PA, USA
Posts: 2,955
Bikes: 2014 Trek Domane 6.9, 1999 LeMond Zurich, 1978 Schwinn Superior
Mentioned: 20 Post(s)
Tagged: 0 Thread(s)
Quoted: 1115 Post(s)
I've wondered about this. Given that most of your weight goes on the back tire (judging by both geometry/physics and evidence of wear - my rear tire gets a flat section way before my front), and given that a wider tire gives you more support and more absorption of road vibration, shouldn't all bikes have a bigger rear tire than front?

06-03-17, 03:17 PM
Senior Member
That was the idea. I just picked up this bike early this week and had Michelin 23's on Shimano RS10's, this frame is pretty stiff and the with those tires pretty jarring coming from a Trek 1.5 with 25's. I love the CAAD9's feedback, just wanted to soften up the ride for comfort.
So i picked up a pair of 26c Specialized Turbo Pro's locally this morning, thinking i would swap them both in.
Only did the front and kept the 28 in the rear to test out. Happy to say its something you can't tell in terms one being wider than the other. First time i've ever had a staggered setup on a bike. I have the 28 at 90PSI in the rear and the 26's at 85 PSI in the front.
Did 7 miles this morning with some light rain to gauge their wet road manners and just got back from doing 10 miles alongside my wife's hybrid and i think i'm going to ride this out, they roll super nice on the new wheels.
Will just be keeping the extra tires for the next replacements . Works for me

---
Last edited by Esthetic; 06-03-17 at

03:23 PM

.

06-03-17, 04:34 PM
Senior Member
In case anyone is curious of that rear clearance: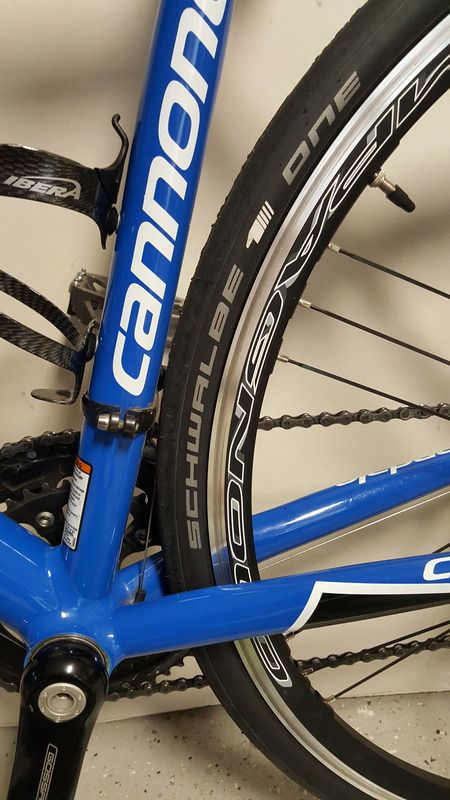 06-03-17, 04:34 PM
Senior Member
Join Date: Dec 2010
Location: Above ground, Walnut Creek, Ca
Posts: 6,681
Bikes: 8 ss bikes, 1 5-speed touring bike
Mentioned: 0 Post(s)
Tagged: 0 Thread(s)
Quoted: 86 Post(s)
Likes: 0
if it's important enough to you and the rubbing is minimal enough, it's possible (i know because i've done it) to put some shimming material in the front fork dropouts so as to allow the tire to clear the crotch of the fork.
shimming material can be just about anything.

also might want to keep in mind that not all tires having the same advertised dimensions have the same profile. they can vary quite a bit, or at least enough to think about other tires as possibilities.
---
Last edited by hueyhoolihan; 06-03-17 at

04:38 PM

.
Thread
Thread Starter
Forum
Replies
Last Post

Posting Rules
You may not post new threads
You may not post replies
You may not post attachments
You may not edit your posts
---
HTML code is Off
---