The other side of large dogs.

02-11-19, 11:14 AM
Banned.
Join Date: Dec 2017
Location: France
Posts: 1,030
Bikes: Brompton, Time, Bianchi, Jan Janssen, Peugeot
Mentioned: 6 Post(s)
Tagged: 0 Thread(s)
Quoted: 598 Post(s)
Likes: 0
Thanks, KraneXL, you've proved my point..Also, that report you quoted might have come from the Beano comic, since it seems only to refer to one country, is not well referenced*, and provides no comparative figures. I am assuming that you accept we humans are also animals?.

Oh, it might also interest you to know that the USA is but one part of this planet of ours. Please show some respect for the nations, by at least recognising they exist.

* Blanket statements about other high income countries mean little, unless, in this case, you provide figures, i.e. population of dogs, people etc. You could also, of course, provide further figures on deaths from bites for each country, but, and feel to disprove me, based on the figures in this article they're going to be way lower than road deaths, drowning, railway suicides etc.
---
Last edited by avole; 02-11-19 at

11:24 AM

.

02-11-19, 01:42 PM
Senior Member
Join Date: Mar 2018
Posts: 887
Bikes: 2015 Spec. AWOL Elite, 2007 Spec. Roubaix Elite, 2003 Spec. Big Hit 2, 1998 VooDoo Zobop, 1985 Trek 410, 1984 Trek 620 1985 Trek 620
Mentioned: 14 Post(s)
Tagged: 0 Thread(s)
Quoted: 350 Post(s)
Likes: 0
This repellent works - have used it 3 times on dogs and it stopped them all. It is a fairly mild pepper gel - more potent products are available in some states. This product can be clipped to your shorts or the bike with an accessory holder. If you buy a similar product make sure that it is a gel spray and not a cloud-forming dispersal spray because anybody riding behind you will ride through the cloud
For more determined dogs a gravity knife or equivalent clipped to your pocket could be your only option.
Keeping these items on your person rather than on your bike will be helpful if a dog knocks you down or off the bike.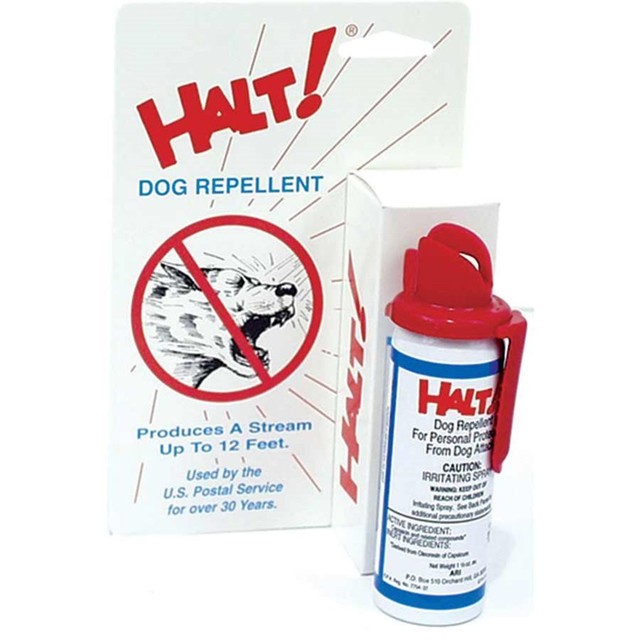 02-11-19, 01:56 PM
Senior Member
Join Date: Aug 2009
Posts: 8,528
Bikes: Wilier Izoard XP (Record);Cinelli Xperience (Force);Specialized Allez (Rival);Bianchi Via Nirone 7 (Centaur); Colnago AC-R Disc;Colnago V1r Limited Edition;De Rosa King 3 Limited(Force 22);DeRosa Merak(Red):Pinarello Dogma 65.1 Hydro(Di2)
Mentioned: 2 Post(s)
Tagged: 0 Thread(s)
Quoted: 545 Post(s)
Originally Posted by
avole
What?? Perhaps the most asinine question I've seen on any forum in a long time and you a Safety Specalist! Why would it not? If you have antagonised the dog to such an extent it's going to give you a warning to lay off, then of course. Heavy duty plastic as a minimum, if course.
Don't take it seriously. Helmet and dog bite discussions always manage to get locked. Hence, the question.

02-11-19, 06:44 PM
Senior Member
Join Date: Jun 2003
Posts: 17,872
Bikes: 2 many
Mentioned: 12 Post(s)
Tagged: 0 Thread(s)
Quoted: 1152 Post(s)
Originally Posted by
eja_ bottecchia
I have been riding for more years than I care to admit to. I ride mostly through farm land where large dogs reside in unfenced property.
Never, ever had a bad incident involving an aggressive dog.
Not saying it doesn't happen, just has not happened to me in all of these years.
I agree with you, however, it is the owner's responsibility to make sure that their dogs are not a threat. I have two large dogs (over 115 lbs each). They will protect and guard the house and backyard, mostly by scaring the crap out of intruders. They are fenced in and are not able to get out of the yard..
Good luck to you.
Beautiful dogs.

02-11-19, 06:50 PM
Senior Member
Join Date: Jul 2010
Posts: 5,692
Mentioned: 6 Post(s)
Tagged: 0 Thread(s)
Quoted: 964 Post(s)
When everything goes to crap at work, when my friends and my own family are being less than kind...these two remain my faithful and loyal companions.
If tomorrow I should lose everything, if family and friends desert, if my health gives out on me...I am still a rich man because of them.


02-11-19, 07:03 PM
Senior Member
Join Date: Nov 2014
Location: Eugene, Oregon, USA
Posts: 24,418
Mentioned: 192 Post(s)
Tagged: 0 Thread(s)
Quoted: 11288 Post(s)
Most of them are OK.

I like them behind fences better, and don't tolerate dogs chasing me without a fence (there is one that "greets me" behind a fence almost every day, and I come to miss it if I don't see it for a few days).

A couple of years ago, I got an early start. I was going over a hill at the crack of dawn. Dog started barking, and the owner said it was OK, the dog was good (otherwise I would have said "stay" or something). Anyway, it lunged, and got a mouth full of handlebars. Apparently it didn't know where to bite a bicycle.

Loose dogs get yelled at.... "GO HOME".

I have one Golden Retriever, I think at the end of an out and back loop. Not much choice but turn around there. I told it to go home. So, it went to the corner of its property and sat and watched me. I have seen it a few other times without incident.

Another ride... late night, last leg of a 150 mile ride that I got a late start on. I passed a campsite. Dark. All I heard was the pitter-patter of feet coming up behind me. I yelled, and the dog broke off. But, I was just cresting a hill at the time... sometimes I think I would have been better off letting the thing chase me down the hill. Perhaps it wouldn't have found its way back. Then again, it was someone's pet. But, I saw people at the campsite, and didn't hear any indication that they were paying attention to their dog.

Coming past some farmlands south of Portland, I had a dog coming after me. I yelled several times, and the thing just kept coming. Moderately busy road. That is the one time that I've thought that pepper spray would have been a good idea. Unfortunately, that is so rare of an instance that I would never have it, and have it ready for a sprint and watching the dog at the same time.

I've been past there a couple of times, and never saw the dog again. Perhaps if the road was busy enough... the dog disappeared. Who knows, I was passed less than a minute after I had dog issues that one time, but didn't hear any crashing.

02-11-19, 07:18 PM
Disco Infiltrator
There are no bad goldendoodles, only bad owners
__________________
Genesis 49:16-17

02-12-19, 06:17 AM
Originally Posted by
Lemond1985
Dog owners can be a deluded bunch. There are a great many things they don't realize. Like what it feels like to have their loving 100 lb fuzzball charge and slam into you on your bike at 20 mph, then make a bloody meal out of your leg. As happened to me just yesterday with this dog, photographed an instant before he attacked and bit me, twice, while his self-absorbed owners looked on and did nothing but make lame excuses on behalf of the mutt, and offered me zero assistance afterwards.
I hate to be the bearer of bad news, but your dog is much nicer to you than he is to strangers. I know that might be a major revelation to some, but I think that message really needs to get out there to irresponsible owners of large dogs (are there any other kind these days?) Especially the ones that are are allowed to run loose.
If the owners were jerks you needed to call the police! In fact if the bites are caused you a doctor bill or tore your kit you need to sue the owners! I don't like suing people but if those idiots are going to act like that, then maybe a lawsuit will change their minds. The police if they find that dog to be nuisance and the dog wasn't on a leash have the authority to call the pound and have them take the dog away! If the owner is incapable of controlling their dog then maybe that needs to happen.
Thread
Thread Starter
Forum
Replies
Last Post
General Cycling Discussion
General Cycling Discussion

Posting Rules
You may not post new threads
You may not post replies
You may not post attachments
You may not edit your posts
---
HTML code is Off
---