Thoughts on a Jamis Renegade Exploit

05-23-19, 06:21 PM
Senior Member
Join Date: Mar 2016
Location: North Carolina
Posts: 1,053
Bikes: '87-ish Pinarello Montello; '89 Nishiki Ariel; '85 Raleigh Wyoming, '16 Wabi Special, '16 Wabi Classic, '14 Kona Cinder Cone
Mentioned: 4 Post(s)
Tagged: 0 Thread(s)
Quoted: 391 Post(s)
Likes: 0
Thoughts on a Jamis Renegade Exploit
---
Thinking of buying one as a commuter and do-all bike. Anyone have any actual hands-on experience with these bikes?

05-23-19, 08:00 PM
Member
Join Date: Oct 2009
Location: upstate NY
Posts: 46
Bikes: Surly CrossCheck
Mentioned: 0 Post(s)
Tagged: 0 Thread(s)
Quoted: 8 Post(s)
Likes: 0
Liked 0 Times in 0 Posts
I got a Jamis renegade expat this year. I've put about 3or4 hundred miles on it. Initial thoughts are good. The seat that it came with did not work for me. The wheel set is also pretty crappy but that's not unusual for a bike to cut corners on a wheel set. I have also been pretty disappointed with the paint job. It seems to chip pretty easy. Like around the eyelets after mounting and dismounting a rack the paint is all chipped and working its away out and away from the eyelet. With that said with a new saddle and wheels I freaking love the bike. The steel frame really is a joy to ride and the geometry is spot on for stretching out and enjoying a ride. The expat is definitely not the lightest in the line up but it's really great. I think you'll be happy with a renegade. I took it for a hill ride at a state park attached a pic.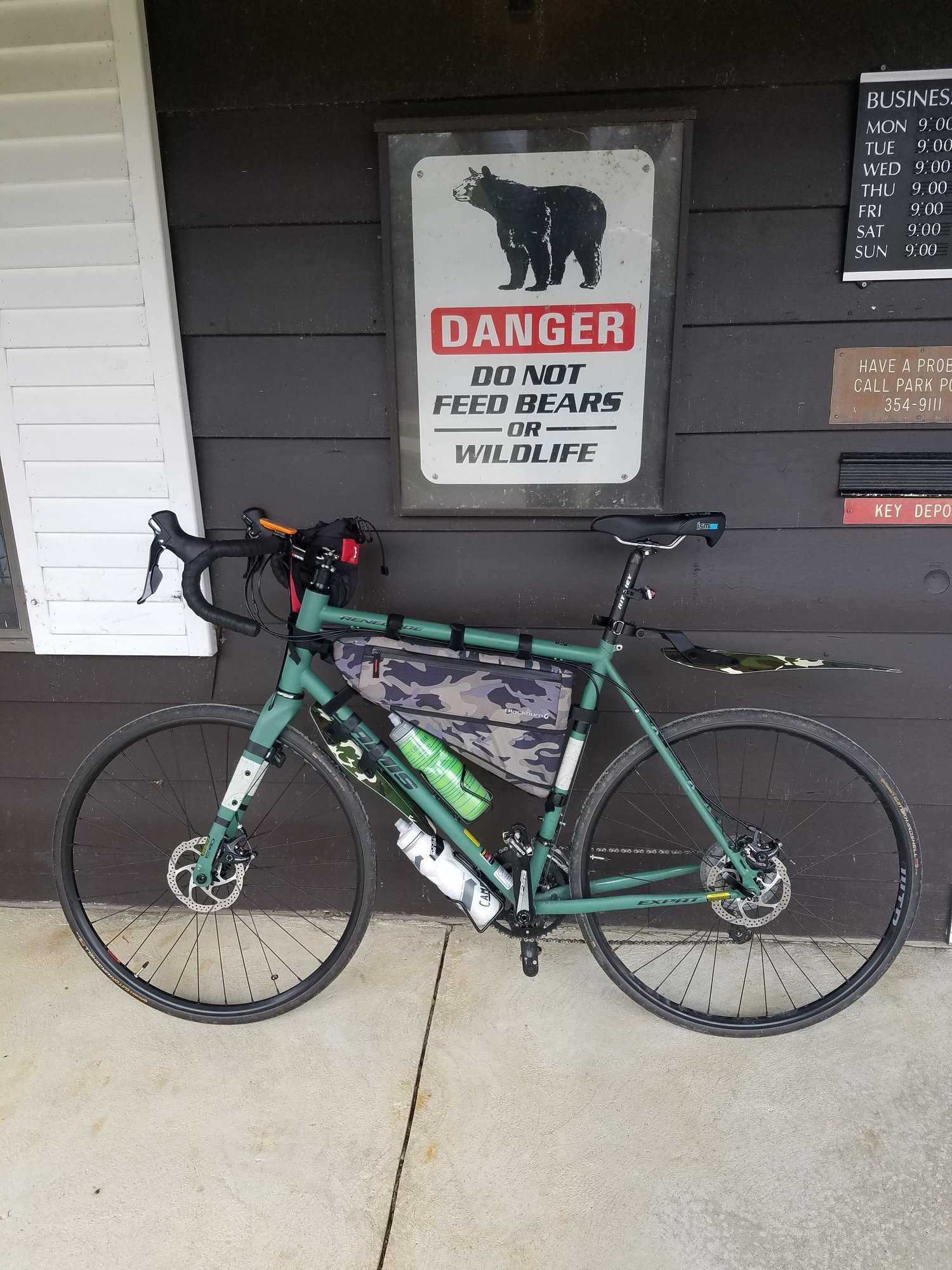 05-24-19, 06:45 AM
Senior Member
Join Date: Jun 2007
Posts: 5,146
Mentioned: 17 Post(s)
Tagged: 0 Thread(s)
Quoted: 1064 Post(s)

05-24-19, 08:42 AM

05-24-19, 08:44 AM
Senior Member
Join Date: Jan 2005
Location: LF, APMAT
Posts: 2,226
Mentioned: 8 Post(s)
Tagged: 0 Thread(s)
Quoted: 426 Post(s)
Likes: 0
I have the Expert which is the CF version. I like it a lot for riding around town. Smooths out the pavement. I have taken it off road a few times and enjoyed it there too. I would have been happy with the Exploit, but I got a better deal on the Expert.
Thread
Thread Starter
Forum
Replies
Last Post

Posting Rules
You may not post new threads
You may not post replies
You may not post attachments
You may not edit your posts
---
HTML code is Off
---