27.5" wheel Schwinn Stingray

07-13-19, 08:37 PM
we be rollin'
27.5" wheel Schwinn Stingray
---
with large tires like 2.35" (or even 2.6"). What would you think of that? Would it work as an idea? I mean with like more modern features like threadless headset and aluminium frame and 8 speed cassette etc. I mean I sometimes wonder what it would feel like to roll with a banana seat bicycle again if I had an adult-sized one.

07-13-19, 11:56 PM
Senior Member
Join Date: Mar 2011
Posts: 2,905
Bikes: 2013 Surly Disc Trucker, 2004 Novara Randonee , old fixie , etc
Mentioned: 3 Post(s)
Tagged: 0 Thread(s)
Quoted: 569 Post(s)
Likes: 0
Stingrays were built for wheelies, now if ya' wanna be cool, do a wheelie on a road bike!

07-14-19, 06:30 AM
weapons-grade bolognium
Join Date: Dec 2008
Location: Across the street from Chicago
Posts: 4,776
Bikes: Battaglin Cromor, Ciocc Designer 84, Schwinn Superior 1981
Mentioned: 29 Post(s)
Tagged: 0 Thread(s)
Quoted: 443 Post(s)
Schwinn did this with the Mantaray bita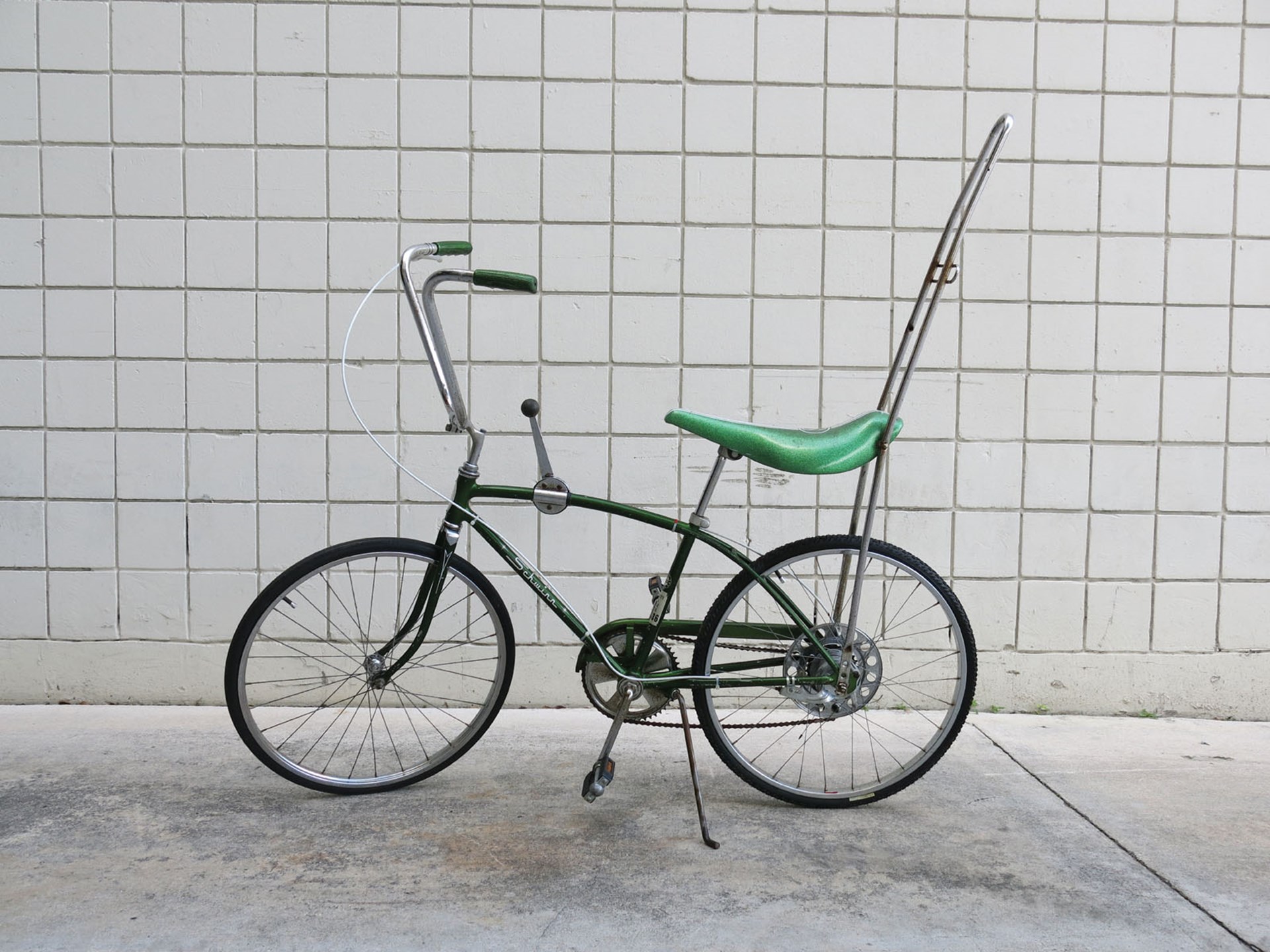 07-14-19, 07:20 AM
Senior Member
Join Date: Jan 2009
Location: Colorado Springs, CO
Posts: 4,499
Bikes: 2015 Charge Plug, 1997 Nishiki Blazer, 1984 Nishiki International
Mentioned: 44 Post(s)
Tagged: 0 Thread(s)
Quoted: 898 Post(s)


Sometime around then I saw a Manta Ray locked up at the drugstore (probably during a candy and comic books run with friends). It was gray with a silver metal-flake banana seat with a shifter on the top tube.

My immediate impression was "cool!" a bigger Stingray! But the proportions were off. The banana seat didn't hang out over the entire rear wheel, and the front bars somehow didn't look right either. It didn't have a fat, flat back slick like my Stingray, but the longitutal racing stripe with the "S" on the seat was cool.

I saw a few more, but none of them had a tall "sissy bar" in the back like the one pictured here.

Looking at this bike now, Schwinn should have used a frame with shorter chain-stays to bring the back wheel in, and a seat-post setback and possibly longer seat to get the seat out over the back of the back wheel. Also, a longer front fork with a smaller 24" wheel and a drum brake (or "motorcycle brake" as we called it) like on the Stingray-based "Krate" bikes (Apple-Krate etc) should have been used.



Of course, all of that would have cost money to produce and raise the price to the consumer.

But, ungainly proportions or not, the photo of the Manta-Ray immediately took me back 45 years or so to the bike I saw at locked up at the drug store in Chicago.

Thanks for sharing!

07-14-19, 08:21 AM
Senior Member
Here's an old 26er that's along the same line of thinking. Two sizes too small, expanded with a lay back and risers.
Thread
Thread Starter
Forum
Replies
Last Post
General Cycling Discussion
General Cycling Discussion

Posting Rules
You may not post new threads
You may not post replies
You may not post attachments
You may not edit your posts
---
HTML code is Off
---