Protecting old chrome from salt air?

03-24-23, 11:58 AM
Protecting old chrome from salt air?
---
I live 5 miles from the ocean, so the home air isn't bad, but I do most of my riding along the beach (Pacific Coast Highway, usually one block off of and adjacent to the beach). My main roadie is titanium, so I'm not really all that concerned. I do get sand in the drivetrain from crosswinds, but I clean it when I get home, and replacing consumables a little more frequently is a price I'm willing to pay for the views.

But I'm considering buying a fully-chromed Super LeTour to hang out on some of the local social rides. We have one in town where everyone meets up at a local record store, oohs and ahhs at all the old pre-war Schwinns and the custom ratrods, then cruises around the boardwalk and downtown to meey up for tacos and beer by the water. Is that sort of thing once a week enough to cause pitting? Other than washing the bike regularly, any tips? Any specific wax or other product you'd suggest?

Most of the chrome fenders and lugs I see on older bikes around here are somewhere between "patina" and "scratchy rust bucket," but I imagine a lot of those are stored 24/7 in garages 3 blocks off the beach.

03-24-23, 01:05 PM
Senior Member
Join Date: Jul 2014
Location: Central Indiana
Posts: 2,172
Bikes: Old Stuff
Mentioned: 27 Post(s)
Tagged: 0 Thread(s)
Quoted: 885 Post(s)
Premium car wax. Something heavy on the carnauba applied in serious OCD fashion. If just for hanging up forlornly in my garage I use Boeshield.

03-24-23, 01:44 PM
post cholecystectomy
Join Date: Jul 2017
Location: Mississippi
Posts: 12,905
Bikes: Tarmac Disc Comp Di2 - 2020
Mentioned: 45 Post(s)
Tagged: 0 Thread(s)
Quoted: 5277 Post(s)
Wipe the frame and everything off as often as you see fit. Or hose it down. I find that a wet wipe of some sort that comes in a big container works great for just general cleaning. And it's easier with the newer bikes that have their cables internal. Usually, but not limited to the bikes with electronic shifting.

I'd think you'd have the same issue for new chrome as you do for the old chrome of your thread title. And the advice would be the same whether it's chrome or paint. If you truly are in the ocean breeze, then inattention will be the worst enemy.

03-24-23, 03:50 PM
Thanks, all. Been about 6 years since I've had any bikes with paint OR chrome. All this titanium (even the fork) has me lazy.


03-25-23, 07:55 AM
Senior Member
Johnson's paste floor wax. Some people object to clear coating chrome, but if I were where you are and had an all chrome bike it certainly be clear coated.

03-25-23, 09:07 AM
Senior Member
Join Date: May 2010
Location: Bastrop Texas
Posts: 3,816
Bikes: Univega, Peu P6, Peu PR-10, Ted Williams, Peu UO-8, Peu UO-18 Mixte, Peu Dolomites
Mentioned: 8 Post(s)
Tagged: 0 Thread(s)
Quoted: 683 Post(s)
Don't forget to treat the inside of the frame too...
__________________
No matter where your at... There you are... Δf:=f(1/2)-f(-1/2)

03-28-23, 04:15 AM
I suggest that it's all about the original plating process, the corrosion starts underneath the shiny chrome layer. My last 2 new chrome plated cruiser forks from eBay both pitted within 2 years, even after religious application of wax externally and fluid film internally.

Your old Schwinn probably had a much more careful plating process, keep it clean, store in a dry place, make sure any scratches are filled with wax. Spray a little corrosion protectant inside the tubes, and any place dissimilar metals meet (fluid film or T-9).

03-28-23, 10:45 AM
Senior Member
Join Date: Jul 2013
Location: NJ, USA
Posts: 1,099
Bikes: two blacks, a blue and a white.
Mentioned: 2 Post(s)
Tagged: 0 Thread(s)
Quoted: 387 Post(s)
After years of summers at the Jersey shore, I think you're on the road to disappointment. The moist, salty air is pervasive, and you can't vacuum-pack your bike every night. It would have to be an exceptional bike to justify the continual and frequent maintenance to fight this fight. First few months - very do-able, but a few years? I'd fall out of love with that bike by then.

03-29-23, 12:04 PM
Rust
---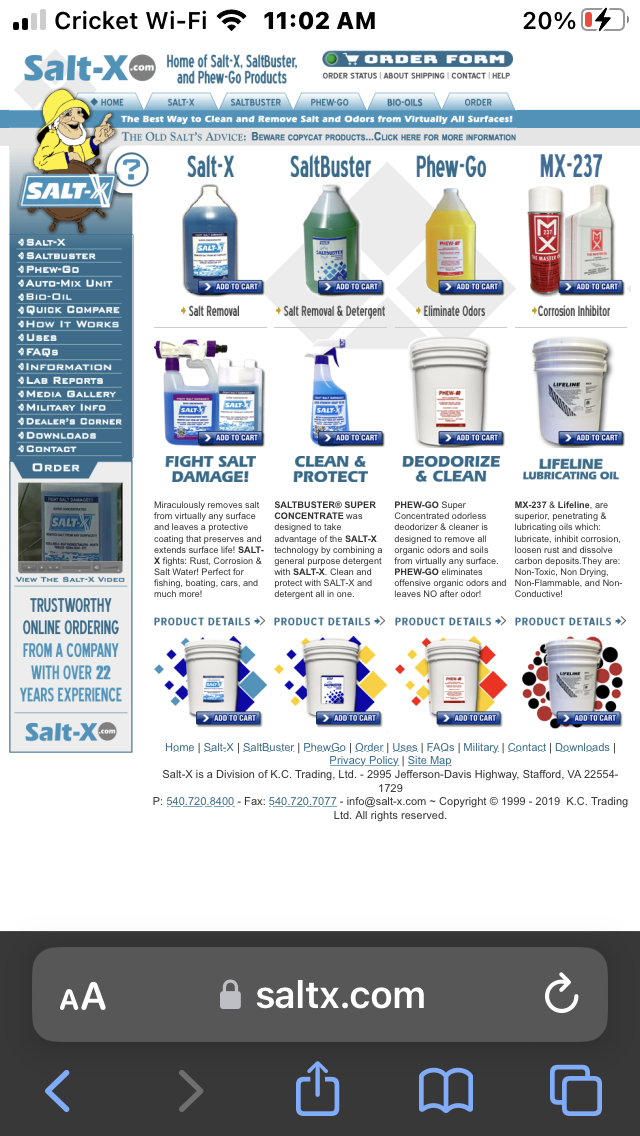 These products work great. Pick the one that fits.