Christmas Bike (in September...?)

09-08-08, 06:40 AM
Pants are for suckaz
Join Date: Mar 2007
Location: Mt. Airy, MD
Posts: 2,578
Bikes: Hardtail MTB, Fixed gear, and Commuter bike
Mentioned: 0 Post(s)
Tagged: 0 Thread(s)
Quoted: 0 Post(s)
Likes: 0
Liked 0 Times in 0 Posts
Christmas Bike (in September...?)
---
As some of you may remember, last year I built a sweet sleigh trailer for a christmas themed bicycle ride locally.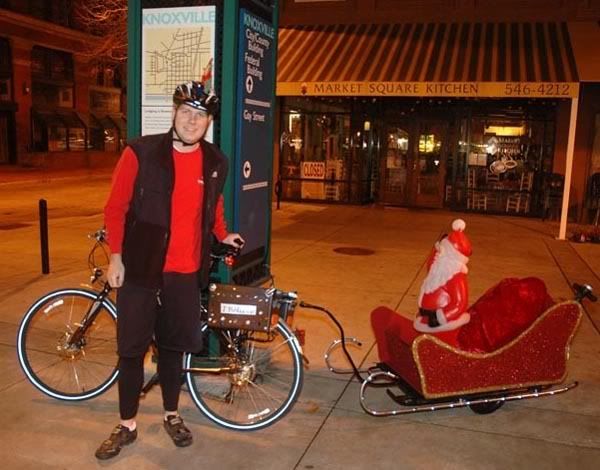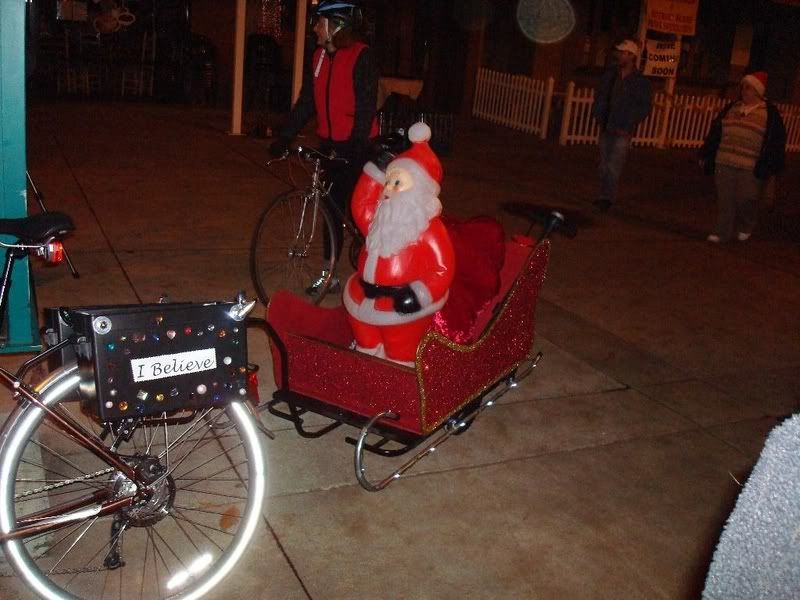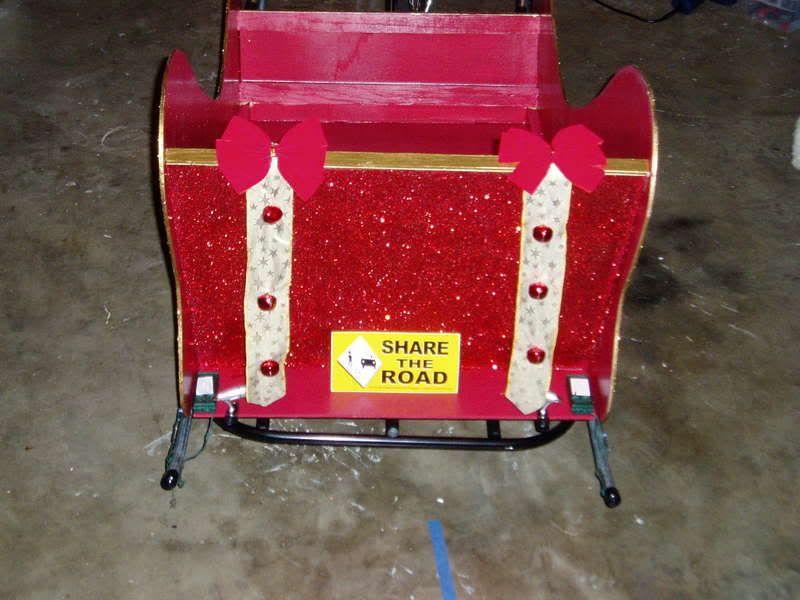 This contraption got so much positive attention that I've started early this year building a new trailer for the ride. Since I already did a sleigh I knew I needed to go in a different direction this year. I don't want to give away too much yet but lets just say that my trailer last year was for delivering presents to good cyclists, my trailer this year is for delivering something to the rest of the cyclists who are inelligable for presents.
This is the "box" from a coal cart like those used in coal mines to bring coal to the surface. I came up with the idea and my dad built this for me. He used lumber reclaimed from old pallets that were being thrown away and part of a discarded desk as well (free wood and recycling FTW). He even designed the stencil and painted it and everything. He's got enviable woodworking skills. I'm stoked about how well it came out! (Thanks dad!)
I've welded a steel trailer frame that the body will be mounted to, then I will build a "false floor" that real coal will be glued to creating the illusion that the cart is really full of coal. I'll add some finishing touches like "3 feet, it's the law" and "you'd look hotter in a helmet" stickers on the back and some custom LED lighting effects.
Now I just have to contain my excitement about pulling the trailer until December.
Does anyone else decorate their bikes for the holidays? Post pics or tell us about it!

09-08-08, 12:34 PM
Junior Member
Join Date: May 2008
Posts: 14
Mentioned: 0 Post(s)
Tagged: 0 Thread(s)
Quoted: 0 Post(s)
Likes: 0
Liked 0 Times in 0 Posts
Thats amazing! Are you just going to use charcoal (the stuff for outdoor cooking) as the coal? Oh and recycling is always the best, good job.


09-08-08, 01:07 PM
Pants are for suckaz
Join Date: Mar 2007
Location: Mt. Airy, MD
Posts: 2,578
Bikes: Hardtail MTB, Fixed gear, and Commuter bike
Mentioned: 0 Post(s)
Tagged: 0 Thread(s)
Quoted: 0 Post(s)
Likes: 0
Liked 0 Times in 0 Posts
Coal story: I posted an ad on craigslist asking for information on where I could find some coal around here for a holiday decoration project. Living in the foothills of the smokey mountains there is a lot of coal that comes out of the ground right here in this area so I knew it shoudln't be too hard to find some. I got a couple responses and one lady even offered me some free coal from her basement if i'd just come get it. It turns out that this lady lives about 40 minutes away but free coal is free coal so I'm driving out there tomorrow after work to get a buck full of real honest-to-goodness coal.
The box is made of white oak (heavy) and the frame is welded from steel tubing (also heavy) so I'm going to use my background in composites fabrication to make a "lid" from resin-impregnated fleece covered with the thinnest layer of coal that I can while still making the cart look full. The end result will still be a beast but I think ti;ll be manageable. My last trailer (Billy the Boombox) weighs in at well over 50lbs since he is powered by a lead-acid car battery.
Here's what Billy looks like: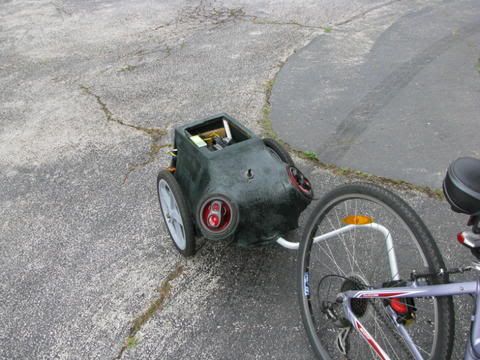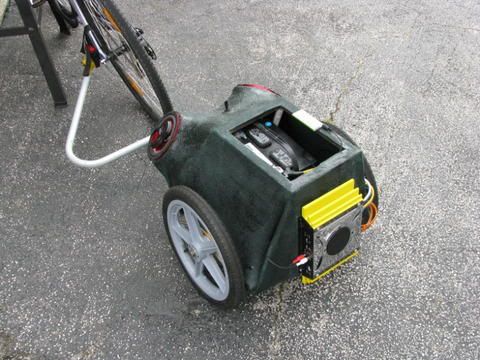 We rock him at the CM rides and other group rides around town. He can be heard for about a block and a half and although some have said he would anger motorists, I have recieved nothing but smiles and waves from people when we take him out for a ride. Billy is a plywood base with fiberglass reinforcement and custom welded steel axles. His "body" is polyester impregnated fleece and he rocks out with a 2ch amp pushing 2 6.5" three-way coaxial speakers. His "brain" is an iPod wired directly to the amp.