My San Jos8 Wannabe

03-01-09, 07:28 PM
Pants are for suckaz
Join Date: Mar 2007
Location: Mt. Airy, MD
Posts: 2,578
Bikes: Hardtail MTB, Fixed gear, and Commuter bike
Mentioned: 0 Post(s)
Tagged: 0 Thread(s)
Quoted: 0 Post(s)
Likes: 0
Liked 0 Times in 0 Posts
My San Jos8 Wannabe
---
Ever since I first saw it I've been in love with the late Sheldon Brown's Bianchi San Jos8. A dropped bar, internally geared, road bike built from Bianchi's SS cross bike platform.
https://www.sheldonbrown.com/harris/b...os8/index.html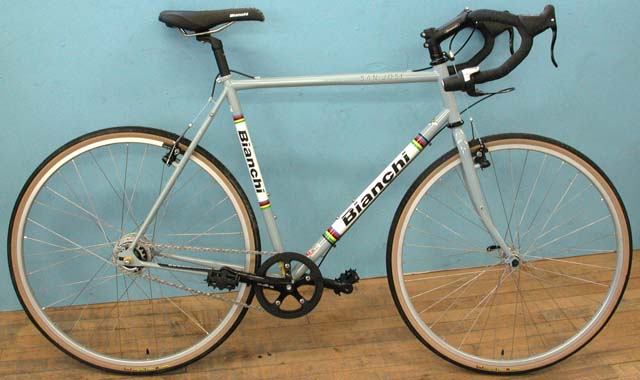 These bikes retail for a little more than I could afford right now but I made my own version of the bike using my Motobecane Messenger fixed gear bike and a SRAM S7 IGH wheel that my LBS sold me for almost nothing. Its still not as nice as the Harris Cyclery bike but I know I'll enjoy riding it and I know Sheldon would approve.
Before (as a fixed gear):
After:

03-02-09, 01:59 PM
Senior Member
Join Date: Apr 2006
Location: corpus christi,texas
Posts: 423
Bikes: canondale silk trail--92 schwinn criss cross--sun atlas x type--fugi odessa--2018 trek domane ALR5 disc
Mentioned: 3 Post(s)
Tagged: 0 Thread(s)
Quoted: 47 Post(s)
Likes: 0
Liked 0 Times in 0 Posts
Sheldon would love everything but the coasterbrake. No worries though, a lot of us like coasterbrakes. Lots of fun bustin a big ole skid.


03-03-09, 06:42 AM
Pants are for suckaz
Join Date: Mar 2007
Location: Mt. Airy, MD
Posts: 2,578
Bikes: Hardtail MTB, Fixed gear, and Commuter bike
Mentioned: 0 Post(s)
Tagged: 0 Thread(s)
Quoted: 0 Post(s)
Likes: 0
Liked 0 Times in 0 Posts