Worksman Classic Cruisers

07-14-09, 10:06 PM
Junior Member
Join Date: Jul 2009
Posts: 21
Mentioned: 0 Post(s)
Tagged: 0 Thread(s)
Quoted: 0 Post(s)
Likes: 0
Liked 0 Times in 0 Posts
Worksman Classic Cruisers
---
Anybody here have one? I spent years riding one of their industrial tricycles in the GM plant I worked at. I really liked that old trike and with solid rubber tires it never got a flat. Well I'm planning on getting a cruiser and somehow I got to the Worksman web site and lo & behold they make a cruiser with all the neat options like springer front suspension, big drum front brake, whitewall balloon tires and a retro cruiser rear rack. I went to the build sheet and put together a pretty nice bike for about $750 not bad for made in New York USA. See links and feel free to comment or post pics if you have one.
http://worksmancycles.com/shopsite_s.../cruisers.html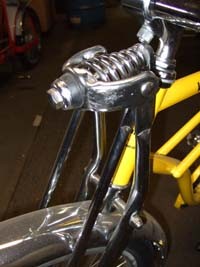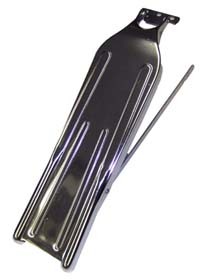 http://www.worksmancycles.com/shopsi...trialBikes.pdf

07-14-09, 10:31 PM
Gear Hub fan
Join Date: Nov 2008
Location: Reno, NV
Posts: 2,829
Bikes: Civia Hyland Rohloff, Swobo Dixon, Colnago, Univega
Mentioned: 0 Post(s)
Tagged: 0 Thread(s)
Quoted: 0 Post(s)
Likes: 0
Liked 0 Times in 0 Posts
Worksmans have been discussed in the Utility Cycling forum quite a bit. IIRC the springer fork is not made by Worksman but is a pretty cheap aftermarket item that is not too satisfactory. You might ask about it over there.
__________________
Gear Hubs Owned: Rohloff disc brake, SRAM iM9 disc brake, SRAM P5 freewheel, Sachs Torpedo 3 speed freewheel, NuVinci CVT, Shimano Alfine SG S-501, Sturmey Archer S5-2 Alloy. Other: 83 Colnago Super Record, Univega Via De Oro
Visit and join the Yahoo Geared Hub Bikes group for support and links.
http://groups.yahoo.com/group/Geared_hub_bikes/

07-15-09, 11:48 AM
Uber Goober
I ride a Worksman cruiser- somewhere on here, I have a write-up on it.

At the time I bought mine, you could get the basic "industrial" model a little cheaper than you could get the customized cruiser with those exact same options- so that's what I did.
__________________
"be careful this rando stuff is addictive and dan's the 'pusher'."