Fuji Connoisseur Build

11-28-11, 06:07 PM
Senior Member
Join Date: Apr 2004
Location: Indiana
Posts: 179
Mentioned: 0 Post(s)
Tagged: 0 Thread(s)
Quoted: 0 Post(s)
Fuji Connoisseur Build
---
Finally picked up the Fuji frame that I asked about on here a few months ago. I took advantage of the online black Friday and Cyber Monday sales, along with some ebay scrounging, and all of the parts are on the way. It's been sitting like this for a couple of weeks: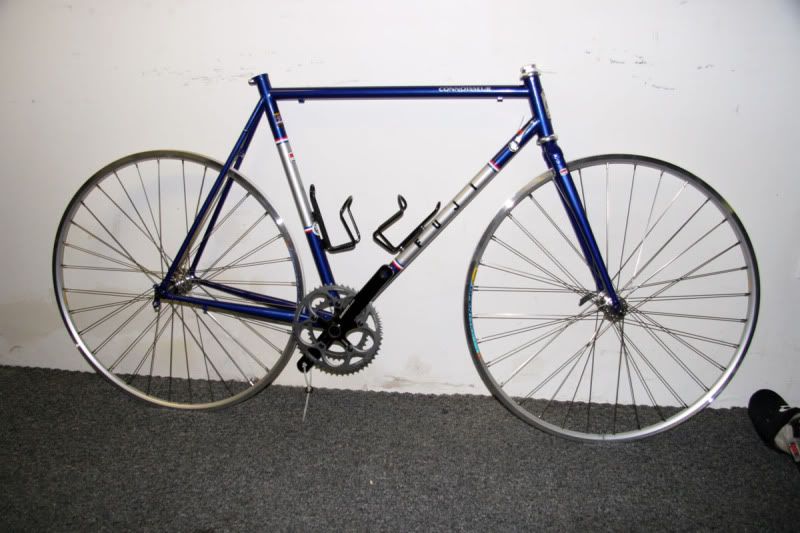 Wheels are 105 hubs laced to Mavic open pros. Shifters are Dura Ace 9 speed. Crank is a 50/34 Sram Apex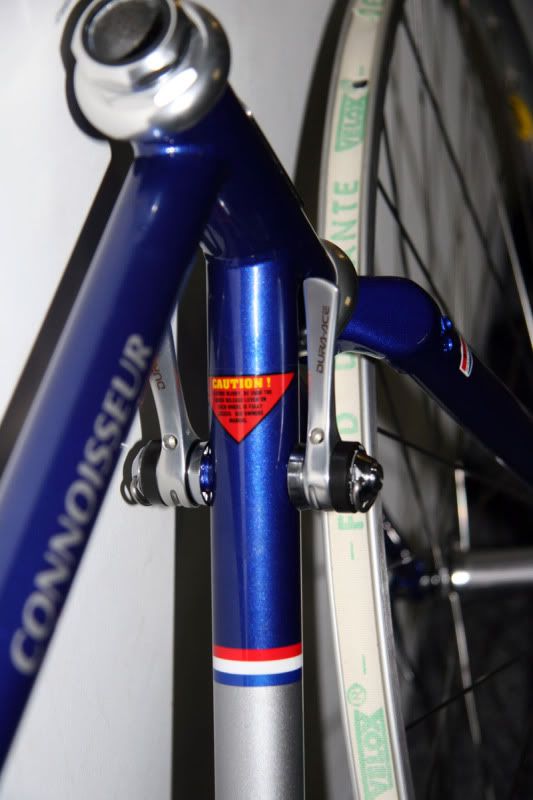 Tires (Panaracer Pasela 700x28), rear derailleur (Ultegra) brakes (Nashbar long reach) and Brooks B17 arrived today.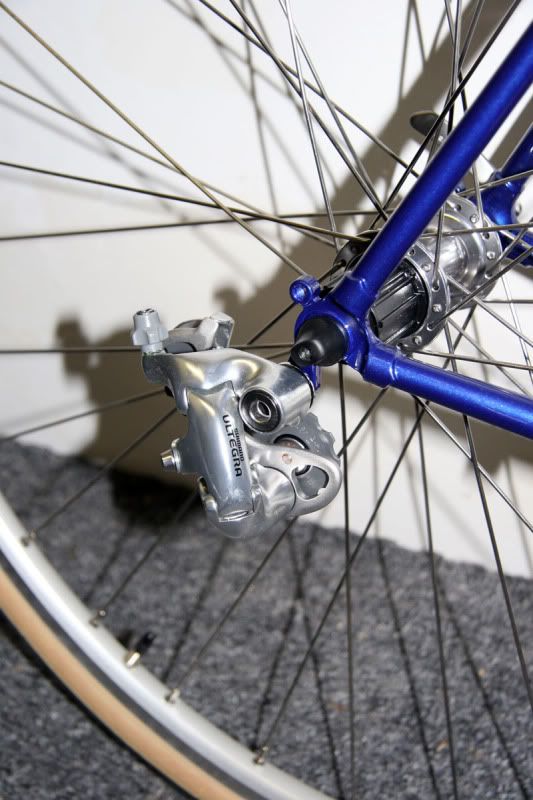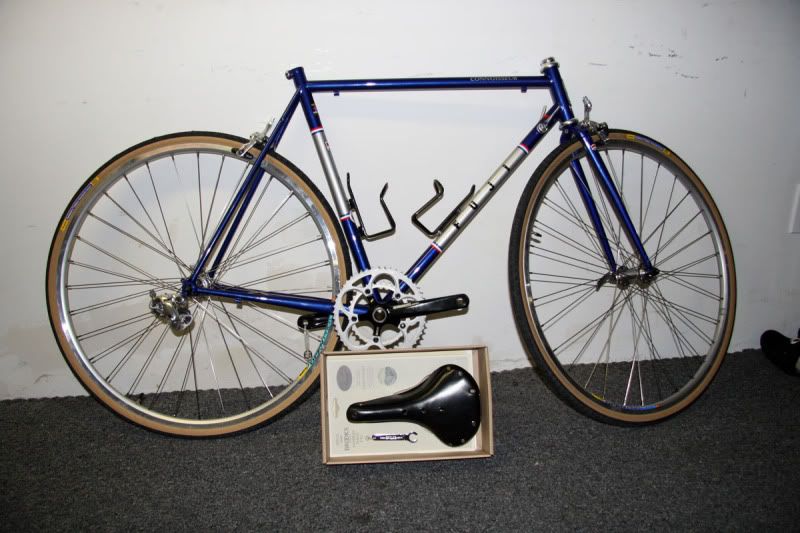 Items still on the way:
Sram PC-991 chain
FSA compact front derailleur
Easton Seatpost
Profile Designs stem
Ultegra 14-25 cassette. I find that I never use the 11 or 13 tooth on my other bikes, so thought I'd give this a try. I'll be replacing the 23 and 25 tooth cogs with a 24 and 28. This will give me 14-15-16-17-18-19-21-24-28.
A friend is giving me a pair of Origin 8 brake levers, and I have a couple of different bars laying around. I'll be using Shimano SPD pedals, as I have these on all of my other bikes. Hopefully everything will be here by the weekend!
---
Last edited by tcmers; 11-28-11 at

06:10 PM

.

11-29-11, 03:55 PM
Senior Member
Join Date: Jun 2007
Posts: 4,830
Mentioned: 15 Post(s)
Tagged: 0 Thread(s)
Quoted: 926 Post(s)
That is going to be a good looking bike. Sounds like a "can't go wrong" build. Be sure to post a ride report.

12-11-11, 01:26 PM
Senior Member
Join Date: Apr 2004
Location: Indiana
Posts: 179
Mentioned: 0 Post(s)
Tagged: 0 Thread(s)
Quoted: 0 Post(s)
The build is complete. Everything went well with the exception of the front derailleur. The clamp on the FSA that I tried to use was too thick. With the 28c Pasellas, There was only a couple of milimeters clearance between the rear tire and the clamp. I used an old Shimano 600 derailleur and it worked much better. Shifting is flawless, even with the compact crank. Have put about 50 miles on it so far, 30 of those today. I'm glad I used the 28c tires. The ride is comfortable, and I don't think I am giving up much in the way of speed when compared to a lighter, thinner tire. So far, no complaints. Rides, handles and shifts well. My ride today consisted of 30 miles on mostly county roads. Some in pretty good shape, others a little rough. Ran into one other cyclist out braving the snow and chatted a bit. They were very complimentary of the bike. Their first "real" road bike was a Fuji, as was mine. Well...I have to be honest, I have one complaint....it's freaking cold today!

Here's a pic from the end of the ride today.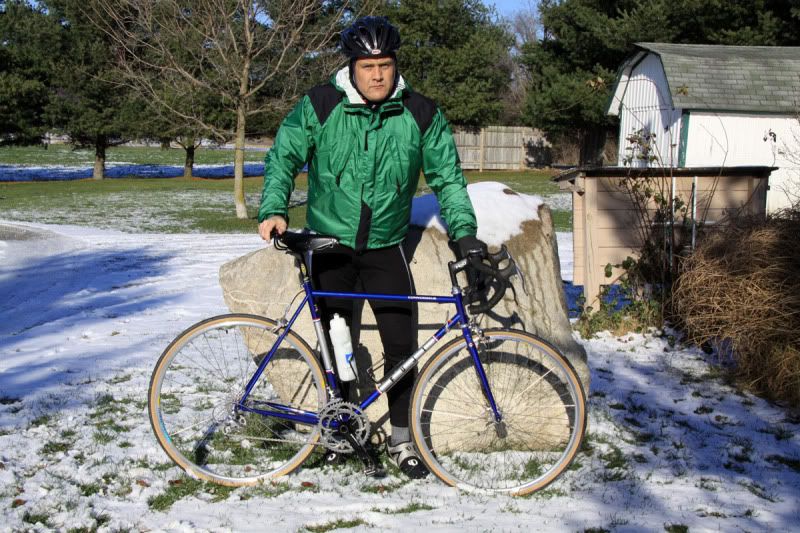 01-17-12, 10:51 PM
Junior Member
Join Date: Dec 2011
Location: kalamazoo, MI>
Posts: 13
Mentioned: 0 Post(s)
Tagged: 0 Thread(s)
Quoted: 0 Post(s)
I love your bike I just got done building mine

02-27-12, 11:04 AM
Senior Member
Join Date: Apr 2004
Location: Indiana
Posts: 179
Mentioned: 0 Post(s)
Tagged: 0 Thread(s)
Quoted: 0 Post(s)

Posting Rules
You may not post new threads
You may not post replies
You may not post attachments
You may not edit your posts
---
HTML code is Off
---