'Out of the Saddle' Technique

05-20-14, 05:47 PM
'Out of the Saddle' Technique
---
I'm somewhat unusual in that I am a very recent returnee' to the road, but my cycling conditioning is not bad. Over the past 18 months I've put 400 to 500 hours on a spinner bike (no classes - just me and whatever motivation I can come up with).

I did a fair amount of riding back in the late 90's so that is my reference point. My pedaling in the saddle just 'feels OK' to me. I'm not saying that it necessarily is efficient/etc., but it feels like it is.

However out of the saddle it is totally different. I feel jerky and very inefficient - a feeling that I don't recall from my earlier riding years. If you recall how Marco Pantani looked when he took off out of the saddle, I feel just the opposite (he looked light on the pedals and I feel like I am stomping grapes). I suppose it could be nothing more than not enough hours on a real bike (only been a couple weeks since my Bianchi's resurrection). Or maybe it is something about how a spinner bike acts when you are out of the saddle (for whatever reason I spend a lot of my spinner time out of the saddle).

Just fishing for comments on technique, possible 'spinner bike complications', etc.

Thanks.

dave

05-20-14, 06:05 PM
Senior Member
Join Date: Nov 2013
Location: Alameda, CA
Posts: 205
Bikes: Windsor The Hour Plus, 2014 Novara Verita, Windsor Oxford
Mentioned: 0 Post(s)
Tagged: 0 Thread(s)
Quoted: 1 Post(s)
Likes: 0
Liked 0 Times in 0 Posts
I think it's just a lack of "real" bike riding. When you're on a spinner bike you have a base that gives you stability so you haven't had to exercise the myriad smaller muscles you use for fine balance control.

05-20-14, 06:14 PM
Packfodding 3
Join Date: Jul 2002
Location: Sacramento, California, USA
Posts: 38,032
Bikes: Ridley Excalibur, Gazelle Champion Mondial, On-One Pompino, Specialized Rock Hopper
Mentioned: 57 Post(s)
Tagged: 0 Thread(s)
Quoted: 1818 Post(s)
Spin bikes don't rock when you stand on them; real bikes do. You're probably acclimated to the former so the latter feels weird.

05-20-14, 06:20 PM
coprolite
Join Date: Jun 2010
Location: NW,Oregon Coast
Posts: 41,625
Bikes: 8
Mentioned: 188 Post(s)
Tagged: 0 Thread(s)
Quoted: 6838 Post(s)
Likes: 0
Generalization ... spinning is a higher cadence , lower gear , standing and tempo hammering up a hill is a dropping into a bit higher gear .

the weight shifted to the power stroke foot.

the way people win racing on the climbs is by shifing to a higher gear and adding more distance from your competitors with every pedal stroke..

05-20-14, 06:27 PM
Find a decent climb in your area.
Approach it at a moderate lively pace.
Stand when the grade requires it, proceed & repeat.
There is no free lunch in physics.
-Bandera
__________________
'74 Raleigh Internat'l. '77 Trek TX900 FG. '90 Vitus 979. '10 Merckx EMX3. '13 Soma Stanyan

05-20-14, 08:39 PM
rebmeM roineS
Sometimes I wish I could get out of the saddle on steep climbs. Instead, gotta just gear down and spin.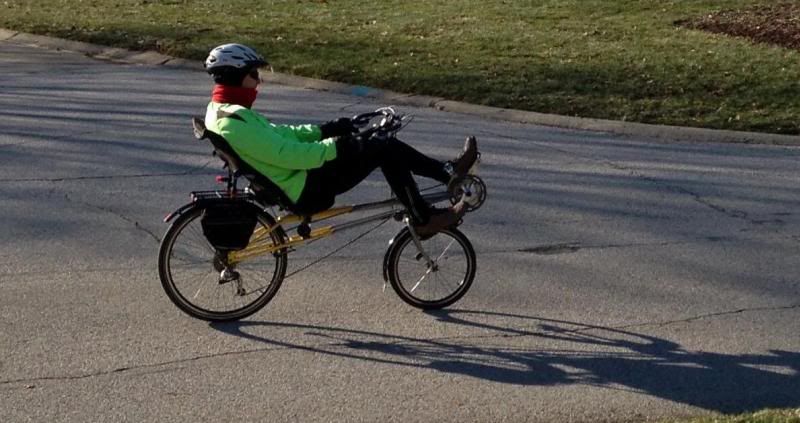 __________________
RANS V3 Ti, RANS V-Rex, RANS Screamer

05-21-14, 05:55 AM
Thanks for all the helpful comments - going to treat this as something that will come naturally.

dave

05-21-14, 09:12 AM
Senior Member
Join Date: Apr 2014
Posts: 219
Mentioned: 1 Post(s)
Tagged: 0 Thread(s)
Quoted: 17 Post(s)
Likes: 0
Liked 0 Times in 0 Posts
I find that it feels weird when I am out of the saddle on my spinner. The geometry and size are different from my bike. I feel too upright and cramped between the saddle and neck on my spinner. I also find that I don't get enough clearance between my butt and the seat. I keep hitting the saddle.

05-24-14, 05:01 AM
FWIW, in my last couple of rides I simply jumped out of the saddle at every opportunity. It didn't take long at all before my out of the saddle riding got way more comfortable. So I think that it is just 'more time' on a real bike (vs. spinner).
And while I never felt cramped (see the previous post from Rider_1) on my spinner I also noticed that my butt would hit my saddle on the spinner where I didn't experience this on my bike. My spinner setup (Lemond Revmaster) was just a (admittedly careless) attempt to do a traditional fitting setup. So I took my road bike (where I had some help and things were done with more care) and took some measurements intending to transfer those directly to the Revmaster). My Revmaster is pretty flexible from a setup perspective. And that yielded a good bit of saddle movement (both up and to the rear). That 'butt grazing the saddle' thing is now gone and I would assume that this is a good thing (that should at least improve my average ride speed by 2 mph

)
dave

05-24-14, 05:26 AM
If you are climbing, you have to shift to a gear two or three higher than what you are in just as you intend to stand. That is, if you remained seated, the gearing would become harder to push.

One of the things that really improved my standing technique, particularly the transition from sitting to standing and sitting again, was using a fixed gear bike. The practice comes in useful when you are faced with an extended climb because you learn to pace yourself. The longest I have climbed has been 300 pedals strokes climbing a hill on the FG.

A technique on a geared bike that also become useful on extended climbs is changing gear while standing. This comes when the pitch or grade gets steeper, and then again when it becomes less steep. It can be risky -- there have been some who've posted on BF who have gone over the handlebars when they have got it wrong, but it sure helps to learn the technique.

05-24-14, 09:36 AM
Rowan, my habit is a one gear shift before standing. But typically I am already lugging so ...

But still - something to pay attention to. Thanks.

dave

05-24-14, 03:10 PM
Senior Member
Join Date: Mar 2014
Location: Cascadia
Posts: 1,206
Bikes: Jamis Quest Comp
Mentioned: 2 Post(s)
Tagged: 0 Thread(s)
Quoted: 168 Post(s)
Likes: 0
What's the geometry of the bike? I have a cruiser with a super relaxed seat tube, and getting out of the saddle feels really weird and awkward.

But if I make an effort to move my center of gravity more forward, it feels a lot more doable.

I just wish the stationary bikes had normal seat posts, where you could put your own saddle on if you want.
Thread
Thread Starter
Forum
Replies
Last Post
Clydesdales/Athenas (200+ lb / 91+ kg)
"The 33"-Road Bike Racing

Posting Rules
You may not post new threads
You may not post replies
You may not post attachments
You may not edit your posts
---
HTML code is Off
---