Carbon forks.

11-24-18, 04:03 PM
That eBay listing shows the suspension as "68mm", which I thought was pretty good, but the RST homepage shows it as about 35mm. It might be good as a compromise between a heavier suspension fork with longer travel and a rigid fork with no travel just to take the edge off. RST does not list tire clearance figures. I saw one thread where someone used some scaling on the photos and guessed at about 58mm width between the fork blades at the top, where the tire might sit. Would you mind measuring yours?

11-24-18, 04:49 PM
Senior Member
Join Date: Nov 2014
Location: Eugene, Oregon, USA
Posts: 22,128
Mentioned: 156 Post(s)
Tagged: 0 Thread(s)
Quoted: 8212 Post(s)
Likes: 0
Ok, found it.

Putting about 150 pounds weight on it, I get about 3cm movement. Measuring the boot, I think I get about 4cm max. I can pull the fork upward another couple mm. I don't see any obvious suspension lockout.

Crown to middle of axle is about 36.5 cm.

Crown race to middle of axle is about 46 cm.

Steer tube is about 259mm (26 cm).

Mine has a plug in the steer tube about 95mm from the top of the steer tube (16.5 cm from the crown race) which appears to be threaded. The plug appears to be held in place by 2 allen screws, but may well be part of the suspension so I'm not removing it at this time.

It has a couple of lines/dots on the rear right side. At the upper rear right dot, side to side clearance is about 55mm. At the dot on the front left side, it is about 60mm. 55mm between canti posts.

I don't think I have that size of tire, but I have some 40mm Protek Cross Max tires that I'll mount up on a moderately wide rim (confirm rim later) and I'll post a photo.

I believe it will be slightly too tight for the Extra Terrestrials.

The blocks for the cantis are on my fork, but I don't see any actual posts with it. Perhaps I lost them in the box, but you'd have to confirm with the vendor. Hmmm, that could be a problem for my Tricross.

There are lower rack mount holes, but no upper rack mount holes. A few odd holes, I think along the length of the fork blades, maybe for speedometers or generators.

The brake bridge hole (front and rear) appears to be threaded, but doesn't go all the way through.

I think the fork blades are solid aluminum and independent of the suspension, and so perhaps one could drill and tap upper rack mounts if one desired.

I've got a "Made in Taiwan" sticker on mine.
---
Last edited by CliffordK; 11-24-18 at

05:00 PM

.

11-24-18, 07:08 PM
Cool, thanks. It looks like the SS-A models have aluminum blades and the SS-M models have magnesium blades. Your measurements sound like what I've seen elsewhere, and this is an interesting fork to me. I agree that there is no lockout (unfortunately), but there is a preload adjustment. The additional holes and mounting points are for disc brake lines/cables and generator cables. There's also an additional mounting provision on the left fork blade for a roller (hub/drum) brake. They're popular as commuter hubs due to common integration with a generator and due to their inherent compatibility with messy weather.

It looks like aluminum rigid forks are in the 400-700 gram range, and chrome-moly steel forks are in the 800-1200 gram range. That puts the RST SS-M series magnesium fork in about the same range as a rigid chrome-moly steel fork, and still offer some additional compliance over a rigid fork. This compares pretty favorably to a typical suspension hybrid fork (2500-2800 gram range).

11-24-18, 07:11 PM
Atrophied Member
Join Date: Jul 2013
Location: The Timbers of Fennario (CL77)
Posts: 4,565
Bikes: Steel
Mentioned: 61 Post(s)
Tagged: 0 Thread(s)
Quoted: 2366 Post(s)
Lauf makes a leaf-spring carbon fork...
https://www.laufcycling.com/product/lauf-grit-sl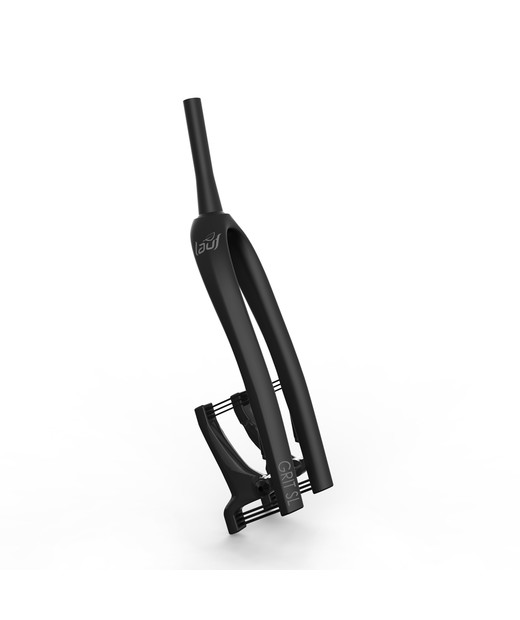 11-26-18, 02:46 AM
Me duelen las nalgas
Ditto, the Lauf fork. If I did more gravel and off road riding, even just at a casual pace, not racing, I'd get a Lauf just to make it easier on my neck.

Even a simple Suntour spring suspension fork makes a big difference in comfort on gravel, off road and rough pavement. My comfort hybrid/errand bike has a low end Suntour suspension fork and it's a pleasure to ride on rough roads when my neck is bothering me. But it's heavy. Between the massively overbuilt frame, suspension fork, heavy duty wheels and rear rack, the bike weighs nearly 40 lbs. The fork is about 5 lbs alone. Better suspension forks weigh less.

Since my conditioning has improved I'd rather go with a lighter bike, compliant rigid fork and softer tires. Good enough for our groomed gravel/chat trails, chipseal rural pavement and occasional shortcuts across the park grass and grassy levees.