Well,.....i finally ordered a Thudbuster LT suspension seatpost,....will arrive in a week or less.
.......but i could use a favor?
I was hoping someone might be able to accurately measure the inside diameter of the steel part of the bushings and pass it along, so that i can get some parts ready for an idea i have?
A dial caliper measument would be suffecient.........
I have thought about the way some have tried to keep the bushings clean and less prone to wearing, but don't like the crudbuster or Ace bandage wrap. Both look a bit "cheezy" to me.
I have TWO ideas in mind............

My first thought was to use a thin stainless bolt and stainless/nylon lock nut going thru each of the 4 steel tube parts of the bushings, pinching a neoprene o-ring or small faucet washer at each side pressed against the bushings to seal them. It appears to me the steel part of the bushings stick out just a bit in the videos i've seen on youtube close ups.
That would certainly seal the bushing ends from road grime, although add a little weight that i'm not worried about. (i don't plan on racing at almost 56) It would also be the best "sealing" as more pressure can be applied to the sealing washers.
Since they would now be well sealed, i also plan on coating the bushings with a high content moly paste, rather than rely on simple oil. This should prevent any wear much better, and greatly reduce the need for rebuilds.
Not being sarcastic here,.....but the company surely makes a fine secondary market in rebuild componants by leaving these bushings unsealed and recomending simple oil lubrication and simple cover.

BUT,......i think this much simpler (and lighter) solution would work out just fine providing these are made in a proper size?
I've been looking for some rubber plugs that have a good friction fit into the steel bushing tubes, and with a suffecient outer "lip" to cover the bronze/steel bushing joint to keep dirt out.
This one i found is in thermalplastic rubber:
http://www.alliance-express.com/PVC-TPR-plugs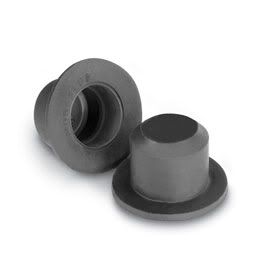 There is also a more tapered low density polyethelene, but i'm wondering if the strong taper would allow these to work themselves out over time? Many more sizes available, however:
http://www.alliance-express.com/wide...-caps-or-plugs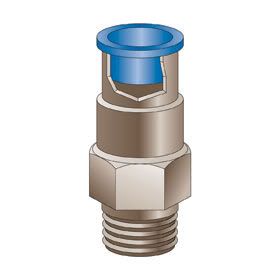 ......but for this a more critical measurment of the ID of the steel bushing tubes is required, since they are a friction fit. (and of a "tappered" design) I'd like to get a few sizes ordered right away, so they will arrive about the time the Thudbuster arrives.
......hence the request to get a current Thudbuster LT owner to pass along the measurement.

BTW, my "enhanced" Thudbuster will be going on my 1987 Schwinn Cimarron (18" chrommoly frame) that i bought brand new back then from a local dealer in Troy, NY. ("Rudy's Cyclery",......used to be "Rudy's Schwinn Cyclery"

) I paid over $750 back then with the rear rack, 2 fenders, and bottle carrier.
I'm getting it more pavement friendly, and will be getting a set of inverted tread tires mounted soon, once i decide which ones. I thought of converting it to tubeless, but don't want to have to change out the sealant every few months. The tubes and tires on this ARE the original 25 year old ones, and there are no cracks in the tires and tubes have been holding fine for weeks now. But when i switch tires new tubes will be added as the replacement tires are apt to be a bit thinner.
I'm also toying with the idea of removing the front deraileur and putting a single chainring up front to simplify things and make it more dependable and problem free in use. Still looking into that??
The bike was near new when i moved on to motorcycles and tires 23 years ago, and it's been stored....
.....but i could use the exercise now at near 56, so i've been riding it almost daily for a few weeks. (sore butt and all) I/m 5'10" and 180 lbs, down from 205 a year ago. The biking, hopefully, will get me better toned and down another 10 or 15 pounds.
Here she is before i got all the dust off and chain lubricated. I've since shortened the front fender to about 6" on either side of the mounting screw, and eliminated the 2 steel support arms needed before. I put a neoprene faucet washer on the mounting screw, btw, to five the short fender some give and flexability. Works great!
That's a gel seat cover over the leather "Mountain Pro" seat,.....hence the "need" for the Thudbuster. (the Mountain Pro seat could also be called the "ButtBuster"!

)
Here i temporarily removed the rear panniers to run them thru the tub and scrub the 23 year dust off,.....came out nice,...but pic is of cleaned off and lubed bike before i got the bags back on: