My bicycle story so far

07-03-16, 06:12 AM
Junior Member
Join Date: Jun 2016
Posts: 15
Mentioned: 1 Post(s)
Tagged: 0 Thread(s)
Quoted: 4 Post(s)
Likes: 0
Liked 0 Times in 0 Posts
My bicycle story so far
---
Hi,
So this will be about my fifth post on BikeForums so far.
I figure before I get too deep I should post an introduction and see if anyone reads these...
My story -
I've ridden a bike off and on for most of my life, but for some reason I never seemed to get enough support or friends to keep at it. I don't think I had even seen a real bike shop or a bike repair shop until I was in my late teens. I remember thinking it was interesting and worth exploring but I had no reason to go back. A favorite bike was stolen when I was around 10-12 and I guess I never really recovered. Since I was, "not able to take care of things" it was not replaced. Finally I think I just forgot about bikes.
In the late 1990s I bought a used Arroyo Cycle-Pro which I only got for commuting when I was working at the beach.
A few years later I got and modified a Dyno Duece beach cruiser into a custom RatRod type beast. I used that for years and even took it to a camping event called Burning Man. Worked great although it's very heavy. Very much like riding around a classic Buick. When I lived in a second floor apartment, I would hang the bikes from the ceiling on a bar that spanned a small room. I would joke that the bike was great exercise. I unhang the bike, somehow get it out the door, carry it down stairs and finally get it to the sidewalk. Whew. Let's take a breather here, then carry it back up and put it away. All hot and sweaty now; that was a 20 minute workout done!
I've kept riding off and on but was never really satisfied with either bike.
I always felt that the frames were too small. Like I was riding around on my little sister's bike with all the tubes and handlebars extended to max in order to fit. I always hated that look and feel. So I just never rode that much if I didn't need to.
I've always been interested in how things are made and why things are designed the way they are.
For some reason, maybe still looking for a bike I liked, I found a new (at the time) bike that seemed amazing. It had built in lights and an integrated lock. It had an 7 speed internal hub, like my Dyno. I liked the internal hub idea for keeping the gears clean of dirt and sand while riding near and at the beach for example. The only problem was I couldn't afford the $1000+ price. Again I drifted away to other things.
About three years later -
For some reason a girlfriend decided to get a bike and take riding more seriously. We had ridden together in the past but she wanted her own bike now. I don't know why. I gave her my limited advice from my experience and design perspective. Then I saw another bike at the shop; an Electra Cruiser that was a Tall version of their normal bike. That Tall version seemed to fit me much better and was not that expensive plus they gave a 10% discount. So I bought that and started liking riding again. About a month later I looked on CraigsList for the bike I had liked so many years ago but could not afford. Magically there was one for sale that was the exact same model that I had wanted before and at a price I could now afford; about 50% off new. So I got that too.
These new bikes have really made it fun for me. I did not know what the major differences where. Finally I think that both frames are a little bigger than the cruiser and road/commuter and the new commuter has larger wheels. I did not figure that would be a big deal but after riding it for a few weeks, I think it does matter. This seems a very well designed bike for it's purpose. I like that.
So now I'm selling the older bikes on eBay and I will end up with a single speed cruiser:
I was going to modify this bike with more gears, etc. but I really like the simple lines of the basic bike. However now that I found the other bike, I have a multi-geared bike when I need or want that.
And an 7 speed commuter: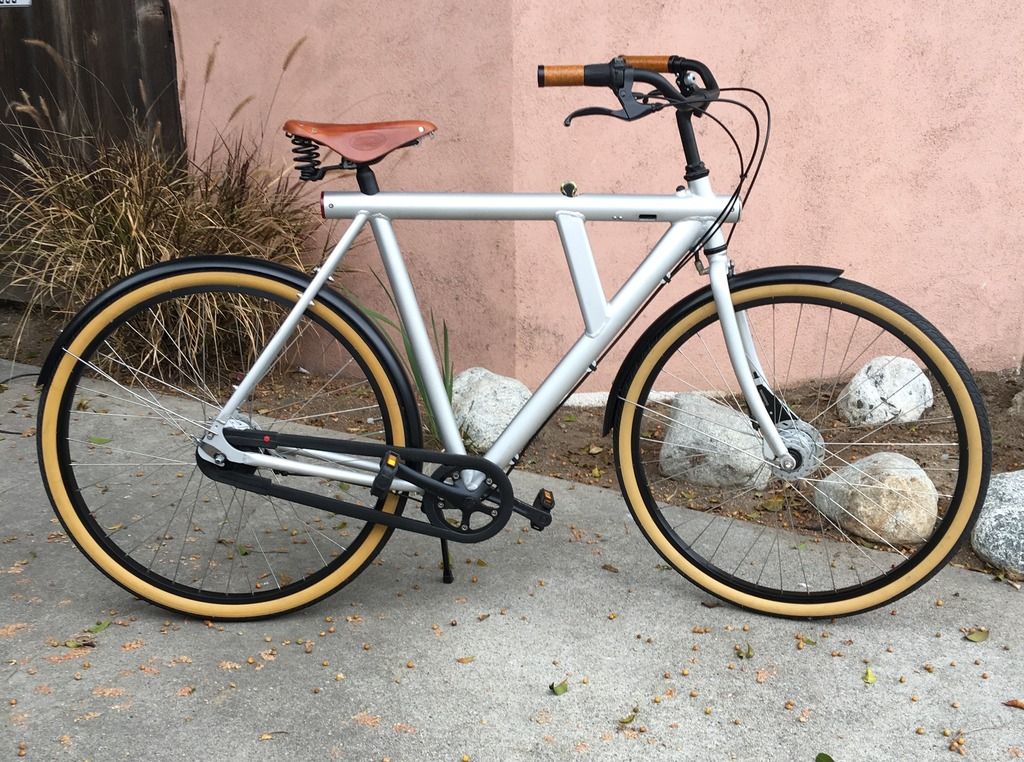 This company makes several models and I still can hardly believe that I ended up with the exact version I was looking at years ago. There were a few others for sale on CraigsList but this was also the only one that was close enough to drive to and pick up. Amazing.
I still don't know a lot and have plenty of questions.
Hopefully you can help me out as I grow now that I've got some bikes I'm happy with.
I hope that wasn't too long a story. I figure who else but folks on a bike forum would appreciate this story.
A long and winding road, yes. And now that I've got bikes for the occasion, may that winding road continue!
See you around the bend...

---
Last edited by ShadowBoxer; 07-03-16 at

01:01 PM

.

07-03-16, 06:41 AM
Moderator
Welcome to Bike Forums. What brand of bike is this?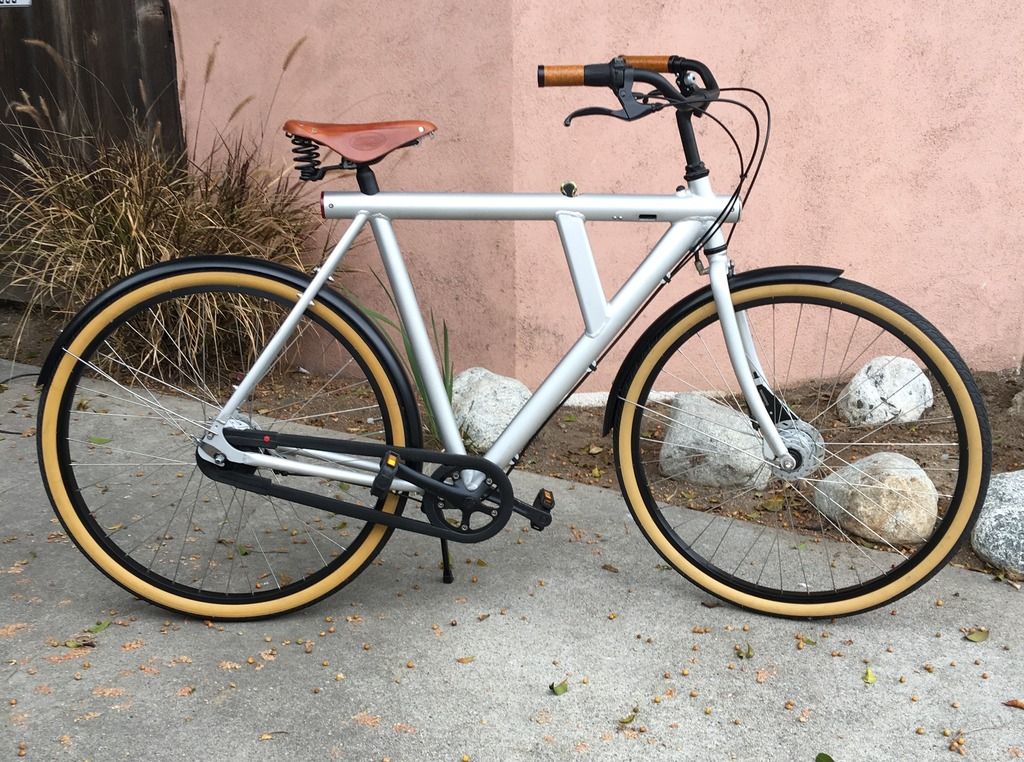 07-03-16, 07:46 AM
Senior Member
Join Date: Jul 2016
Location: Denver CO
Posts: 77
Bikes: 2014 Fuji Cross 2.0 LE, 1993 Specialized Allez Pro, 1993 Trek 930
Mentioned: 0 Post(s)
Tagged: 0 Thread(s)
Quoted: 11 Post(s)
Likes: 0
Liked 0 Times in 0 Posts
Great intro!! Very cool bikes too, and as CB ask, what brand is that?

07-03-16, 10:09 AM
Life is good
Join Date: Jan 2001
Location: Not far from the Withlacoochee Trail. 🚴🏻
Posts: 18,211
Bikes: 2018 Lynskey Helix Pro
Mentioned: 13 Post(s)
Tagged: 0 Thread(s)
Quoted: 520 Post(s)
Likes: 0
Welcome to Bike Forums.
You'd be surprised how many folks read the Intros.
Interesting bikes.

__________________
The Lord is merciful and gracious, slow to anger and abounding in steadfast love. - Psalm 103:8

I am a cyclist. I am not the fastest or the fittest. But I will get to where I'm going with a smile on my face.

07-03-16, 01:47 PM
Junior Member
Join Date: Jun 2016
Posts: 15
Mentioned: 1 Post(s)
Tagged: 0 Thread(s)
Quoted: 4 Post(s)
Likes: 0
Liked 0 Times in 0 Posts
Thanks.
The bike is made by a Danish company called VanMoof.
I think I had another look at them recently because, they just were coming out with a few new models;
a Smart bike -a bike that you pedal as normal but offers a few "smart" features including keyless lock and some kind of GPS location tracker in the case of unauthorized relocation,
and an electric bike - a bike that offers an electric motor assist.
I saw those and the latest version of my bike -now with an 8 speed internal geared hub and disk brakes front and rear.
They were all still cool and amazing and a bit too much for me to justify. Then, just for fun, I went to eBay & CraigsList and found this bike at a price I could afford. So I got it.
Even driving to look and buy, I was still waiting for the floor to drop out, but no, I got it.
The slot on the top tube there, is where the integrated lock plugs in.
It's a lot more practical and useful than I thought. The chain is thick, yellowish, squared links.
You could do that with a U-lock.
But not below.
The bike rack was full with a bike on each side already. Nearby though, was a tree.
Who wants a hug??

It helps if the tree is not huge.
I'm planning on doing a video review of the bike on my YouTube channel.
Is there a place for reviews here?

07-03-16, 04:13 PM
Standard Member
Join Date: Apr 2009
Location: Brunswick, Maine
Posts: 2,736
Bikes: 2001 Raleigh M80, 1989 Raleigh Technium, 1983 F. Moser Sprint, 1972 Manufrance Hirondelle, 1963 Freddie Grubb Routier, 1948 P. Barnard & Son
Mentioned: 15 Post(s)
Tagged: 0 Thread(s)
Quoted: 696 Post(s)
Hi Shad. I like the forks on the Cycle Pro. There is no story too long for us here. We eat, sleep and breathe bicycles. I'm glad you could join!