Newbie
Join Date: Jul 2008
Location: Los Angeles/Rochester,NY
Bikes: 2009 Cannondale Caad9
Posts: 1
Mentioned: 0 Post(s)
Tagged: 0 Thread(s)
Quoted: 0 Post(s)
Hellooooo Bike Forums! I'm Chester!
---
Hey everybody!
My name is Chester and I live in Rochester, NY during the school year studying Music at the Eastman School of Music. I've been cycling a long time, like any kid growing up. However, I decided that the past few years sitting in a practice room playing clarinet and studying--despite being all well and good--was not enough to live life to the fullest.
I was in Minnesota with one of my close friends and we biked all over Mankato together seeing the sights of her childhood. I got to thinking... wow i really miss biking... so i became sort of obsessed with it all over again. I figured that it was right up my alley... just what i needed. I can get around... its good for me... and... perhaps most importantly.... i can be really really really nerdy about the entire thing! After learning about how to buy a bike... going back and forth between being obsessed with specifics.... to not caring as much and just wanting to get started... and then realizing that its an important investment and going back to being obsessive... and then reverting back to well who knows if you are going to be committed enough to warrant a big investment... then back to hell yea who wouldn't want to... and going from bike shop to bike shop trying to find a local community that had the experience... I ended up with a bike! Cannondale 2009 Caad 9! woot.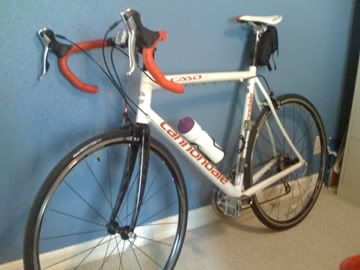 Anyway, I am really thrilled to become a part of the cycling community at large... hopefully I'll be trolling around. But I must say... It is nice to be able to learn from all the wisdom, bone headed mistakes, and science that is floating around here.
Have a good one and thanks for reading.