Huffy owner

07-31-08, 09:16 AM
Newbie
Join Date: Jul 2008
Posts: 1
Mentioned: 0 Post(s)
Tagged: 0 Thread(s)
Quoted: 0 Post(s)
Likes: 0
Liked 0 Times in 0 Posts
Huffy owner
---
Just pulled my 1987 Huffy Balloon Tire bike from the shed after I bought the wife a new Walmart Huffy (Baby Blue Cranbrook with cream fenders) so she can cruise with the other girlies on the block.
I did a good cleaning on it and repaired a few things. Put on new tires and tubes. Looking for fenders now and it seems I might have to go with some Schwinn ones as Huffy fenders are no where to be found so far.
Also am looking for the leather straps that snap onto the middle of the rims if anyone remembers those. They rub the axles to keep them shiny. If anyone can point me in the right direction, that would be great.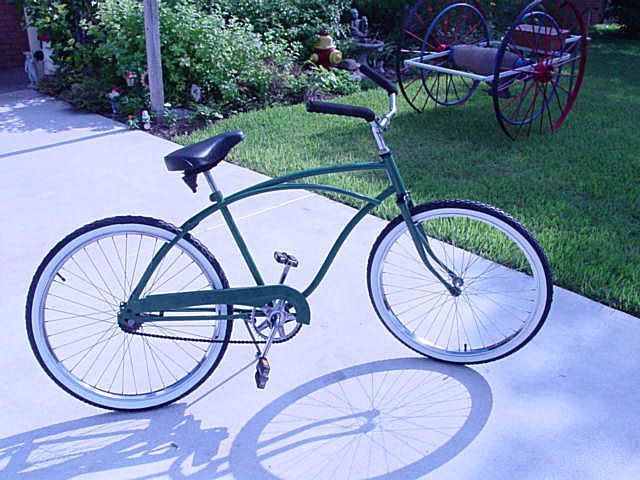 08-02-08, 07:07 PM
Lanky Lass
Hello FireEater, your Huffy looks brilliant! Check with the folks in the Classic & Vintage forum--there may be someone who has Huffy fenders. As for hub polishers, they are still to be found, and again, a C & V forum member may be able to help you out.
Welcome to BF, and feel free to PM me with any questions

!
East Hill
Forum Moderator
__________________
___________________________________________________
TRY EMPATHY & HAVE LOVE IN YOUR HEART, PERHAPS I'LL SEE YOU ON THE ROAD...
Thread
Thread Starter
Forum
Replies
Last Post
Clydesdales/Athenas (200+ lb / 91+ kg)

Posting Rules
You may not post new threads
You may not post replies
You may not post attachments
You may not edit your posts
---
HTML code is Off
---