Senior Member
Join Date: Jun 2009
Location: Castle Rock, CO
Bikes: '09 Gary Fisher "Kaitai, '09 Raleigh Team", '91 Trek 8700, '97 Cannondale SR500, '12 Raleigh Twin Six
Posts: 332
Mentioned: 0 Post(s)
Tagged: 0 Thread(s)
Quoted: 0 Post(s)
New bike, new office, back to commuting
---
I've never been much of a rec rider, but I was a dedicated bicycle commuter for about six years. I had an 18 mile ride each way that was almost entirely on a dedicated mult-use path. I rode nearly five days a week year round. Three years ago, my company moved to a new office location that had no safe or practical routes to ride. Now my company has moved again and I've found a safe 19 mile route. Feels good to be on the bike again.
My wife recently expressed interest in a new bicycle so we went on the hunt for something comfortable and practical for her. She ended up with a Specialized Globe "Carmel". In the process of dusting off my Cannondale "SR500" road bike so that I could ride with her, I found the elastomer in the headshok to be toast. I took it to a Cdale dealer only to get bad news. No replacement parts exist for my bike....looks like the shock will be locked out from now on. Anyway, while I was at the dealer, I asked if I could try out the Gary Fisher "Kaitai" they had in my size. It now graces my stable and will be my primary commuter.
The new commuter: So far, all I've done is upgrade the seatbost to a Bontrager carbon post, but I think it's going to get carbon handlebars real soon. The suspension fork is good for low frequency-high amplitude damping, but doesn't do much for the high frequency-low amplitude vibrations that make your hands tired. It's not as fast or agile as the road bike, but I can ride it all day without feeling abused and beat up.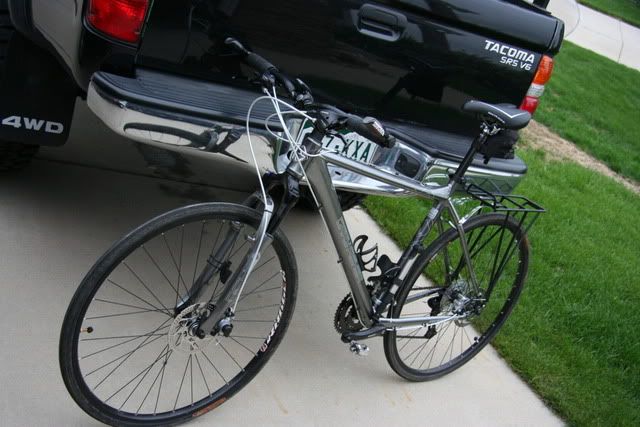 The roadbike: It's a shame about the headshok. I've equiped this bike nicely with Bontrager Select wheels, Bontrager Race X-Lite handlebars, carbon seatpost, and Ultegra components.
The old pack mule: This bike started out as my wife's hybrid. She never road it, and I started putting all the take-off parts from the Cdale on it. A carbon fork and aero bars make it comfortable, fast, and it can haul a lot of stuff.