Hello from Seattle, WA
---
I figured it was about time I introduce myself. Name is Alan and I have been "lurking" for a few months now trying to soak up as much information as I could. I just moved to Seattle three months ago with my girlfriend. As a moving out gift her father gave me a 1973 motobecane grand record with vintage campagnolo components. I have actually been working in seattle for 3 years so her father figured I would need a bicycle to commute to work so he gave me one of his older bikes to start off with. That is pretty much what got me into cycling and on this forum every free minute I have.
After a month or so of riding I found myself wanting more. A bicycle that fit me better and that I could use to race with. So from then on things started to snow ball like I'm sure most of you have experienced. Over a period of time I picked up a newer used bike, pair of bibs, cylocomputer, new helmet, carbon sole shoes, and am in the process of getting some speedplay pedals and a professional fit done by r&e cycles. I'm not even done getting everything I want or need and have yet to try out racing either.
My goals are to drop some body fat and try some cat 5 racing next year. I have a co-worker that does training on the side and a friends brother that used to race cat 1 so hopefully I can learn as much as possible on the off season and go full force next year. I have a long road a head of me but I am excited.
Here are some pictures of the current bike. Let me know what you think.. . . Not your normal color but I love it.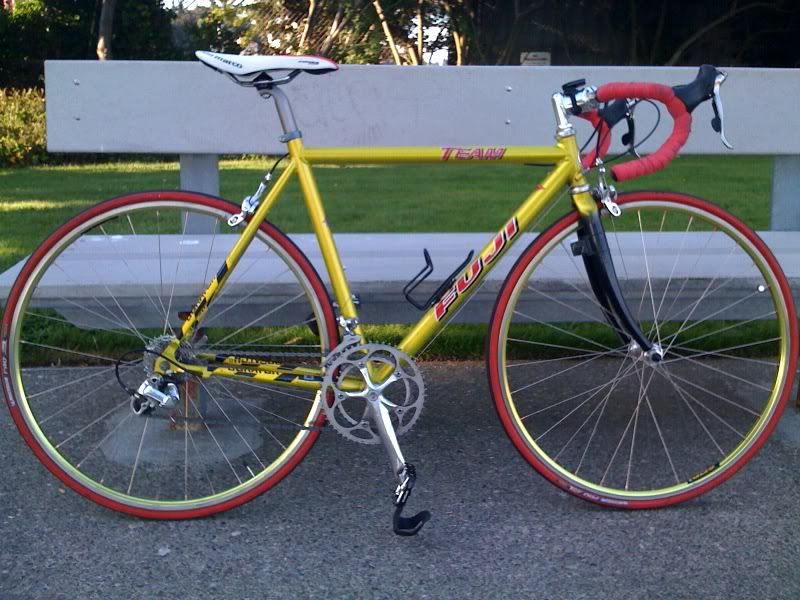 I am in the process of finding the perfect saddle as well, that is the reason for the non matching color. I couldn't pass up a good deal to try something new.