Hello from California Wine Country

02-13-11, 09:58 PM
Senior Member
Join Date: Feb 2011
Location: Healdsburg & Los Angeles, Ca.
Posts: 433
Bikes: 1998 Amp Research dual suspension mtn bike; 2012 Ridley Orion full Carbon (Ultegra)
Mentioned: 0 Post(s)
Tagged: 0 Thread(s)
Quoted: 0 Post(s)
Likes: 0
Hello from California Wine Country
---
Just wanted to say "hey" and introduce myself. I'm not new to cycling but it's been so long since I rode regularly that I might as well be. So much has changed, my last trip to the bike shop made me feel like a complete idiot.
There's a ton of reasons why I stopped riding but I can trace the beginning of the end to 20 years ago when I was diagnosed with lung cancer and lost my right lung (thus the forum name). I wish I could say it's a good reason for grinding my workouts to a halt but I used it for an excuse way too long and my health and fitness suffered because of it. Six months ago, I decided to do something about that. I started a diet/detox/change-my-life program. Wanting not to overwhelm myself, I kept my goals simple choosing to concentrate on the diet first and add workouts later and setting reachable goals for progress. I'm thrilled to say the diet's been a huge success. I've dropped nearly 40 pounds and more than 20 percent body fat and the changes have become my normal now, so much so I wouldn't recognize my 6-months-ago person if she walked into the room right now.
The workouts started gradually, a little aerobics, Wii-Fit and then a friend begged me to go to spinning class with her. Then I was going on my own and then I was dragging out my bicycle and riding to my office (about a mile from my house) and then I was going on longer and longer rides until I'm now going out 3-5 days a week on 20-40-mile rides, depending on the weather (which has been awesome although rain is in the forecast for the next 5 days which I think totally sucks.

) My current ride is an old mountain bike with slicks (and dual suspension which ain't very efficient on smooth surfaces -- lousy iphone photo below).
Still figuring out how to do a no-gluten, no-dairy diet and keep up my energy for long rides (though 60 miles longest I've done so far). I'm getting stronger every day and I can feel my lung capacity growing all the time. Just yesterday I rode up this hill near my house that mere weeks ago seemed as daunting as a Category 1 climb to me. Hoping I can be strong enough soon to ride with local cycling groups and maybe even tackle narrower, more technically difficult roads.
I knew a few weeks into my diet that I was never going back to the old me and now I feel the same way about cycling. I'm hooked for good. So I wanted to find a place where I could learn (and relearn) the things I need and also to be around people who are passionate about the sport. I have a ton of questions (most I'm sure have been answered somewhere in this forum) and could use some advice on all sorts of things (like can you ride in the rain and what do you need to know about it -- I just know I'm going to go stir crazy this week waiting for the sun to come out again). I'm also going to invest in a new road bike, though it's daunting to say the least on so many levels. So, anyway, thanks for letting me say hello and for putting up with my longwinded intro and for all the questions I have yet to ask.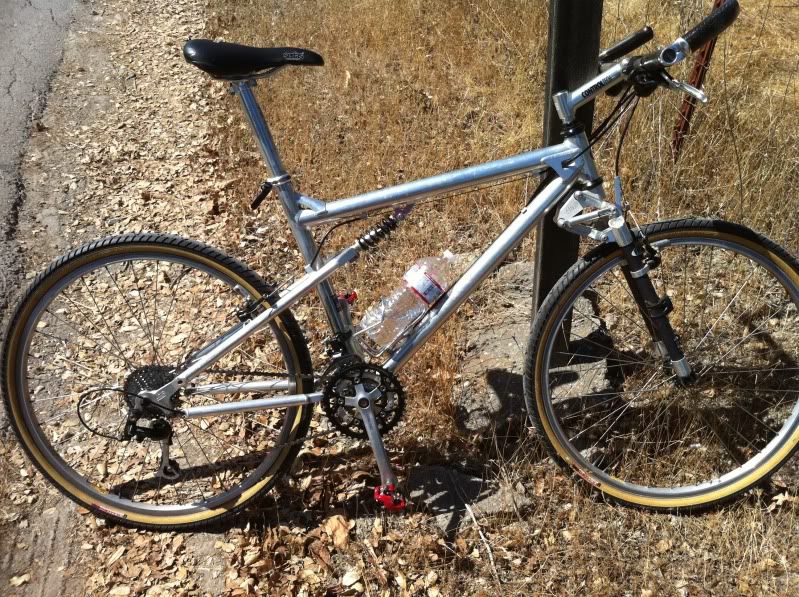 ---
Last edited by shyonelung; 02-13-11 at

10:10 PM

. Reason: to add a better pic of my bike

02-13-11, 11:04 PM
Senior Member
Join Date: Sep 2008
Location: On the bridge with Picard
Posts: 5,935
Bikes: Specialized Allez, Specialized Sirrus
Mentioned: 3 Post(s)
Tagged: 0 Thread(s)
Quoted: 17 Post(s)
Likes: 0
Welcome to Bike Forums! You seem to have overcome quite a few obstacles - congratulations! You also have a very pretty bike.

What part of wine country - Northern CA or Paso Robles?

02-14-11, 01:23 AM
Senior Member
Join Date: Feb 2011
Location: Healdsburg & Los Angeles, Ca.
Posts: 433
Bikes: 1998 Amp Research dual suspension mtn bike; 2012 Ridley Orion full Carbon (Ultegra)
Mentioned: 0 Post(s)
Tagged: 0 Thread(s)
Quoted: 0 Post(s)
Likes: 0