Hi, Im not a "real" cyclist.

10-26-11, 03:23 PM
Newbie
Join Date: Oct 2011
Posts: 2
Mentioned: 0 Post(s)
Tagged: 0 Thread(s)
Quoted: 0 Post(s)
Likes: 0
Liked 0 Times in 0 Posts
Hi, Im not a "real" cyclist.
---
Hello bike forums, just signed up here and thought i'd at least put up a intro thread instead of just lurking.
Anyways i recently bought my first bike since i got my license at 16 yr/o. Mainly for commuting, since i moved to a new place where its only 2 miles from work (n i could use the exercise). While i was browsing on what to get, the only thing that met my criteria of quality+reliability+budget was a Motobecane Track from bikes direct. I know what ur thinking (what a hipster/ poser, thats what my friends said too) But it makes sense to me cause it's everything i need, and if u ask me its pretty hard to find a solid bike with gears under $300.
I'm really more of a motorcyclist.. except like i said, I'm only 2 miles from work now.. it by the time i get the bike warmed up and gear on I'd already be at work by pedaling. heres a couple pics,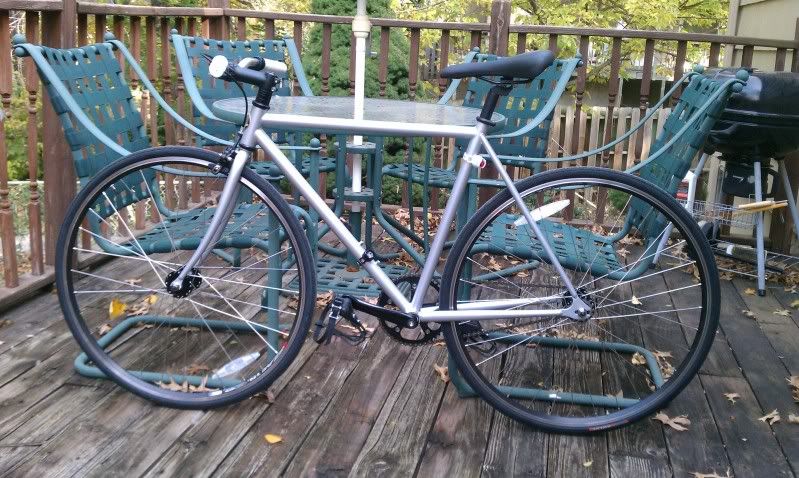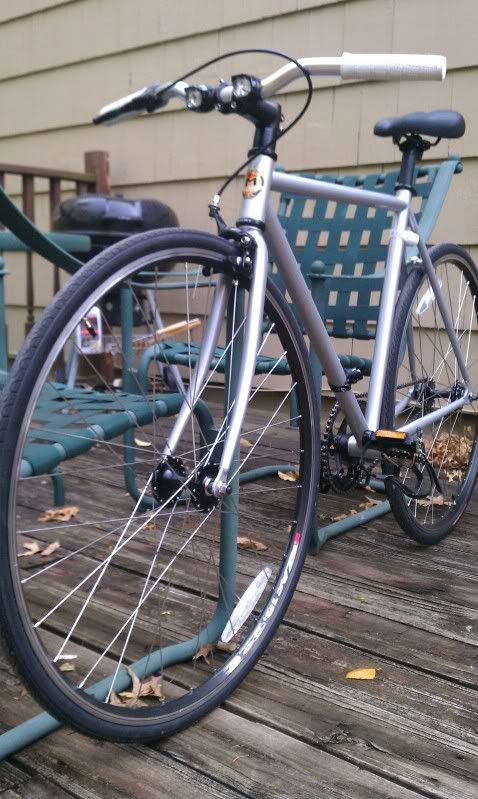 it's nothing special I found those bars r take offs i found at a near by shop for $10 + $10 grips + lights $40 + $20 16T free wheel that I'm running right now till i get used to the hills around here (theres no flat ground in my route..) i don't plan on dumping too much into it, only NEEDS as i see fit and finding cheap leather straps for the stock pedals r the important parts next. any suggestion?

10-26-11, 03:32 PM
Galveston County Texas
Join Date: Nov 2007
Location: In The Wind
Posts: 31,511
Bikes: 2010 Catrike Expedition, 02 GTO, 2011 Magnum
Mentioned: 16 Post(s)
Tagged: 0 Thread(s)
Quoted: 857 Post(s)
Welcome to Bike Forums.

Nice bike. Have fun with your rides.
__________________
Fred
"The Real Fred"