Peace, Love, Bikes
Join Date: Sep 2006
Location: Central Ohio
Bikes: Schwinn Le Tour III
Posts: 900
Mentioned: 0 Post(s)
Tagged: 0 Thread(s)
Quoted: 0 Post(s)
Nearing Car-Lite living...
---
Went to the co-ops open shop night today to see what they had in stock. Showed me a few 3 speed schwins, then this Bianchi Advantage. Held my license while I took it for a test ride, which sold me. Pretty sweet riding bike, shifts easily and should get me around pretty well. I tried to install the racks I have, but no go. So I need to scrounge some new racks up, find a headlight and better tires and I will be good to go. It looks blue, but is really more of deep purple.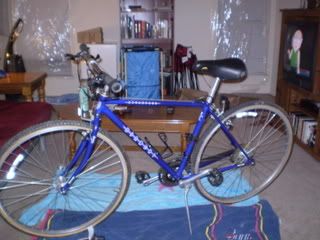 So I have Friday, Saturday, Sunday completely off to hit the bike trails and find good routes to work and school so I can leave my car parked as much as possible.