2021 Century-A-Month Club

08-16-21, 01:26 PM
After a good rainstorm last night, today's high temperatures in central Texas were set to be around a 90°F, a reasonable temperature for a century around here. So I woke up early enough to make time for a tall cup of coffee -- I still needed lights before I headed out the door. I started with just a jersey, bibs, and sun-sleeves, it was plenty warm, even in the dark.
It was the first ride on the road bike in over 12 weeks, so for the first hour I focused on being smooth. The derailleur was a bit out of alignment, which took a few stops to get the barrel adjuster turned the right way. Otherwise, the bike felt great, and especially light compared to the touring rig I had been riding most of the summer. I thoroughly enjoyed taking in the familiar routes -- not much had changed while I was gone (although they did add speed-bumps to one particularly nice cycling road -- good for traffic mitigation but also a bit rough on the skinny wheels). Probably also because of the familiarity -- especially after a summer of touring -- nothing quite seemed photo-worthy, not even my favorite crossing of the San Marcos River (around mile 35).
From the river, Lockhart was only another 15 miles and offered a variety of services. Halfway through the century, lunch was sounding good, but it was only 10 am -- most places weren't open yet. I settled for Whataburger, a regional favorite always maintaining 24-hour service. I tried to hydrate as best I could, with a mix of Powerade, a sip of soda, and topped up water bottles; the heat and sun would be more taxing for the second half of the century.
From Lockhart, Martindale is a straight 15-mile segment down a wide highway shoulder; it's not exactly peaceful, but it is a safe ride. Then in Martindale, there are several options to cross the San Marcos River again, and find yourself back down towards the local favorite, York Creek Road. I started up York Creek for a mile or so before encountering a familiar face -- another member of the San Marcos Cycling Friends -- and turned around. Since I'd need a few extra miles to get the century anyway, I thought I might as well liven up the afternoon with some idle chat. The conversation didn't seem to slow our pace at all (even though we weren't drafting), and we both made good time on the roll back into town.
Officially, it was my fastest recorded century at sub-six hours riding time. Turns out, riding heavy bikes can improve your cycling speed (on lighter bikes)...

08-30-21, 01:33 AM
Senior Member
I did two century rides in August two weeks apart (plus one metric century). The centuries completed 9 consecutive years of "Century a Month".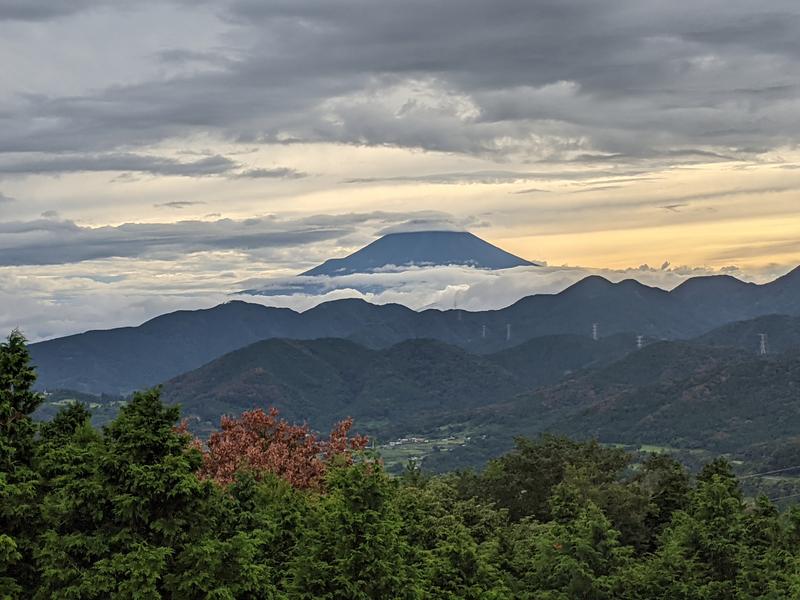 The first one (
on Strava
, 164 km with 2,144 m of elevation gain) was to Yabitsu pass west of Tokyo, familiar to Bicycle Quarterly readers as one of Jan's favourite routes on his Japan visits. The road to the pass had been closed for repairs after landslides that happened in a typhoon back in October 2019. You could get there from the rural north side on Sundays when there were no workers around if you took a closed forest road to skip the point where the road was wiped out. Recently the road re-opened temporarily so I was able to do it without lifting my bike over any gates. However, another typhoon was passing over Japan and I ended up in a torrential downpour at some point. I had brought a rain jacket but my feet got wet. Luckily the rain stopped again and I could do most of the ride without pouring rain. I descended to the south side, turned around and cycled back up again to return via the north side.
On the way I saw an unexpected Mt Fuji view and this mural outside a shop.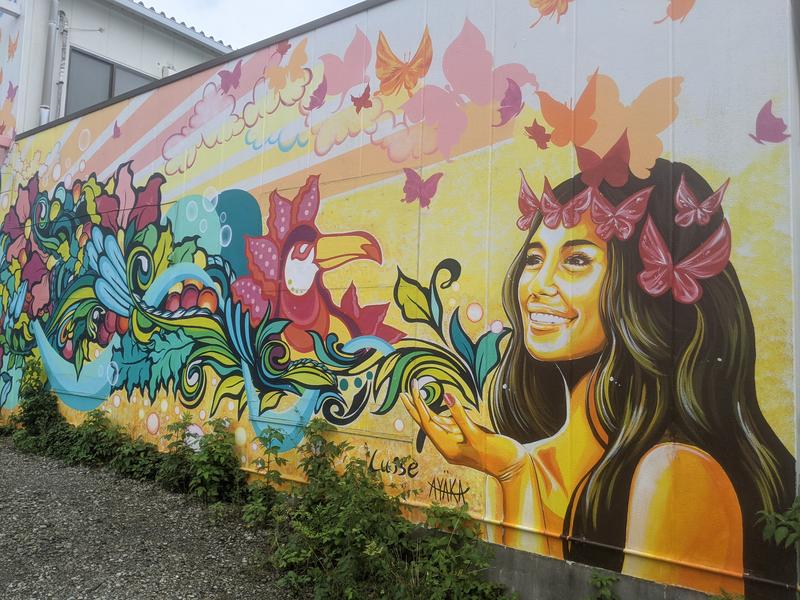 Two weeks later I rode over the Nokogiri pass ("Saw pass") near Hinohara and then to the remote Nippara valley (162 km,
on Strava
.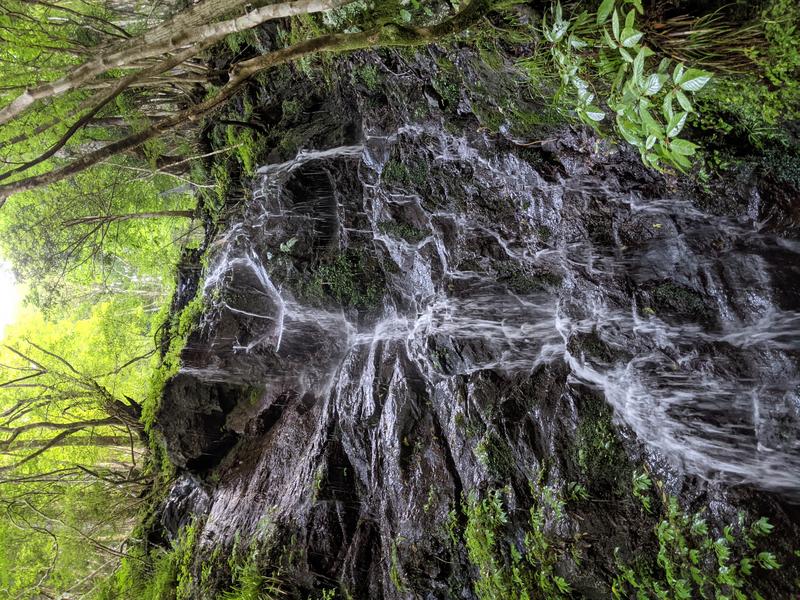 I wanted to clear a Veloviewer tile in that valley that a friend had also recently cleared via an old forest road. Both the Hinohara area and the climb to Nokogiri ridge have a scenic river valley with rocks and waterfalls.
As long as I've been cycling here I had always heard how bad the condition of the north side of Nokogiri was, but more recently the south side has not been in much better condition. Last time I rode it with friends, we hit a stretch of washed out gravel where rock slides had destroyed the road surface and one of my fellow cyclists fell over.
The forest road in Nippara valley was in far worse condition. The first kilometer or so after the gate at the bottom was not too bad, but then there was a second barrier, after which the road was in terrible condition. The official local government website described its condition as "collapsed". I some places that meant rough gravel, in others that running water had already carved a stream bed into it. I could ride for short stretches but for the most part I had to dismount and push my bike. Coasting downhill on the way back was easier, but I still had to walk quite a bit.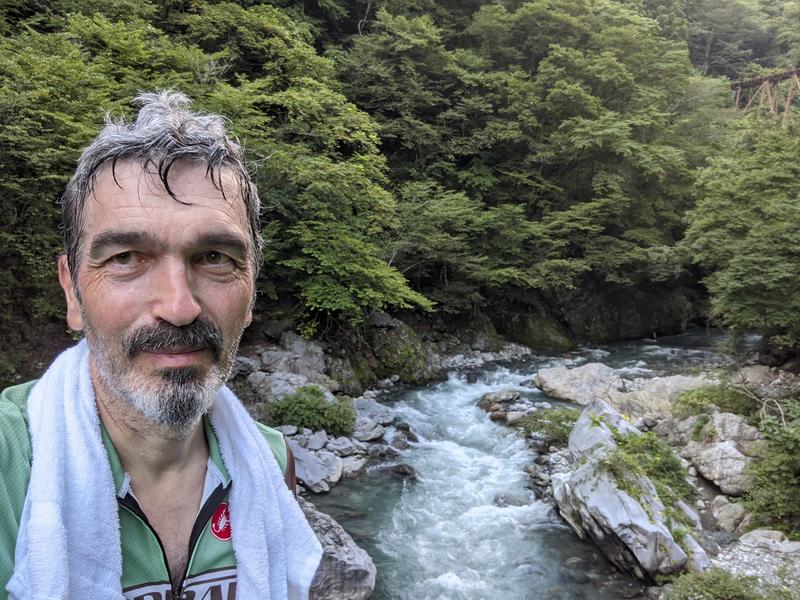 I encountered one motorcycle and one cyclist on Nokogiri and one pair of hikers on the second forest road.
Temperatures were fairly moderate on both climbs (23 C / 73F), given that down at lower elevation we were having 30 C / 86F and more.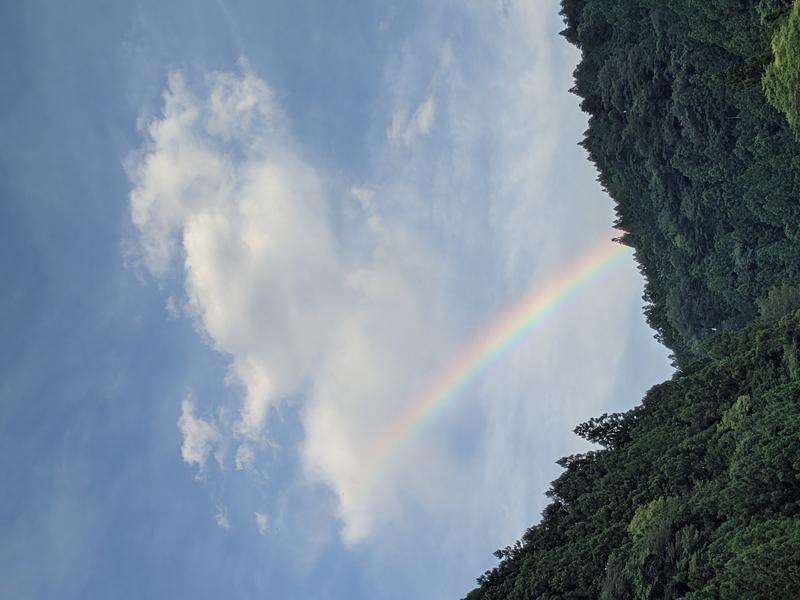 On my way back to the bottom of Nippara valley and the main road to Tokyo I was greeted by a rainbow. They are rare in the local climate despite a lot of rain.
A British friend of mine once told me of a business meeting he had attended in Tokyo, as suddenly the building started shaking. Everybody around the conference room table staid calm, as this was just an earthquake, which Tokyoites feel every month. But a little later someone pointed out a rainbow outside the window and everybody in the room jumped up and rushed to the window to enjoy the view!


09-05-21, 12:38 PM
Although meteorological/astronomical summer is still in full swing, my colleagues would likely say "summer's over". Life has gotten to be rather hectic the last several weeks, so I'm thankful for the time that I do get out to ride. Keeping up with the Century a Month has been important for my mental and physical well-being, but the rides are feeling harder lately. As much as I love those mountain photos from Japan, I'm thankful to not be climbing them!
I may yet ride a few more long rides this September, but I wanted to be sure to get the official Century ride checked off the list. The forecast for the days here in central Texas are still averaging right around 95-99°F, with heat indices well over 100°F. I set my alarm for 6:00am, but had no complaints when I awoke earlier. I was out the door before my alarm would have rang, complete with a cup of coffee and a hearty breakfast (sourdough toast and bananas).
Although I'm anxious to get back into the Hill Country routes, I wanted to be sure to finish riding before the heat (and the sun) became too intense, so I angled out into the prairies. It was dark and traffic was mostly non-existent, so I rode along the shoulders of the state highways for a change. By and large, it was a simple reversal of my usual route, following the San Marcos River and coming in backroads to Kingsbury. From there, I pushed towards Seguin, where options for shops are plentiful -- at mile 45, I ended up with just a 32oz Powerade to get me through, nothing more sounded appetizing.
From Seguin, I took advantage of the developing southerly winds to sail northward back towards home, knowing I'd fall short of the century; I knew that I would be getting hungry, and wanted to schedule a lunch stop. At mile 70, I stopped for my first ever Schlotzsky's Deli sandwich (an Austin original) -- I ordered a medium, but it was enormous! I should have taken a picture. I forgot to start my GPS on the way out, costing me a few logged miles.
Lunch was perfect and I felt rehydrated, but the heat was getting predictably hard to handle. My pace slowed a bit as I settled into the popular local loop around York Creek. From there, a detour through the Hunter's Hill neighborhood added a modest bit of climbing, and rounded me up towards 95 miles. I was rationing my water bottles at that point, but knew it was just a few miles home. Tomorrow's Labor Day, and though many folks are planning rides and festivities, I'm looking forward to working as far ahead as possible: I'm glad I took the time to ride this morning!

09-12-21, 06:20 PM
I said I've been waiting for the heat to break, and today it did -- the high was in the low 90's with a low heat index and a generous offering of clouds in the sky.
I was still feeling fresh when I came across the small lot of Longhorns.
After long enough in the hills, 3-4% inclines feel normal, but getting to the top, the hills usually kick up a bit more.
I usually try more landscape photography, but it's not for a lack of culture.
A disheartening sight at mile 108. Not very long, but a sustained 15+% gradient got the body temp climbing.

10-03-21, 03:35 PM
Another 90°F here in central Texas, but it didn't start out that way. I waited for the full light of the morning sun to depart, which is getting close to 8:00 am; there was a cool and refreshing chill in the air -- but not enough to hassle with any extra gear just yet. The route was ambiguous, as it often is, though I resolved to tackle at least a few hills for the day; Das Hugel is just a month away. With such a start, it was 25 miles in before I paused, briefly, above the Blanco River along Fischer Store road.
Not long after, a few other bicyclist's joined the route from a side street. Though their pace was well above mine, I couldn't help but enjoy the draft for a bit. Before long, however, they turned and I continued straight. My route started taking shape, including a pass through Canyon Lake and a side trip to the top of the dam (a pleasant 8% grade to gain a few hundred feet).
From the lake, the logical route is to follow the dam's outlet, down to the popular River Road -- a regular favorite of mine. This weekend there was some added bicycle traffic from a Bike for MS event. I upped the pace a bit to blend in with the crowd, but I never really found a steady wheel; instead, there were a lot of 'good mornings' and 'how's the ride going' as I passed by some, and was passed by others.
Once in Gruene, the charity ride turned right into New Braunfels; I went left. Home was only 15 miles away, but I was only at about mile 55. I made good on my resolution, and turned back up the Balcones Escarpment. After a few hundred feet of climbing, an interpretive road sign declared I was joining the official "Hill Country Trail" (an auto-tour route). It was about time for an ice cream!
Passing mile 80, I started to realize I was still a few miles short of a century. Often times, I'd fill in the miles with some neighborhood laps, but today I went for it: I added 10 miles of the worst local hills, each one with ramps over 10% grade. The last two hills -- close to home, at least -- each crested 20%. I quickly added an extra 1,000 feet to the ride. Surprisingly, I felt wonderful right up until the end; then again, the ride 'only' averaged about 60 feet per mile, whereas next month's century (if all goes to plan) will easily break 100 feet/mile.

10-05-21, 08:54 PM
Senior Member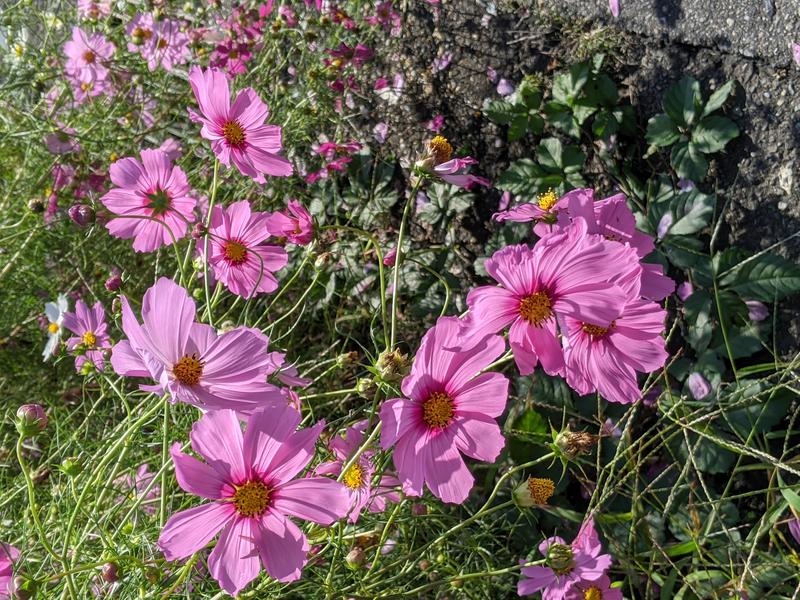 October done (192 km with 2335 m elevation gain
on Strava
)!
I had two weeks to my first timed ride in six months (I rode a Fleche in the spring) and needed to get into shape for it. I hadn't been back to the Akiyama area along route 35 for a while. The brevet on 10/16 will take me through there. So I decided to ride out there and then head to a hydroelectric dam near Matsuhime, where I wanted to clear a VeloViewer map tile. I picked up two more VeloViewer tiles in Akiyama.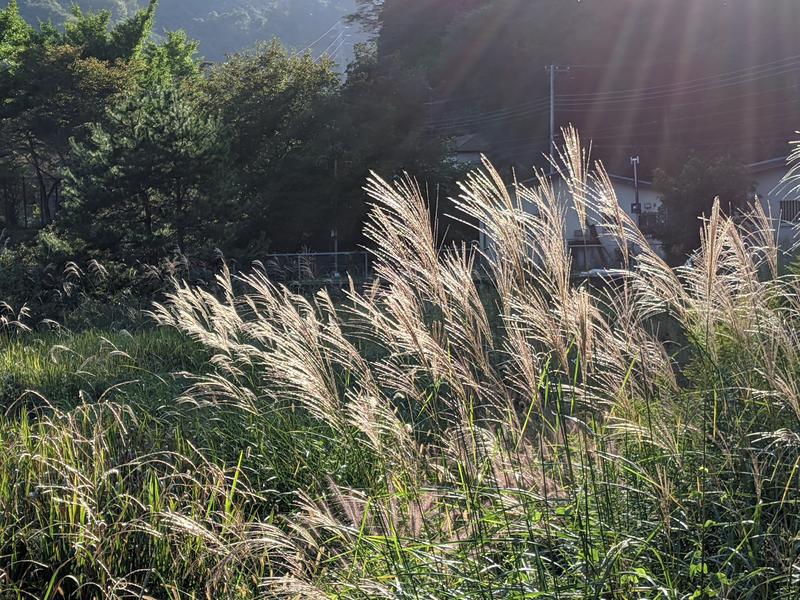 I started quite late for a course that long, leaving the house only at 08:20. It was very sunny and I stocked up on plenty of drinks at my convenience store stops.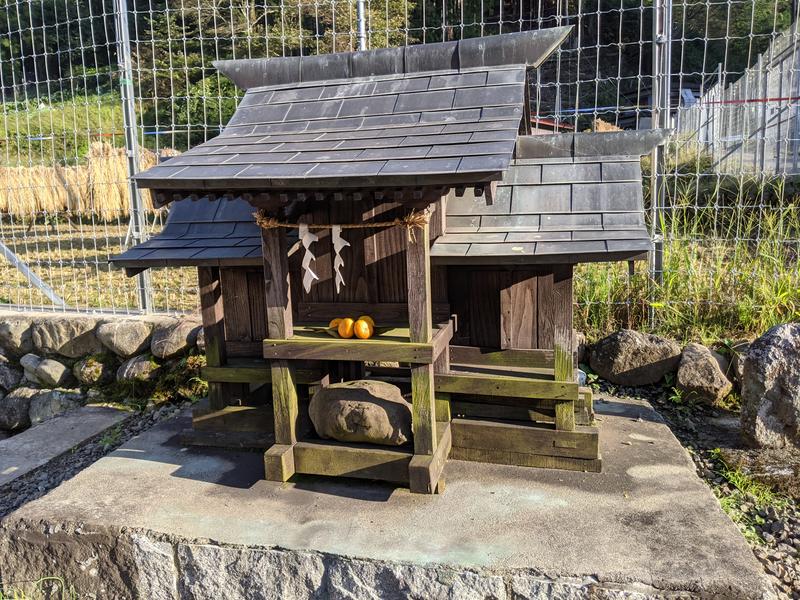 Once I got out of the urban sprawl of Tokyo after Sagamihara, it got quite hilly. My memory of the area was a bit hazy and it took a lot longer to get to Akiyama than expected, but I like that quiet back country.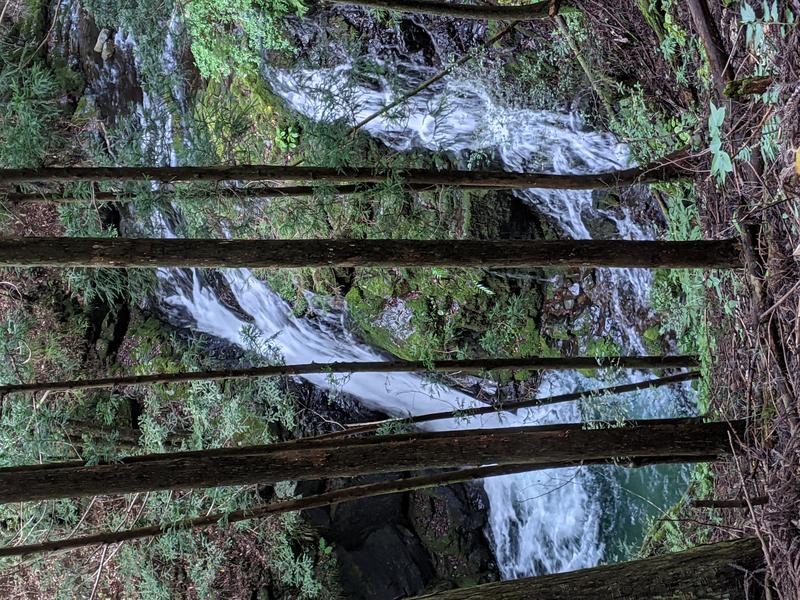 Navigating to the two map tiles near Akiyama distracted me so much from the climbing that I got to the highest point of the Akiyama climb with less perceived effort than usual. I also happened to run into a member of my randonneuring club who was doing the test run for the event 14 days before the date as is usual here.
It's always amazing how as a cyclist on my weekend rides I often come across people that I know somewhere near this city of 14 million people where I live. Suddenly a cyclist will yell: "Hey, Joe!" :-)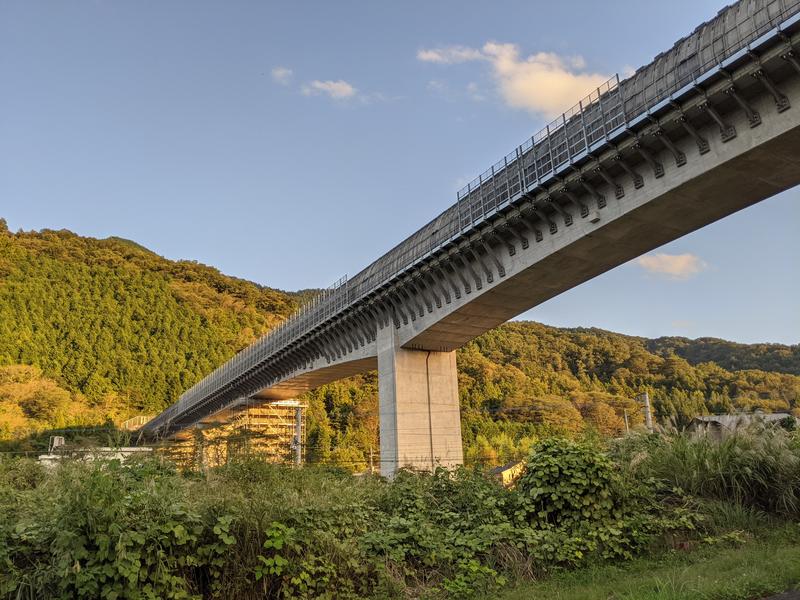 I enjoyed the long descent from the highest pass down to Tsuru city.
The new Chuo Bullet Train (magnetic levitation) line is being built through this part of the country, eventually carrying passengers from Tokyo to Nagoya (280 km) in 40 minutes. The initial test track to develop the technology was incorporated into the line.
At Saruhashi I bought more food and drinks before heading uphill to the dam. By then it got dark. More than halfway to the dam a thunderstorm developed and forced me to turn around. I avoided getting totally soaked by taking shelter under a roof but knew it would take at least 5 hours to get home and if the rain caught me again, it would be very chilly (no rain gear, only a windbreaker).
So I turned back to Saruhashi and followed the main Route 20 back to Tokyo, where I arrived just after midnight without the rain ever restarting.

11-08-21, 01:00 AM
Senior Member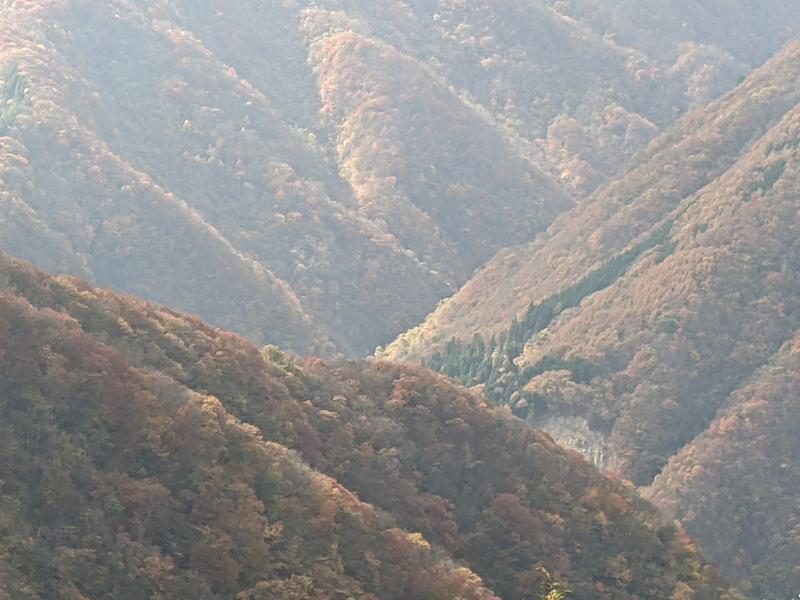 Friday night I rode out to Chichibu, to do a loop the next day to Mitsumine shrine and back, followed by a ride home to Tokyo (
85 km
and
162 km
on Strava). I was joined by two friends for the Mitsumine loop. The two night rides were the coldest rides I've done since last winter.
I had booked a room at Route Inn Chichibu not far from Seibu-Chichibu station to allow me to do this ride without any trains or cars.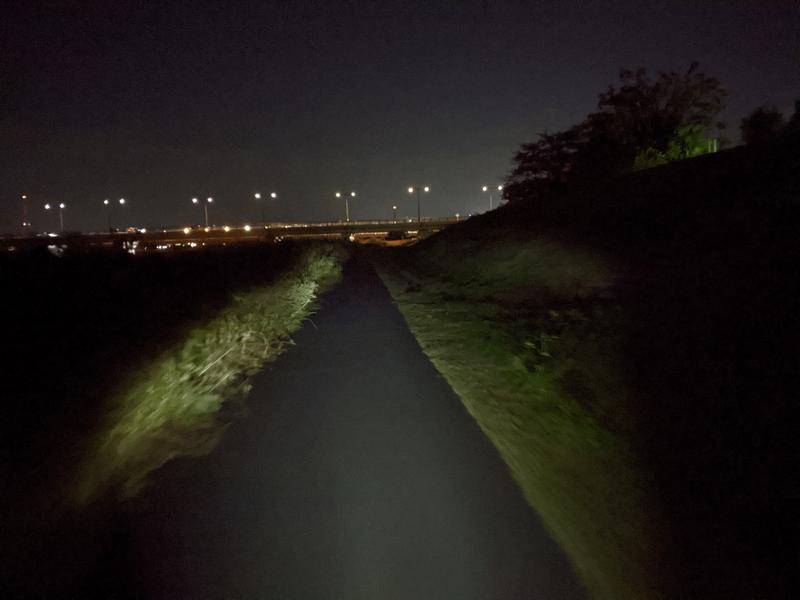 I set off from Tokyo Setagaya after sunset with various extra layers in my front bag and in a string backpack for the lower temperatures I might encounter. I needed every single item and could have done with a few more, because especially the descent from Yamabushi pass to Chichibu after 23:00 was really cold (3 deg C / 36F). It wasn't quite as bad on the way back as it only got down to 7 deg C / 45F varound Naguri.
The urban part between Tokyo and Ome was no problem either way.
From previous rides I had a good idea how long it would take me to ride all the various parts.
Both on the way out and on the way back I stopped for dinner at "Sherpa", a Nepalese restaurant in Ome, which is almost exactly on the halfway point between the Route Inn and my home in Tokyo.
On Saturday morning I had breakfast at the hotel buffet which, as on a previous stay, was pretty good.
Then I met up with Carolyn and Akira at the station. The weather was perfect, a clear blue sky which would really bring out the colours of the leaves. I took off my windbreaker to ride in my short sleeve jersey. After picking up some snacks and drinks at the 7-11 we headed out west, staying off the main road for all but 3 of the 16 km to the turn-off into the Ochigawa valley where we climbed the forest road.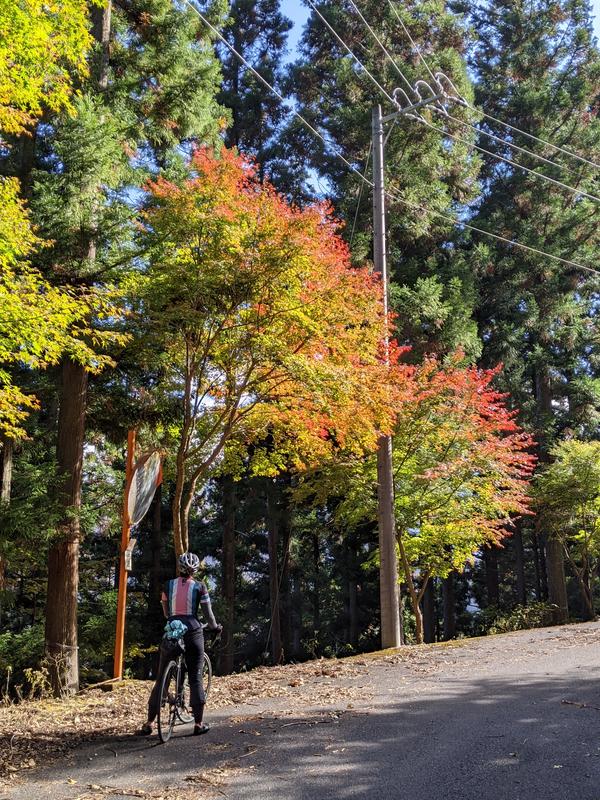 The main road to Mitsumine on the west side of the mountain gets very busy during peak "koyo" (autumn leaves) season, but the forest road on the east side is closed to motor vehicles with a total of three barriers, two on the east side and one near the Shinto shrine. All we met was one group of cyclists. The road was generally in reasonable condition, with not too much debris on the road. There were a lot of leaves after the second barrier on the forest road climb and the road surfaces was broken at some rockslide spots near the tunnels at the top, but these were just short gaps. Neither of us had any punctures.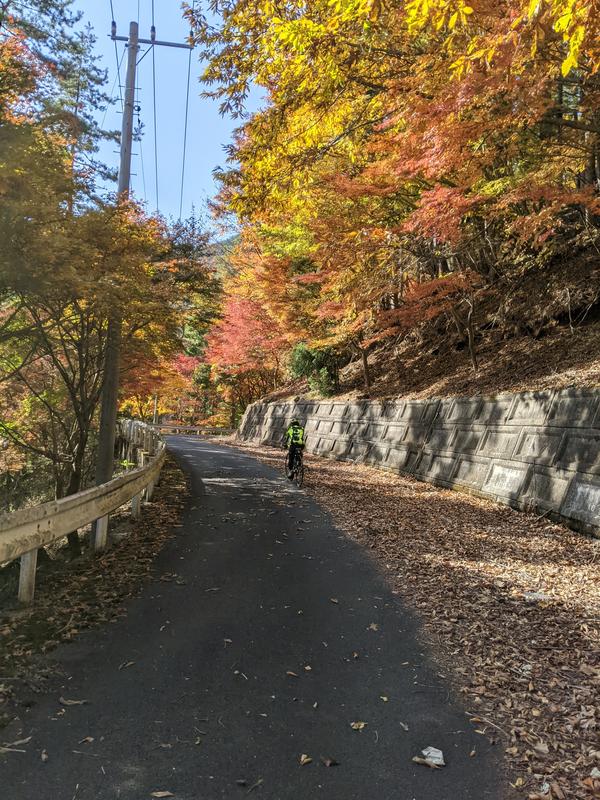 When we stopped at the fishing spot near where the climb gets steeper we had a chat with the owners. They said it was peak autumn leaves season at this elevation, implying it would already be thinner at the top, but that wasn't the case. The timing was perfect. I love riding next to the river there to enjoy the view of the rocks and waterfalls.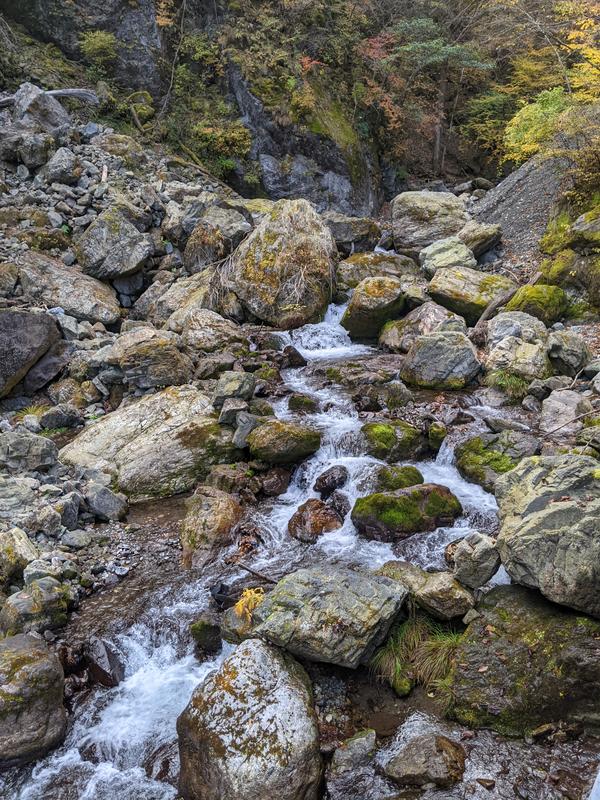 We talked as we climbed and stopped for pictures many times. Around noon we reached the top of the climb and enjoyed the view of the Chichibu valley below from between the two tunnels.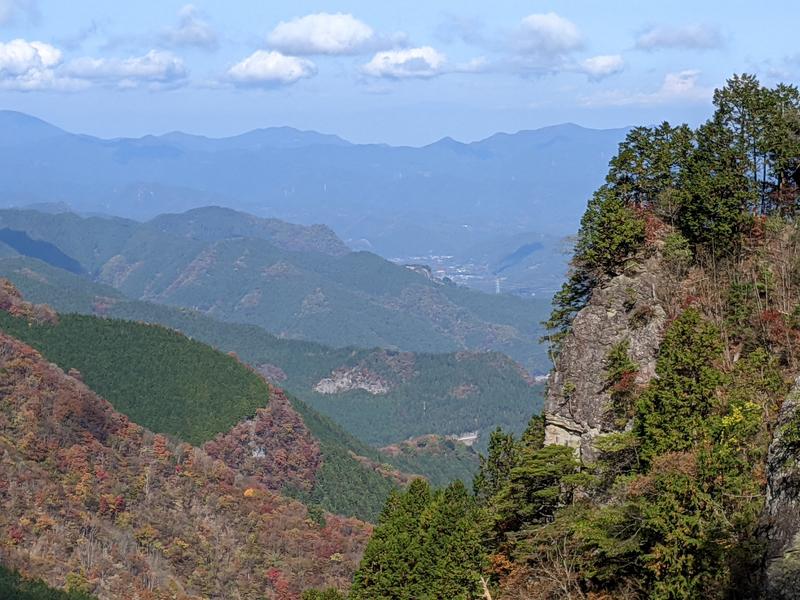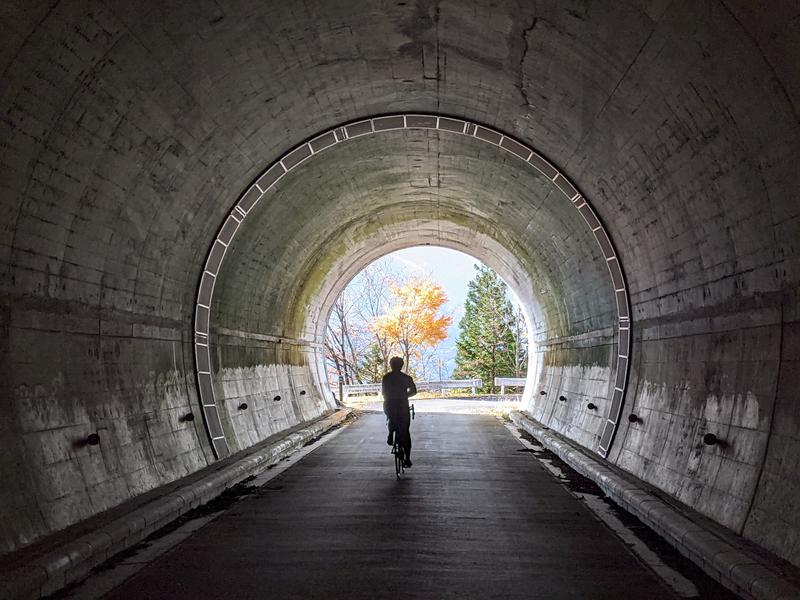 After the second tunnel we descended about 2 km to the shrine entrance. There was a good size queue on the road, which I later measured as 2 km when we descended to the west. Despite the traffic outside, the shrine grounds were not that busy. We treated ourselves to snacks and coffee, then lunch at a restaurant at the shrine gate. We didn't have to wait long to get a table. Both of the restaurants were well ventilated.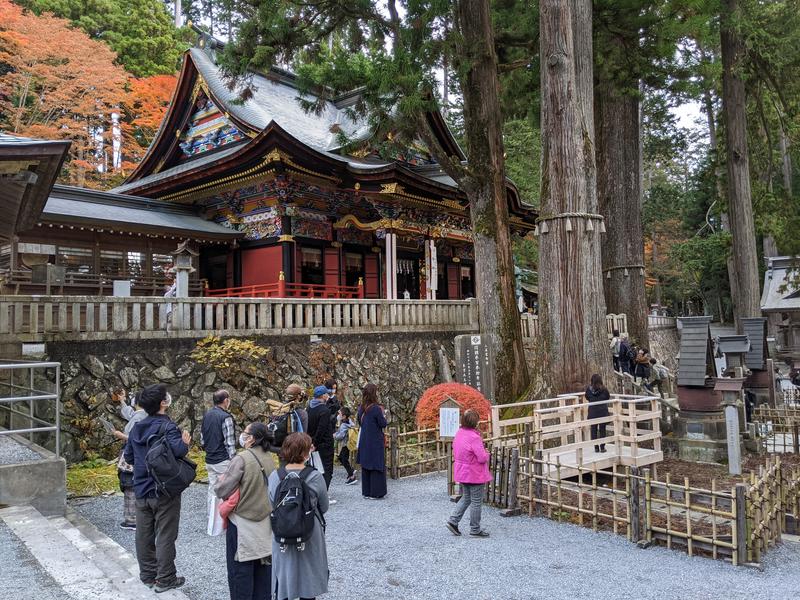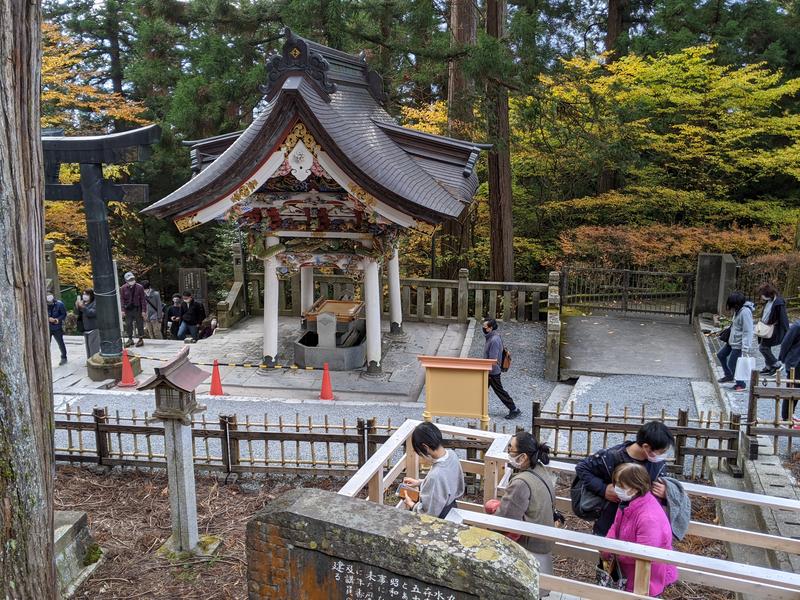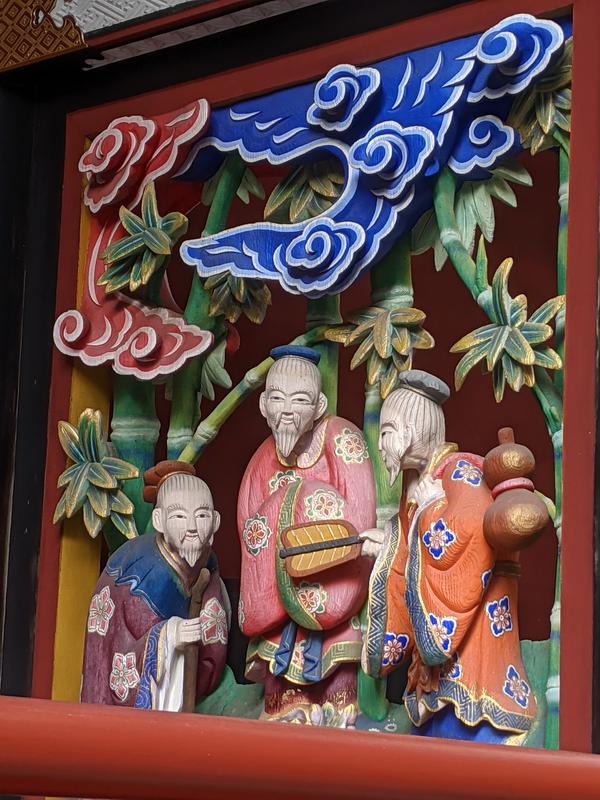 After the shrine visit we put on all our jackets and windbreakers for the descent from the mountain and back to Chichibu, 35 km that was almost all downhill or (closer to the town) flat. After the farewell at the station I grabbed some food at the 7-11, then headed to Yamabushi pass. It got dark before I reached the top. It was cold in Naguri but not quite as bad as on the way to Chichibu. I think next time I ride in similar temperatures I'll make sure to bring my shoe covers and my warmer gloves.
With this 162 km ride, my November "Century of the Month" is complete and I'm at 111 consecutive months of the "Century a Month" challenge. In two weeks I'll ride a 300 km brevet to Shimoda and back with a lot of night riding and hills, for which this weekend should have been good practice. For the December ride I may head to West Izu again.

11-13-21, 09:10 PM
Over the last several months, I've steadily been adding elevation to various rides, going so far as to do hill repeats (yuck). Today, that training paid off, and I completed the full Tour das Hugel for the third time. Last year, participants were encouraged to set their own date and time for the ride; this year, there was a bit more of a celebratory atmosphere brought out by the return of a true mass-start.
Below the MoPac Expressway at first light.
At 7:00 in the morning, a few hundred cyclists had gathered at Zilker Park in the shade of the MoPac expressway in downtown Austin. Most folks had brought their best (and lightest) bicycle for the ride. While my aluminum cross bike isn't exactly the lightest around, I did ditch my usual tail bag and support, opting to streamline as much as possible. For navigation, I went with tradition, taping a paper cue-sheet to my top tube (with a spare sheet stashed in my zip-lock 'wallet', for redundancy).
The ride was set to start at 7:15, but it's not a race, is entirely unofficial, and people were impatient: I started recording at 7:12, and I wasn't alone. The route started with a stretch on the Capital of Texas Highway (better known as the 360 Loop); though the grades are moderate, we maintained over 100 feet per mile, setting the expectation for the day. Before long, the route turned back into the hills above the Colorado River (the Texas one), climbing on High Road and Terrace Mountain. The steep pitches forced a few riders to dismount and walk, and caused mechanical troubles for others. I did my best to hold back to a slow pace.
Next up was a loop around Cuernavaca and River Hills Drive, which are among my favorites, as the grades are steep but manageable. Afterwards, however, the route ventures towards Lost Creek, crossing Barton Creek twice in the process. Barton Creek is one of the more well developed stream valleys in the area, and with it, comes some major inclines. Even so, it is one of the more relaxing sections of the ride, as it wraps around a well maintained country club with very patient traffic. Eventually, the route looped back to 360 and the next few miles were a relaxing roll back to Zilker Park; thus far, my GPS showed about 4,000 feet gained in just under 40 miles.
Following some friends.
After the "first loop" on the route, many of the riders drop-out; some folks had it planned as such, while some others did not. I share a few high fives while I make a Rice Krispie treat disappear; I dare not linger too long, as time is precious. At this point, I am forced to give much more of my attention to the cue sheet, as the roads are often empty both ahead and behind.
The second loop starts by crossing to the north side of the river in search of more hills. The first climb is Mount Bonnell, followed quickly by Cat Mountain, both of which go by smoothly enough; next, however, was Smokey Valley, where my GPS spiked to about a 24% gradient. By comparison, the next slopes around the Great Hills Golf Club were a sigh of relief. The day was half over.
The view from Mt. Bonnell.
Of course, the most infamous of west Austin hills are in the second half! Beauford appears around mile 60, with Courtyard just after. A couple of sports photographers were setup on the Courtyard climb, which has an excellent view of the city skyline as a backdrop -- hopefully I'll be able to track those photos down! Not too much further along, and the route hits its peak around Sun Tree Cove (at a paltry 1200 feet above sea level); an unofficial aid station was organized, with an assortment of fruits, candies, and most importantly, hydration! I take one cookie and refill just one bottle, then quickly get back underway; there's still over 40 miles to go.
As light as it gets paired with the most reliable navigation I could find.
Downtown is faintly visible in the distance.
The next 20 miles loop around Lake Travis, including the Oasis, and a trip to the bottom of Mansfield Dam (and then right back up). The long-time locals say traffic on this part of the route used to be much calmer, but RM620 has grown a bit uncomfortable over the last couple decades; while the scenery is splendid, the traffic is unnerving. I focus on my pace, putting in just a bit of effort, and before long, I'm huffing back towards Sun Tree Cove: the aid station has vanished.
Oh well -- it is an unsupported ride after all, and there are only two notable climbs remaining. The first is Big View, which is among the most demoralizing for many: the route drops from its peak right down to the river and an anti-climatic dead end; any view of the river is blocked by multi-million dollar homes, and all you can do is turn around and climb back out. The final hill of the day is much more popular; it's named Jester, but it's no joke -- it appears right around mile 100, and brings the total climbing for the day to well over 10,000 feet. Even though there's still another 10 miles to go, the top of Jester feels like an accomplishment.
There is some elevation gained on the way back to Zilker Park (the same 100 feet per mile on Loop 360 that started the day), but it doesn't feel too bad after a day of Austin's worst grades. I roll back to the starting point and stop my GPS, satisfied -- there's still daylight remaining and I've bested my previous two times for the course. It was a good day.
---
Last edited by Bulette; 11-13-21 at

09:17 PM

.

12-04-21, 06:12 PM
The above was January 2020. Now in December, I have ridden at least one century in each of the past 24 months. In some of the those months, I had viewed the century ride more as a chore, just something that needed to be done before moving onto 'better' things. Last month, Das Hugel was a refreshing change, but few of us (and certainly not I) can aim for such lofty goals every single month. This month was a complete and welcome reversal. Rather than go it alone, offering myself some mediocre reward (such as a donut or pastry), I crafted an approachable route with just 3,000 feet of elevation (about the least you can get around here), with very little traffic, and with reasonably planned breaks; I double-checked the weather, estimated a modest 8-hour pace, and then... I posted the route and invited along the local Cycling Friends group (this may seem trivial, but please understand, I readily admit to being an introvert).
At 7:30 in the morning, four of us were gathered at the local 'spot', where a hundred or more rides have started before. We started off lazily, by design, meandering north through town and just as slowly out of it. We enjoyed a tailwind, but did not push it. We stopped at just 12 miles for a bathroom (but we were, at the least, quick about it). Somewhere in the interim, four became five. Then, we stopped again around mile 25 -- we were headed into the more remote part of the ride, with nearly 25 more miles to the next town. Spirits were high, and the weather was fantastic for December -- hovering around 65°F with a welcome cloud cover.
We knew we were on a good route at this point, as we passed (and were passed by) various Austin city cycling groups; we were just a few miles from the city (and it could be seen over the horizon through the humid hazy morning). There were horses and cattle abound; the pleasant, social pace allowed me to really appreciate the views in every direction as we enjoyed the downs and relaxed on the ups. Before long, we crossed Highway 21 and joined Farm-to-Market 2001 towards Lockhart, our lunch stop -- a road sign assured us it was only 10 miles, and perhaps the pace increased just a bit (or maybe it was just the headwind that forced out a bit of an effort).
At 50 miles, one of our four was just about to their own personal, longest ride. It was a important moment, and a decision: home was just 20 easy miles away, the century route promised 30 more miles and a lot more hills. There was no hesitation -- we were all in for the haul. We stopped at the grocer to resupply and to rustle up a cold lunch. We stretched, we sat, we ate, and then we pushed on.
Just 12 more miles on and we stopped again for another quick break (and to be fair, it was the last outpost before home, at around mile 62). Even with the stops, we were still on schedule. Then we departed for my favorite section, the pecan farms, the crossing of the San Marcos River, and the slow climb to the top of the ridges at Kingsbury. Along the way, another of our five riders surpassed their own personal record -- two folks were now working towards their first centuries. At this point, we were entering more familiar territories once again, and it must have provided a bit of 'home-turf' advantage, because the pace never dropped. We kept the cruise on, from mile 70, right on to mile 80, and even 90.
Around mile 95, we realized we would need to add an extra loop to reach 100 -- it is a mental drain for most, I think, to realize that 'home' is just over yonder, but to turn back into the wind, back up the hill, and to add that extra little bit. Of course it was all worth it in the end, and of course we all managed our own centuries -- but together. Many of my centuries over the last few months were forgettable, if not for the journals I have kept here, but this century -- it was not just another 'century-a-month'. And it was doubly impressive -- because for me, this has become somewhat routine, but for those two, it was a groundbreaking personal achievement.
I'm glad to have made that post, and to have invited my friends along. I'm glad I was able to be a part of their accomplishment, even though it was not my own.
See you in 2022.

12-26-21, 05:58 AM
Senior Member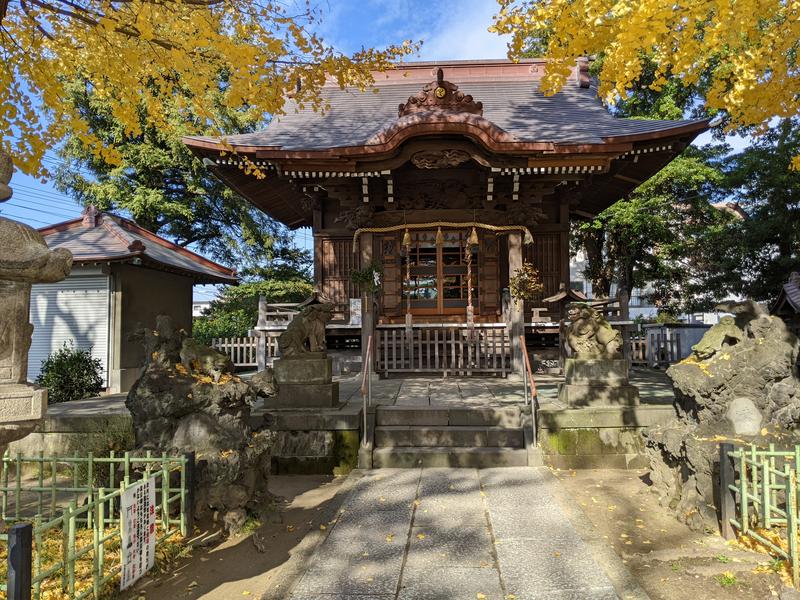 On December 12 it was time for my December Century ride (consecutive month #112). So many options, but the memory of cold rides in Naguri and to and from Chichibu dulled the appeal of many of them, so in the end the southern tip of Miura peninsula won (
173 km, on Strava
).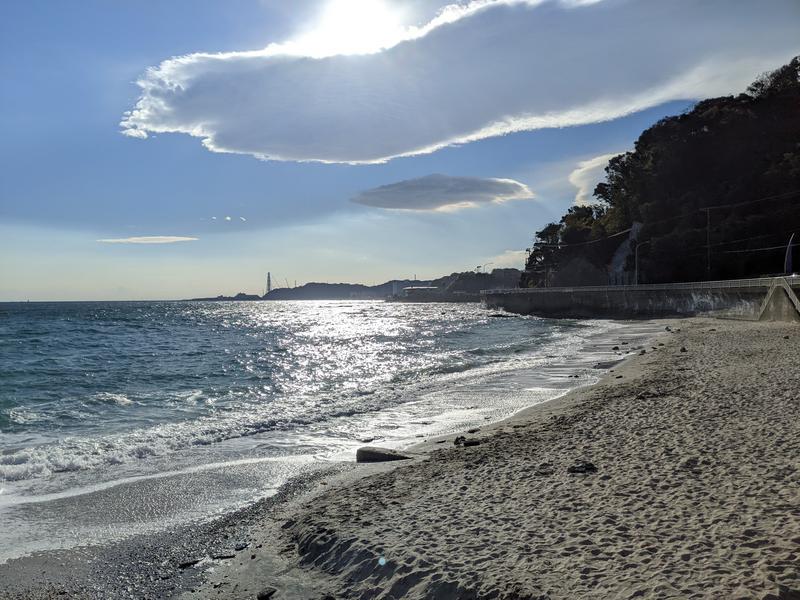 The start was chilly at 6°C but it soon warmed up. For most of the day and until sunset I wore my warm trousers but only a short sleeve jersey. Those trousers are too warm once it gets above 14°C and it was 17°C for much of the day.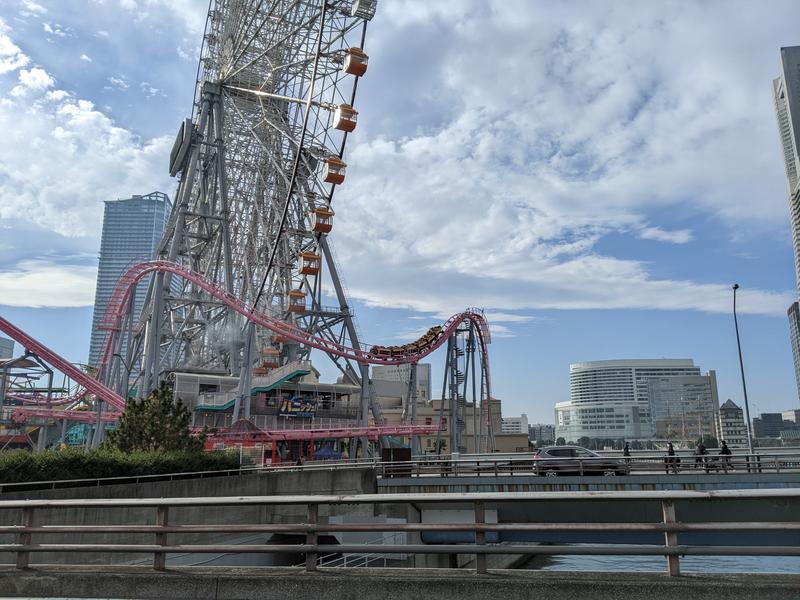 I saw a lot of police stopping motorists (I counted at least three in the morning) and police motorbikes patrolling the roads.
From Verny park in Yokosuka I saw this submarine. Nuclear or diesel electric?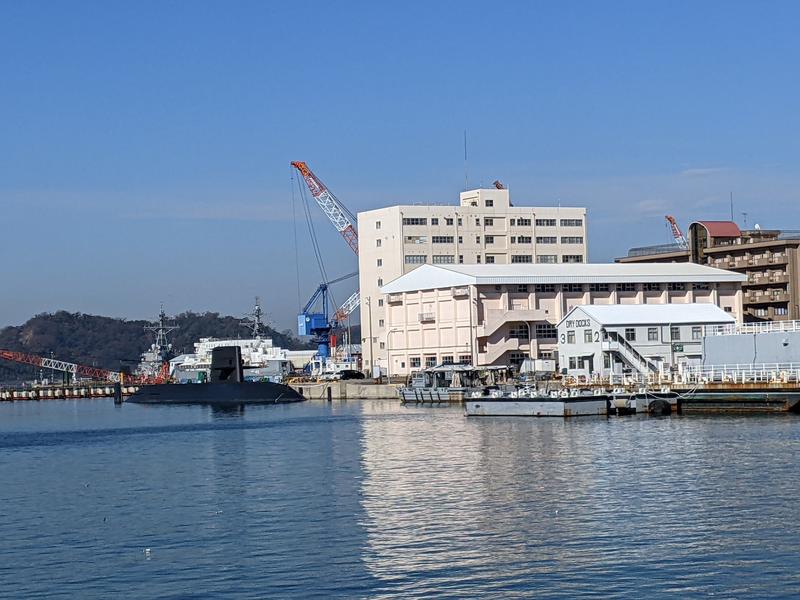 After I turned off the main road towards the Kurihama ferry port to follow the coast to Kannonzaki instead, I passed a cyclist on an older randonneur bike (i.e. light touring bike with front rack and fenders). I gave it a good looking over and he looked at mine.
A bit down the road I stopped for pictures of Tokyo Bay and the cyclist caught up with me. He commented on my bike, that it was so rare to see a randonneur bike. His own bike was a custom one, made about 40 years ago. It used stem mounted shifters. The gearing was touring triple (46-36-26) with a six speed freewheel. He had retired from his work as a local civil servant and rides 10 km of local roads on one of his 4 bicycles every day. I only ride through Miura about every 3 months. In the end I handed him my business card so we could stay in touch.
A couple of km later, after I had already passed a turn off to a small coastal road, I spontaneously turned around to explore the coast around there. I took more pictures of the ocean up on a hill. A little after that my new friends caught up with me again. He then invited me around to his place for coffee. We spent time in his personal library and bike storage room with ocean view talking about bikes, computers and software (turned out he still knew CP/M and Digital Research).
Eventually I had to move on because I knew the sunset comes early in December and I didn't have so much time if I wanted to take more pictures.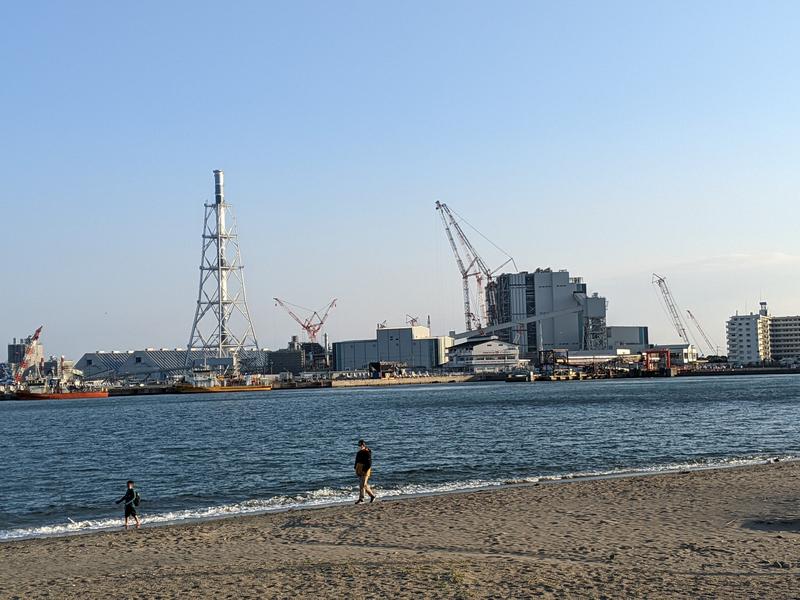 Construction cranes are busy at the JERA power station where the Tokyo Electric Power Company (Tepco) is doing its part to raise the sea level. In 2021 they are
still building two coal burning units
scheduled to come online in 2023/24. I don't know for how many decades Tepco thinks they will be operating. Do we live on the same planet?
The last two hours before sunset were very windy.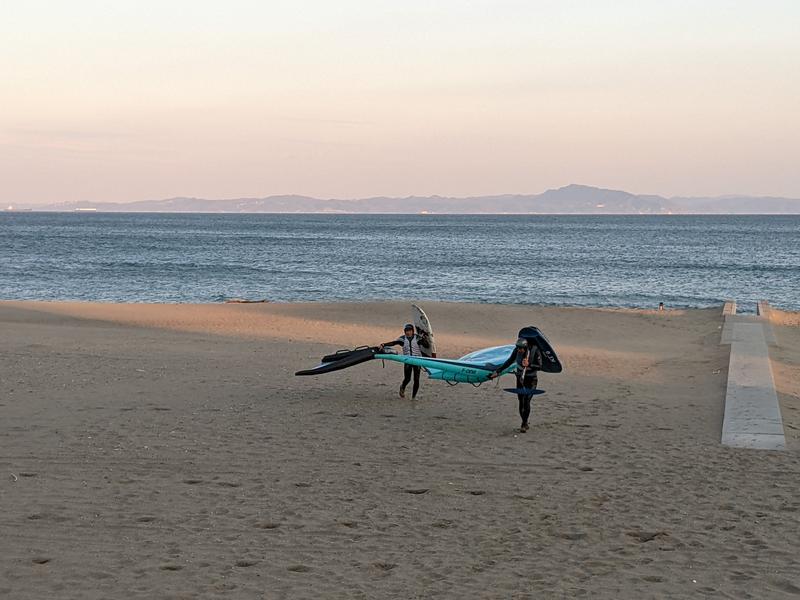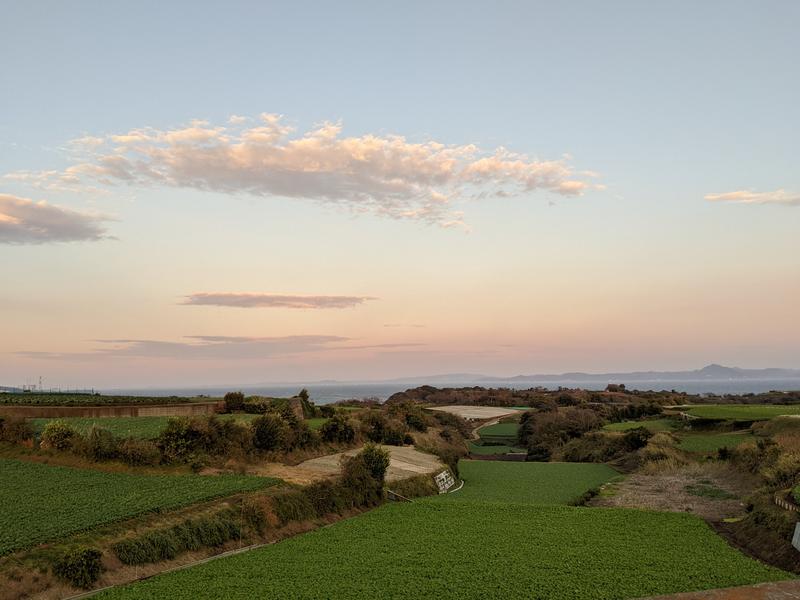 The wind turbines on this hill were illuminated with purple light but only one of the two was turning.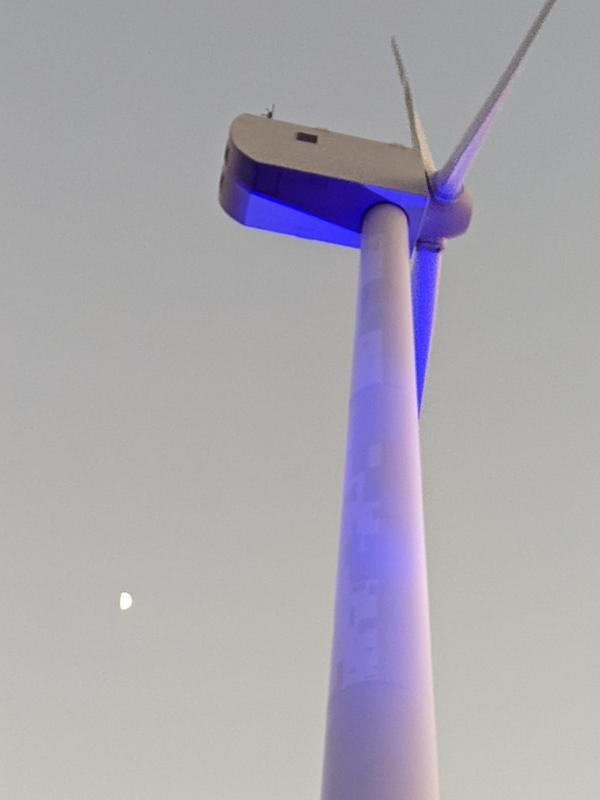 I don't think it was because wind speed was too high because its twin right next to it was operating.
These turbines have been there for a very long time and are probably much smaller than what one would use nowadays. Maybe they are only leaving one running to say, "Look, we're doing something for the environment" while Tepco makes life difficult for wind power feed-in so they can sell more of their thermal power.
About 2 1/2 hours from home I passed a Nepalese restaurant in Yokohama and stopped for dinner. I was the only guest but was quite nice.
---
Last edited by joewein; 12-26-21 at

08:29 AM

.