Tell us about your first audax

04-27-07, 02:36 AM
Senior Member
Join Date: Sep 2006
Location: melbourne
Posts: 522
Bikes: gaint crx 2 2007
Mentioned: 0 Post(s)
Tagged: 0 Thread(s)
Quoted: 0 Post(s)
Likes: 0
Liked 0 Times in 0 Posts
Tell us about your first audax
---
Today was the day of the Audax ride, my first one. It was a 103km loop. Also had to ride there from home, adding around another 60km so all up 163 km for the day so very pleased with that as the Audax ride itself was pretty hard.
Woke up at 530 to meet gozzo at the corner of Springvale and Canterbury road. Pitch black and the weather still threatning to ruin the day. Got to the meeting point pretty early which was nice to chill out for half an hour prior to starting. Murray eventually rocked up and got himself organised and we filled in our relevent paperwork.
Pretty poor show up, obviously down to the bad weather.
So off we went on our 100km ride, there were just 4 of us, myself, Ian (gozzo) John and Jimmy. We started off and myself and Gozzo took the pace until Gozzo had a bloodt puncture, never mind these things happen and we got it fixed and the other guys caught us up, so chinn wag with Jim and John until we made it off again. We then made it to the halfway cafe break without incident apart form a breif spell of getting lost.
Ordered some food and a drink then it was off for the second half after getting our sheet signed. But no there was yet anotehr flat again for Gozzo (bad luck eh) A second puncture we believe unrelated to the first. So out comes another tube and eventually its fixed.
Second half again was good, a few big hills to challenge us but nothing to painful. So all completed again without to much hassle.
Pulling back up at the meeting point we were greeted with muffins, sugery treats and drinks thanks to murray and his brother ( or brother in law cant rememebr which) enjoyed a bit of a chat before I had to get off. Then it was a gentle ride home to Hawthorn and a nice shower and of course stocking up on some food to fill the stomach.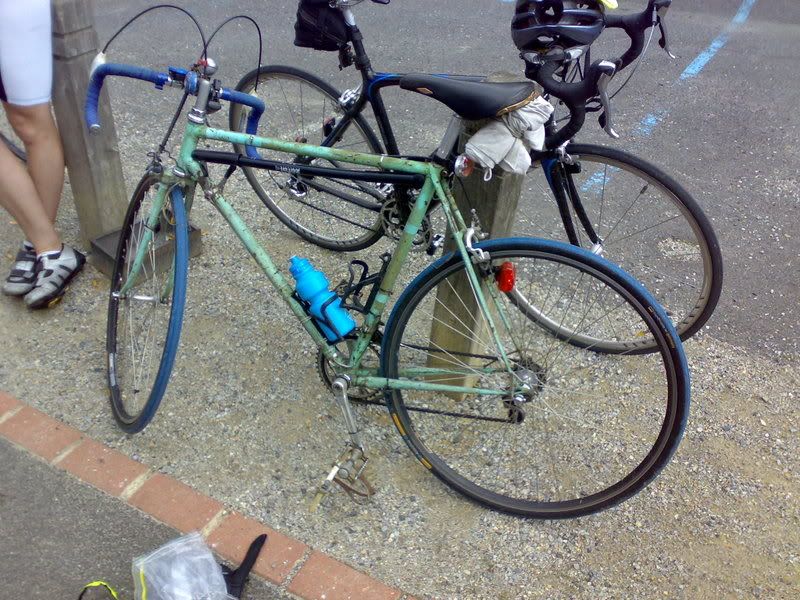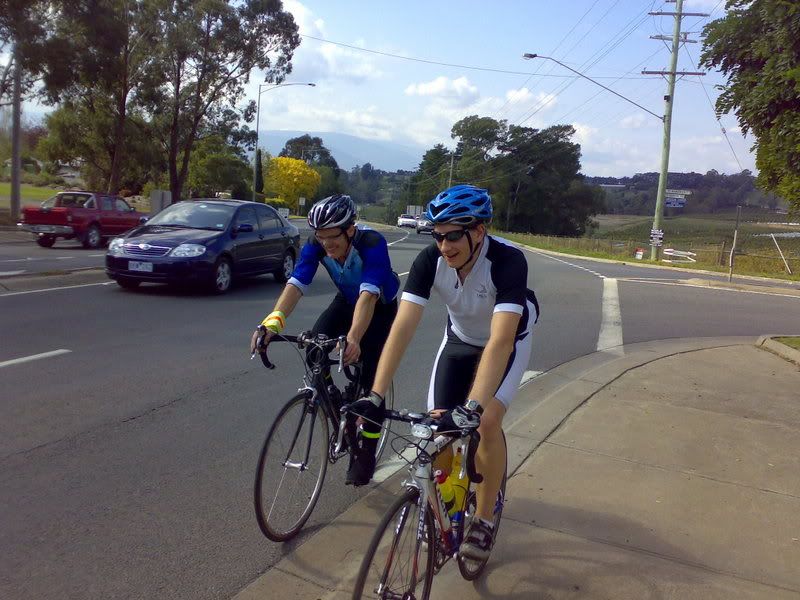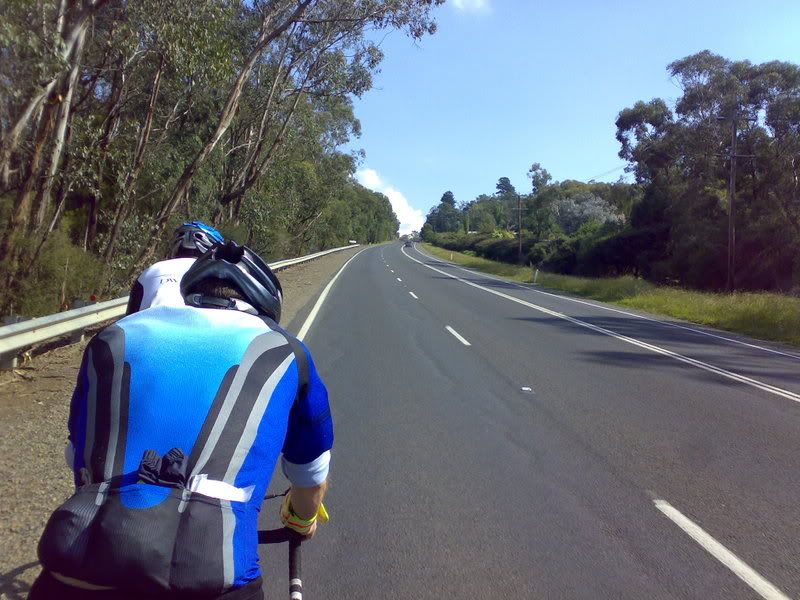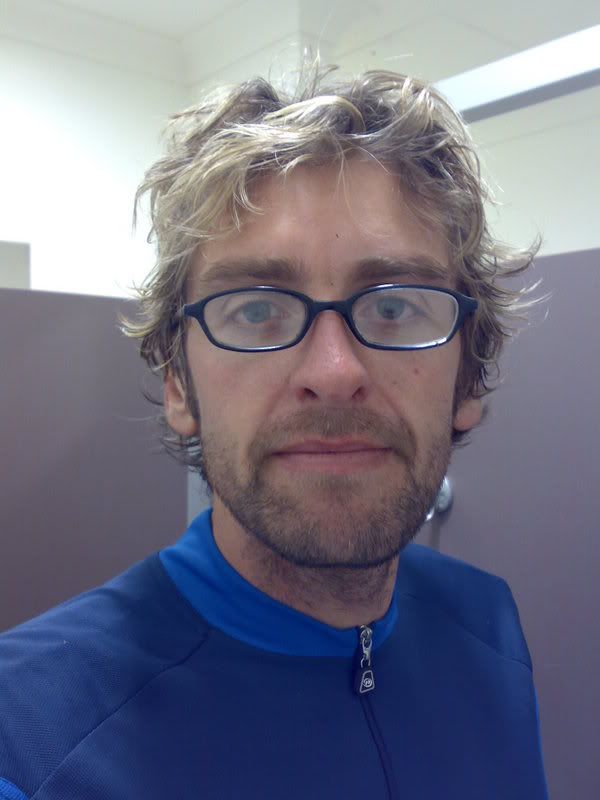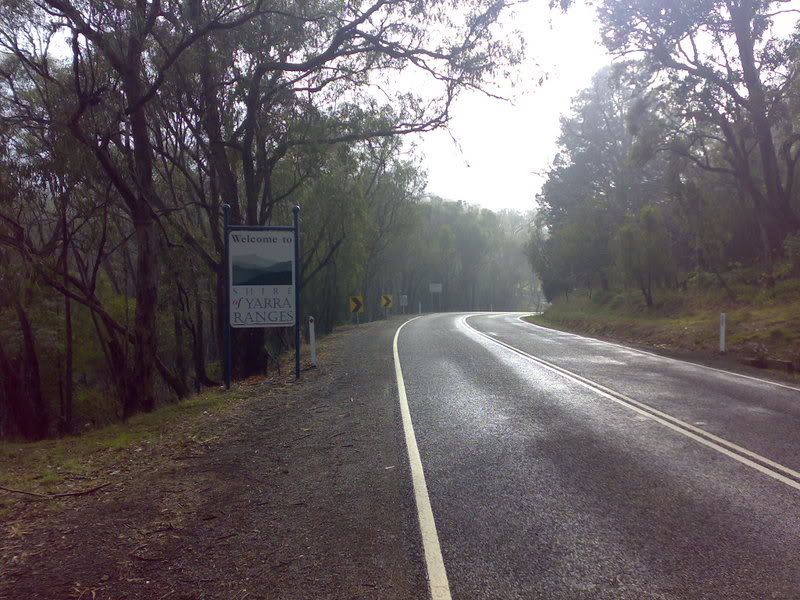 sorry about the pics just a few snaps from the mobile

04-27-07, 08:51 AM
just another gosling
Join Date: Feb 2007
Location: Everett, WA
Posts: 16,507
Bikes: CoMo Speedster 2003, Trek 5200, CAAD 9, Fred 2004
Mentioned: 102 Post(s)
Tagged: 0 Thread(s)
Quoted: 2461 Post(s)
First thing I thought about the pics is, What are they doing on the wrong side of the road? Duh. Second thing is, What kind of phone? Nice pics. Glad you had a good ride. Weather looked like it turned out nice. Good thing, eh, with no fenders and mudflaps.

What's the yellow paper on the wrist? Cue sheet?

Doesn't look droughty where you are. Lovely countryside. Where is it bad?

Edit: Oh, I forgot the OP's title! My first Audax was a 100k Populaire. I broke one of my stem cap bolts testing my bars in the parking lot. I quickly drove the hour to home and back and got my rain bike, making it out of the parking lot with 1 minute to spare on the start control time limit. I rode the 100k solo, finishing well before many riders anyway. I had a lot of fun. It was drizzly. We'd had some fresh snow a couple of days earlier, so the dark drizzly day with snow on the roadside and fog shrouded hills gave a sense of unreality to this solo rider.

I've since replaced both stem cap bolts with 12/9 high grade bolts.
---
Last edited by Carbonfiberboy; 04-27-07 at

08:58 AM

.

04-27-07, 09:45 PM
In Real Life
Join Date: Jan 2003
Location: Down under down under
Posts: 51,914
Bikes: Lots
Mentioned: 138 Post(s)
Tagged: 0 Thread(s)
Quoted: 3121 Post(s)
Originally Posted by Carbonfiberboy
Doesn't look droughty where you are. Lovely countryside. Where is it bad?

It started raining the previous afternoon, and rained quite a bit during night ,but stopped raining for them early in the morning. They've been getting rain relatively regularly over the past few weeks.
The drought is on the other side of the Snowy Mountains ... or at least it is more evident there. They've got quite an elaborate water system that pumps the water from the east side of the Snowy Mountains to the west side. The result has been that around Canberra, the area is as dry as dust, but once you cross over it is fairly green and lush. I was quite surprised.
The area around the Yarra Ranges, or a little bit further north is full of orchards ... it's a very pretty area.

04-27-07, 09:48 PM
In Real Life
Join Date: Jan 2003
Location: Down under down under
Posts: 51,914
Bikes: Lots
Mentioned: 138 Post(s)
Tagged: 0 Thread(s)
Quoted: 3121 Post(s)
You can read about just about all my brevet (audax's) here:
https://www.machka.net/brevetstories.htm
Most have photos and everything!
But my first was a 200K which I rode on my 40 lb, knobby-tired mtn bike because I had torn my left subscapularis (front muscle of the rotator cuff) a few weeks before and couldn't put any weight on my left arm. That mtn bike is very upright, so I could just sit and rest my hand on the bar instead of leaning. I finished it in 12 hours.

05-13-07, 09:10 PM
Senior Member
Join Date: Dec 2005
Location: Auld Blighty
Posts: 2,240
Bikes: Early Cannondale tandem, '99 S&S Frezoni Audax, '65 Moulton Stowaway, '52 Claud Butler, TSR30, Brompton
Mentioned: 0 Post(s)
Tagged: 0 Thread(s)
Quoted: 1 Post(s)
Likes: 0
Liked 0 Times in 0 Posts
In 1992, I drove 1000 km the previous day to the nearest brevet (Sydney) with 'Animal' and my girlfriend (now wife) in my rather tired Kombi. He and I were the only ones doing the 300 km option (not going to drive that far for a short ride), most were riding the 50, 100, 150 or 200 km brevets. We met the organiser late that afternoon to collect our brevet cards and route sheets and to find out how to ride a brevet.

We started at 4am the next morning (organiser stayed in bed) and did the first 100 km loop almost in time to join the 200 km starters at 8am. It was good fun rolling past most of the riders on the shorter events - Animal had broken his wrist a couple of weeks earlier, so mainly stayed on his aerobars although his armcast caused a few comments. We started the third 100 km loop around midday but I didn't eat enough, got a sore knee and we took 5 hours for the last loop. 13 hours for the 300, tendonitis for a souvenir, drove home the next day and a year till the next brevet (a 500 km fleche about 1400 km away).

I eventually organised the first local brevet (my third ever) in 1994. It seemed an easier option.

07-06-07, 02:33 PM
www.ocrebels.com
Join Date: Aug 2006
Location: Los Angeles area
Posts: 6,186
Bikes: Several bikes, Road, Mountain, Commute, etc.
Mentioned: 1 Post(s)
Tagged: 0 Thread(s)
Quoted: 83 Post(s)
Likes: 0
My first was a 300 K, probably about 1982 or '83, the day after Lon and Susan (Notorangelo) Haldeman were married. It was out and back from Washington, MO to Fulton, MO and there was wedding cake (left over from the prev. evening) to eat at the turn-around.

I had done centuries before, but 185 mi. was way over the top. Broke a spoke on my rear wheel, but otherwise no mechanicals (riding my '68 Peugeot PX-10). I was coached by many experienced riders and that helped a lot They reminded me to stay well hydrated and nourished. Started and finished in daylight (I think it was May, but I could be wrong!).

Had trouble staying awake on the drive back to St.Louis, then was totally knackered at a family gathering the next day. I do remember that . . .

Rick / OCRR