Failed a Century, but Suceeded in Having a Great Ride

06-01-10, 09:26 PM
Senior Member
Join Date: Jul 2008
Posts: 83
Mentioned: 0 Post(s)
Tagged: 0 Thread(s)
Quoted: 1 Post(s)
Likes: 0
Liked 0 Times in 0 Posts
Failed a Century, but Suceeded in Having a Great Ride
---
On Memorial Day, a couple of friends and I decided to attempt a century ride around the environs of Front Royal, Va. We parked in the G.W. National Forest along Fort Valley Rd. just West of Front Royal and set off East on River Mount Rd at 8 a.m. The day started out beautifully as we rolled through the bucolic scenery of the Shenandoah Valley in the morning sun, our spirits were high and our legs were fresh.
After crossing the Shenandoah River we cut through down town Front Royal and turned East on highway 55, where we hit the first large rollers. Some in the group were a bit frazzled by the short steep grades, but after a quick stop at Apple House for some snacks and water everyone was ready to continue. We took 55 to Linden and turned on to back roads through wine country. Everyone was in good form pedaling two abreast down country lanes surrounded by vineyards, though there was a short moment of concern as the road unexpectedly turned to gravel. Those in the group on touring and cyclocross bikes fared slightly better, but everyone pulled through with minimum incident and pavement resumed after a mile.
We enjoyed the speedy descent through rolling farm land but quickly hit our first sustained grade on 522 back to Front Royal. As we tackled the grade I fell slightly off the back of our group, but continued the several mile climb at a comfortable pace. This is where the effects of the strengthening sun made themselves felt. As we regrouped at the top of the grade, we were all a bit sweaty and high in heart rate, but well fed and hydrated as we coasted down the 4 mile grade back to Front Royal.
The real work started as we entered the North Gate of Skyline Drive and began to grind up the steep and continuous grade to the visitor's center. Again the group began to spread out a bit and I let my self drop off the back a bit as I stuck with my slow and steady strategy, sipping water and trying not to overheat.
Me at the Visitor's Center overlook:
At this point in time, I think it began to sink in with everyone that we had some work ahead of us and one of my buddies was beginning to wrestle with knee pains. We tried to keep the group together, but it quickly became apparent that we each had to tackle the next 20 miles until Elk Wallow at our own pace. As our group began to spread out along the grade, we were hit by a thunderstorm and torrential down pour just as we neared the crest of the first climb. I quickly went from being hot to chilled as the temperatures dropped and rain pelted me like BBs and fogged my glasses as I clung to my brakes on the descent not wanting to push above the high 20s on wet roads.
However, just as quickly as the storm had come, the sky cleared and the temperature began to climb again. I felt as though I were being cooked in a steamer as I began to tackle the long and steady grades ahead. Water squished in my shoes with every pedal stroke, so I put my head down and kept muttering to my self that suffering was just a distraction on the path to enlightenment. By this time, our group of five had become quite spread out with two ahead and two behind me, we rarely saw each other except when someone decided to take a break at one of the overlooks. It was during one of these lonely stretches of pedaling that I ran in to this fellow:
It was a welcome distraction to see such a beautiful animal, and stopping to take the photo gave me a chance to drink some more water and eat a bit of gu. From that point until the summit, was just one long and arduous grind of continuous climbing. About three quarters of the way up, I caught one of my friends who had pulled out ahead and we both noted that despite continued effort, our heart rates were steadily sinking. I ate some more gu, and knowing that we were both in danger of hitting the wall, worried about those who were even farther behind. After 20 miles of nearly continuous up hill pedaling, we were down to turning the pedals on will power alone when we finally reached the summit.
Sometimes a picture is worth a thousand words:
We flew down the side of the mountain to Elk Wallow, where I ate a BLT and fries as others from the group slowly trickled in. Here, we probably dawdled too long, stretching out in the sun and letting our socks dry, since as we began the fast ride down to the intersection with 211 we could see more weather blowing in over Massanutten Mountain, our final destination.
Luckily we reached 211 while the roads were still dry and lost over a thousand feet in about 9 miles. All of the pain of the climbing we had done seemed worth while as carved through the switch backs on this beautifully paved road at speeds between 35 and 51 mph. What had seemed like an eternity of climbing was descended in less than 20 minutes.
We all arrived in Luray smiling and exhilarated, but it quickly became apparent that some of us had given all they could for the day. We held a meeting at a gas station and decided to bail after 79 miles. It was hard for me to call a cab, when I knew that so much of the task had already been completed; but I could also recognize the beginnings of fatigue in my self and realized that some were truly beginning to suffer. We made a half hearted attempt to convince ourselves that we should form an expedition to complete the ride and run shuttle for those who were too tired, but in the end this seemed silly and I knew we had made the right decision as we all sat around joking about the ride over dinner latter that night.

06-01-10, 10:19 PM
Randomhead
Join Date: Aug 2008
Location: Happy Valley, Pennsylvania
Posts: 23,834
Mentioned: 0 Post(s)
Tagged: 0 Thread(s)
Quoted: 4 Post(s)
sounds like a nice ride. I've heard that part of Virginia can be pretty tough, never got that far north when I lived in Blacksburg.

06-01-10, 11:58 PM
Senior Member
Join Date: Mar 2006
Location: Everett area
Posts: 385
Bikes: Roubaix S-Works SL2, Redline Conquest
Mentioned: 0 Post(s)
Tagged: 0 Thread(s)
Quoted: 0 Post(s)
Likes: 0
Liked 0 Times in 0 Posts
Nice ride report. I've only been out that way once (Luray Caverns)but would love to ride in those hills some day. And I think it's good to end a long ride on a high note - leaves you wanting to do it again.

06-02-10, 04:35 AM
Senior Member
Join Date: Apr 2007
Location: Northern VA
Posts: 2,654
Bikes: 2008 Trek Madone 5.5, 2009 Cervelo R3SL tdf edition, Cervelo R5 with Di2
Mentioned: 0 Post(s)
Tagged: 0 Thread(s)
Quoted: 2 Post(s)
Likes: 0
Nice report. Glad you had a good ride. Sounds like Hogback kicked your butt a little

You MUST MUST ride through Fort Valley though sometime. Seriously. This is one of my favorite spots in all of Virginia.
Samples: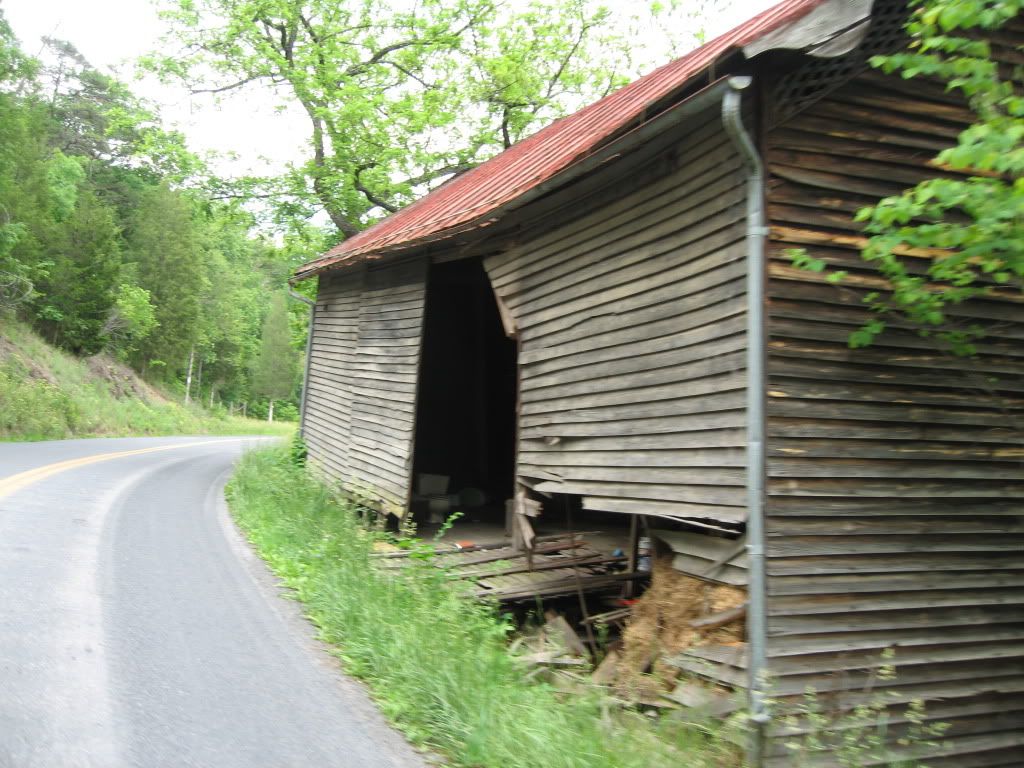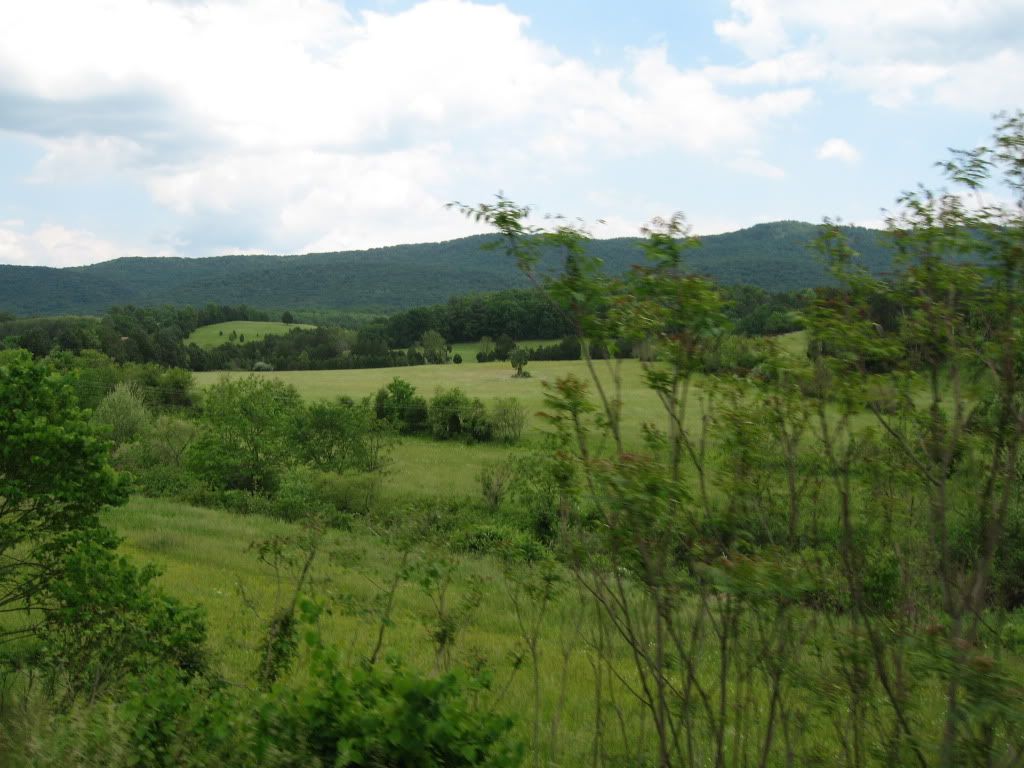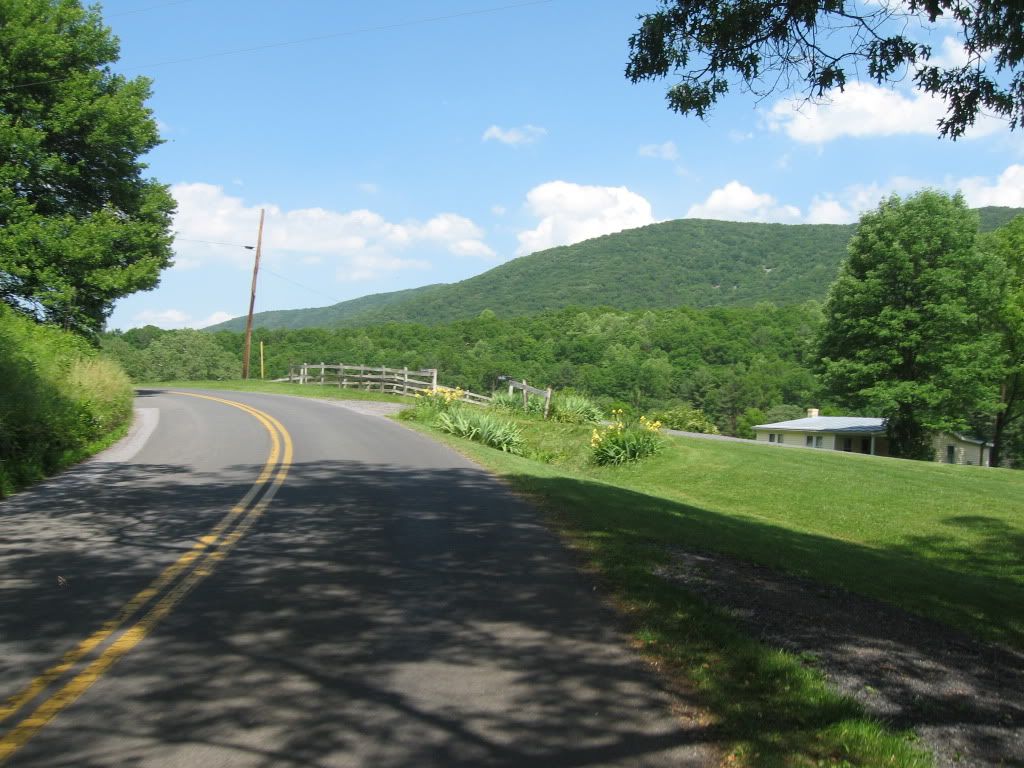 06-02-10, 07:04 AM
Senior Member
Join Date: Jun 2002
Location: Rural Missouri - mostly central and southeastern
Posts: 3,003
Bikes: 2003 LeMond -various other junk bikes
Mentioned: 1 Post(s)
Tagged: 0 Thread(s)
Quoted: 75 Post(s)
Likes: 0
This time of year heat and humidity can bring any cyclist down. It's hard to be ready for heat with little or no warm weather riding.

06-02-10, 07:18 AM
What happened?
Join Date: Jun 2007
Location: Around here somewhere
Posts: 8,050
Bikes: 3 Rollfasts, 3 Schwinns, a Shelby and a Higgins Flightliner in a pear tree!
Mentioned: 57 Post(s)
Tagged: 1 Thread(s)
Quoted: 1835 Post(s)
You couldn't put a structure that close to a road HERE?
Our drivers like to cross the yard and hit your house!
(Looks like one of them got that place!)


06-02-10, 07:49 PM
Senior Member
Join Date: Jul 2008
Posts: 83
Mentioned: 0 Post(s)
Tagged: 0 Thread(s)
Quoted: 1 Post(s)
Likes: 0
Liked 0 Times in 0 Posts

06-03-10, 10:05 AM
Senior Member
Join Date: Sep 2007
Location: Far beyond the pale horizon.
Posts: 13,974
Mentioned: 31 Post(s)
Tagged: 0 Thread(s)
Quoted: 4052 Post(s)

06-03-10, 10:43 AM
Randomhead
Join Date: Aug 2008
Location: Happy Valley, Pennsylvania
Posts: 23,834
Mentioned: 0 Post(s)
Tagged: 0 Thread(s)
Quoted: 4 Post(s)
and the horse drawn wagons going past that barn when it was built probably didn't shake the building with their wake either.
Thread
Thread Starter
Forum
Replies
Last Post
Clydesdales/Athenas (200+ lb / 91+ kg)
Clydesdales/Athenas (200+ lb / 91+ kg)
Clydesdales/Athenas (200+ lb / 91+ kg)

Posting Rules
You may not post new threads
You may not post replies
You may not post attachments
You may not edit your posts
---
HTML code is Off
---