Studded Tires: Make your own in 7 easy steps

12-09-07, 04:32 PM
Writin' stuff
Join Date: Feb 2007
Location: Durango, CO
Posts: 3,784
Mentioned: 0 Post(s)
Tagged: 0 Thread(s)
Quoted: 2 Post(s)
Likes: 0
Studded Tires: Make your own in 7 easy steps
---
Or in other words, how I made mine (which I love). Since there have been numerous threads on this topic recently, here is the method I have found to be the most effective, least expensive, and least time-consuming.
Things you will need:
1) two tires - I use old UST tires. They have good sidewalls, nice thick rubber, and I don't care about weight. You can buy new tires if you want, but I just use some that I would no longer race on but still have plenty of life left.
2) ~200 6x3/8 or 1/4 Hex washer head screws (steel). 100 per tire. Length depends on tread thickness.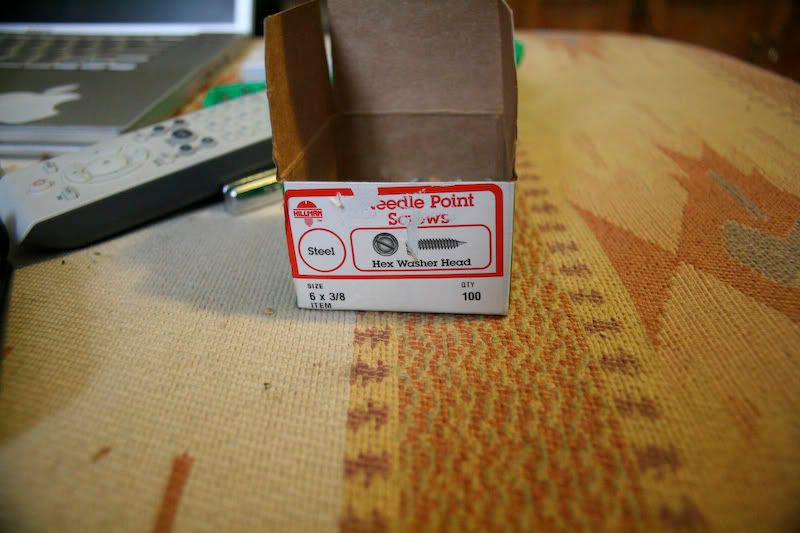 3) Two mr tuffy puncture resistant strips, or a crapload of duct tape, or some old thick tubes. Something to line the inside of the tire with...
4) A drill
5) sockets/wrench that will fit on whatever hex-head screws you find.
6) dremel or something similar.

Steps:

1) Decide on stud pattern. I keep as few studs on the center of the tread as possible so I can still roll the tire, with more on the sides. You can see my chosen pattern at the end of this post.

2) Drill holes wherever you want to put a stud. Drill from the outisde of the tire in, so you make sure to hit the tread blocks.



3) Screw in your studs by hand first. Pointy part goes in.



4) Use wrench to finish putting stud in. Stud should be firmly screwed into the tire.



5) Do steps 2-4 over and over and over again.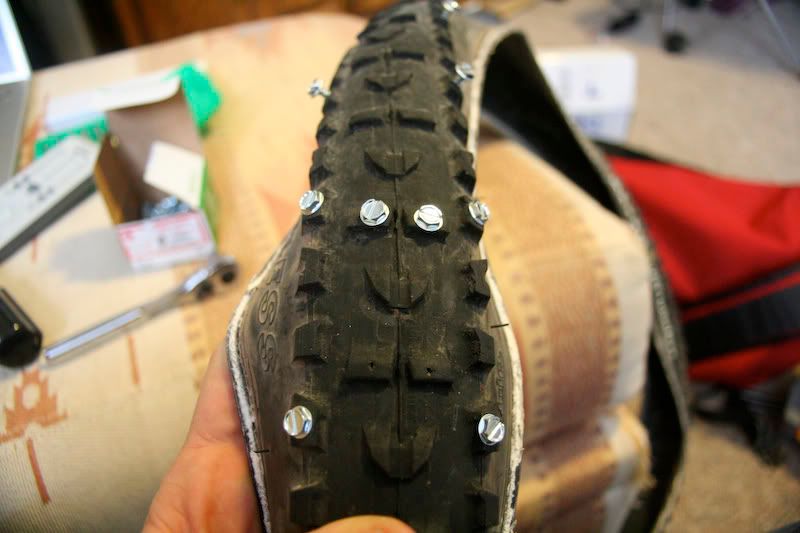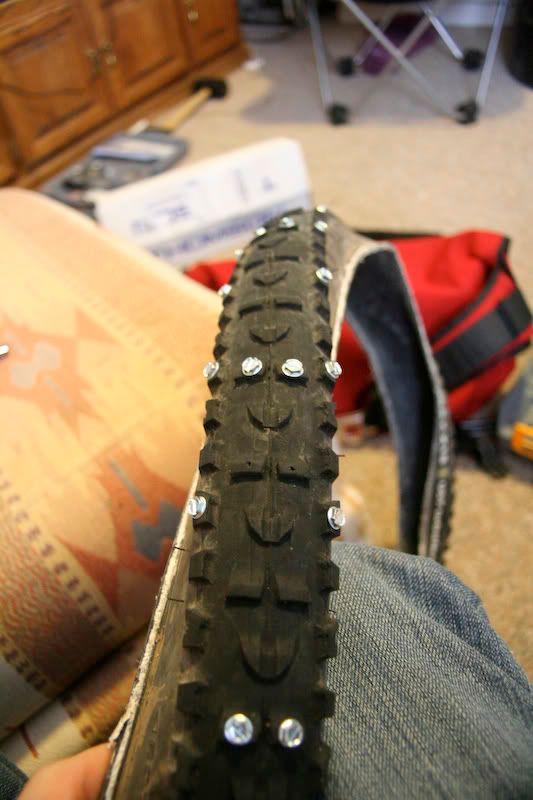 6) You may have some of the screw point sticking through the back of the tire.


If this is the case, use your dremel or similar device to grind down the screw enough so it is flat.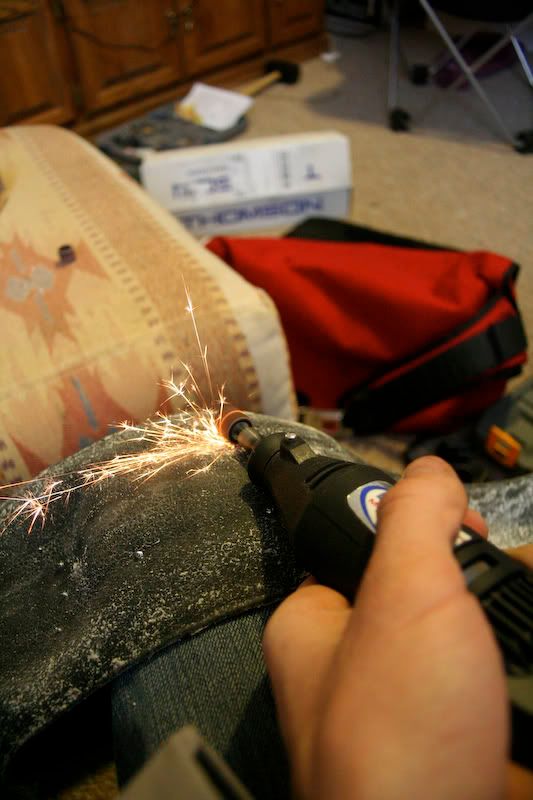 7) Once the pointy bits are gone, insert your mr. tuffy, big fat tube, duct tape, etc into the tire, mount on rim, insert tube, pump up, and you're done!

The whole process took me two Mythbusters (1 hr total) per tire, and cost $5 per tire for the studs. I went for a ride this morning in some fresh snow we got over the weekend and they worked amazingly well on both the softer stuff on trails and the ice/compacted snow on the roads.
---
Last edited by ZeCanon; 12-09-07 at

04:59 PM

.


12-11-07, 12:20 PM
Writin' stuff
Join Date: Feb 2007
Location: Durango, CO
Posts: 3,784
Mentioned: 0 Post(s)
Tagged: 0 Thread(s)
Quoted: 2 Post(s)
Likes: 0
The grinding is necessary because I was running tubes, and no amount of duct tape would protect from those screws otherwise. If you can fine 1/4 lengths screws (I could not) then you may not need this step.
Drilling is also necessary, but only for your sanity. It makes the job go much, much faster. You can screw the studs in without pre-drilling them, but it takes forever.
As for other stud patterns, I have tried many, and this is the one that works best for me for packed powder snow/ice. I am thinking about adding another stud on the side knobs of the front tire for better turning traction, but that is the only change I may make. I get plenty of rear traction. If you use a tire with bigger knobs, you will get even better traction. The highroller I used is a fast rolling, low knob tire. I run it backwards so the flat edges of the center knobs act as a better scoop, but it still doesn't grip as well as just running a swampthing or something similar on the rear, because they have huge knobs. But with the swampthing, the second you get off of the soft stuff and onto ice, you go down. I would make studded mud tires, but I don't have any lying around...
I'm glad you found my post helpful. I did a lot of experimenting to figure out what works. Maybe I just saved you all the trouble



Posting Rules
You may not post new threads
You may not post replies
You may not post attachments
You may not edit your posts
---
HTML code is Off
---