Studded Tires: Make your own in 7 easy steps
---
Or in other words, how I made mine (which I love). Since there have been numerous threads on this topic recently, here is the method I have found to be the most effective, least expensive, and least time-consuming.
Things you will need:
1) two tires - I use old UST tires. They have good sidewalls, nice thick rubber, and I don't care about weight. You can buy new tires if you want, but I just use some that I would no longer race on but still have plenty of life left.
2) ~200 6x3/8 or 1/4 Hex washer head screws (steel). 100 per tire. Length depends on tread thickness.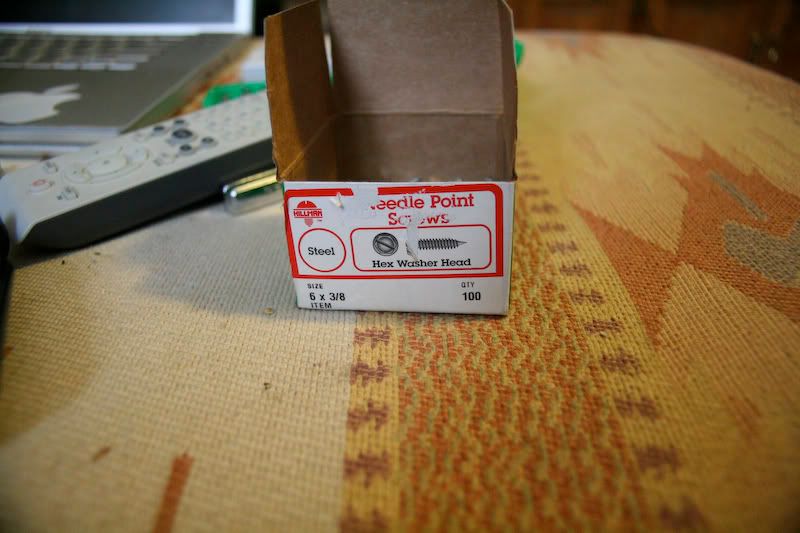 3) Two mr tuffy puncture resistant strips, or a crapload of duct tape, or some old thick tubes. Something to line the inside of the tire with...
4) A drill
5) sockets/wrench that will fit on whatever hex-head screws you find.
6) dremel or something similar.

Steps:

1) Decide on stud pattern. I keep as few studs on the center of the tread as possible so I can still roll the tire, with more on the sides. You can see my chosen pattern at the end of this post.

2) Drill holes wherever you want to put a stud. Drill from the outisde of the tire in, so you make sure to hit the tread blocks.



3) Screw in your studs by hand first. Pointy part goes in.



4) Use wrench to finish putting stud in. Stud should be firmly screwed into the tire.



5) Do steps 2-4 over and over and over again.



6) You may have some of the screw point sticking through the back of the tire.


If this is the case, use your dremel or similar device to grind down the screw enough so it is flat.



7) Once the pointy bits are gone, insert your mr. tuffy, big fat tube, duct tape, etc into the tire, mount on rim, insert tube, pump up, and you're done!

The whole process took me two Mythbusters (1 hr total) per tire, and cost $5 per tire for the studs. I went for a ride this morning in some fresh snow we got over the weekend and they worked amazingly well on both the softer stuff on trails and the ice/compacted snow on the roads.
---
Last edited by ZeCanon; 12-09-07 at

04:59 PM

.