Please help me identify my mystery Ti MTB

04-20-08, 02:16 PM
Senior Member
Join Date: Sep 2007
Location: Scottsdale, AZ
Posts: 4,466
Bikes: many
Mentioned: 0 Post(s)
Tagged: 0 Thread(s)
Quoted: 17 Post(s)
Likes: 0
Liked 0 Times in 0 Posts
Please help me identify my mystery Ti MTB
---
(Posted on both C&V and MTB forums)
I picked this titanium mtb off of CL for a song ($350), including extra tires and other accessories. The frame is in great shape. It's a 9-speed and the components are high end "old school," as described by Amy, my 19-year-old mechanic (who has also been invited to the US mtb Olympic trials this summer). I stripped off the cheesey product decals. The only ones that are useful for identification are the "Ti 1000" top tube decal and the "TW" (T over W) head badge decal.
The SN is #S0DT00149. I'm guessing that this is a Sandvik frame. What do you think?
BTW, does anyone know how to adjust and center these brakes?
Thanks
RFC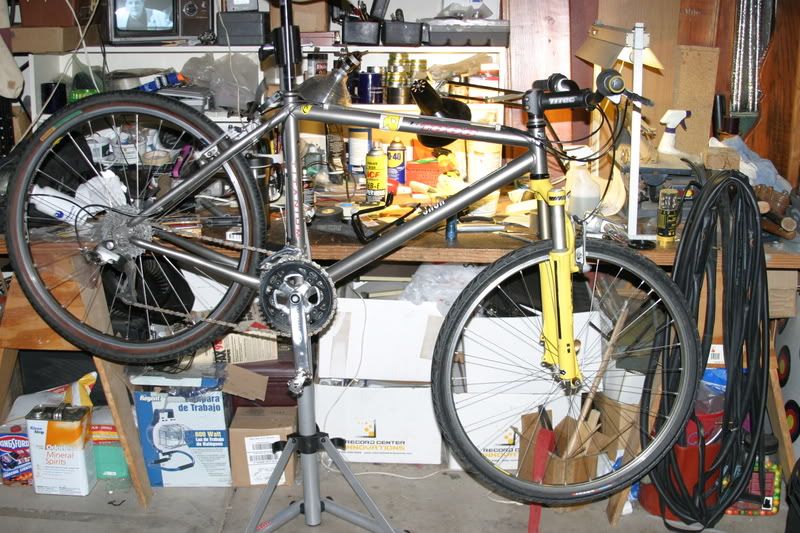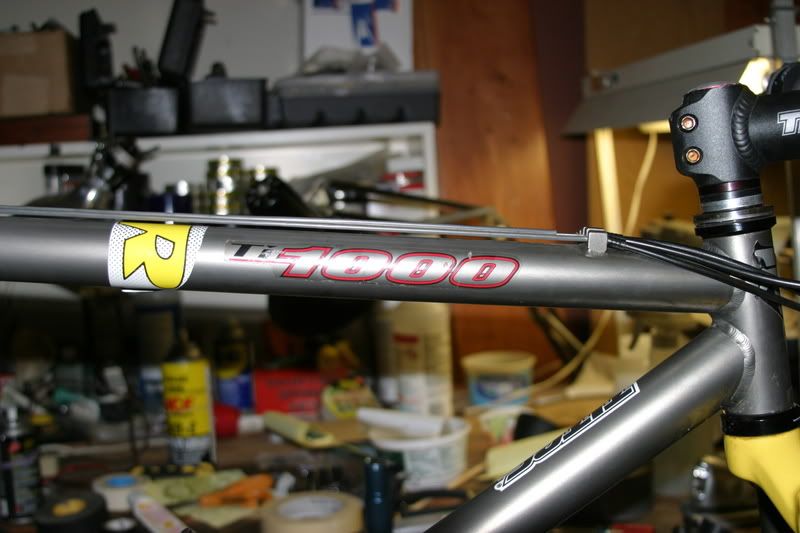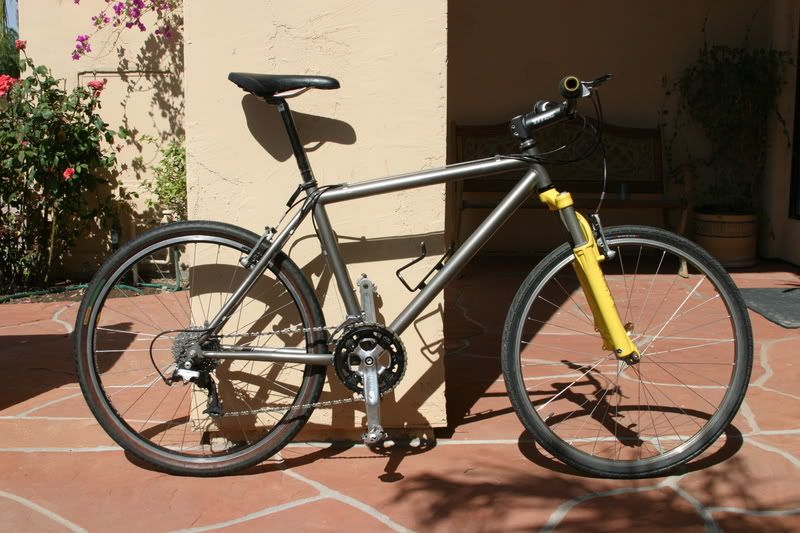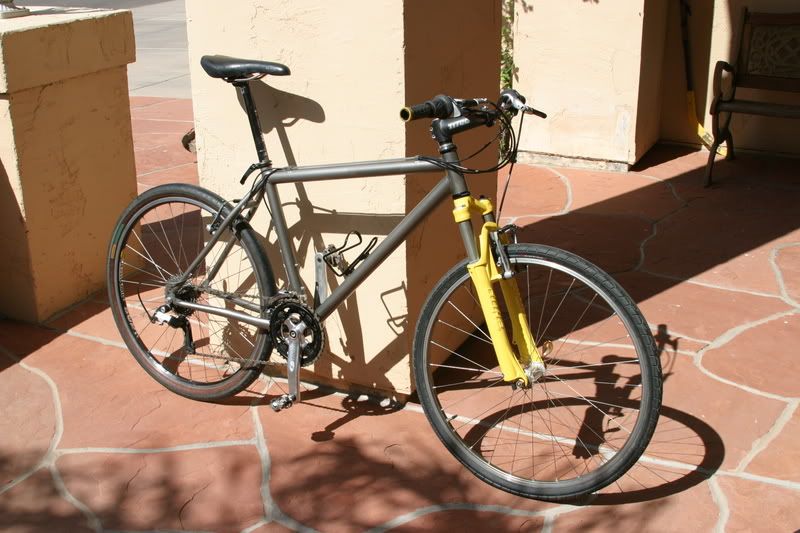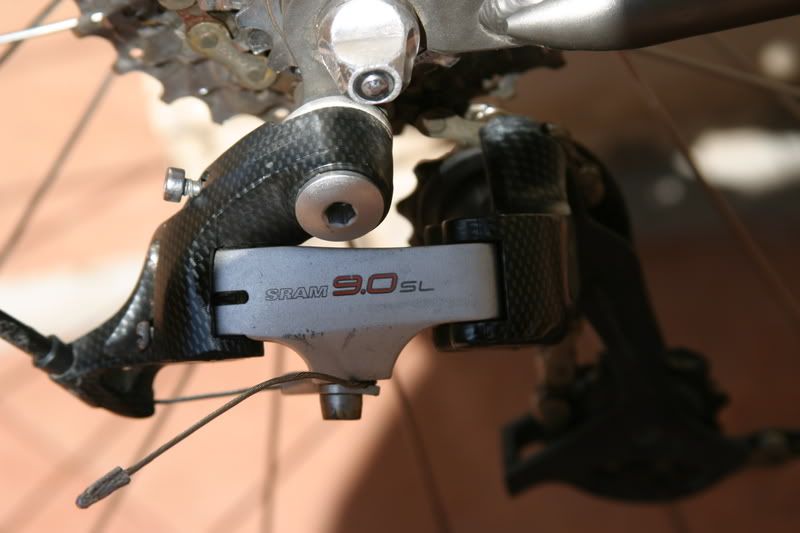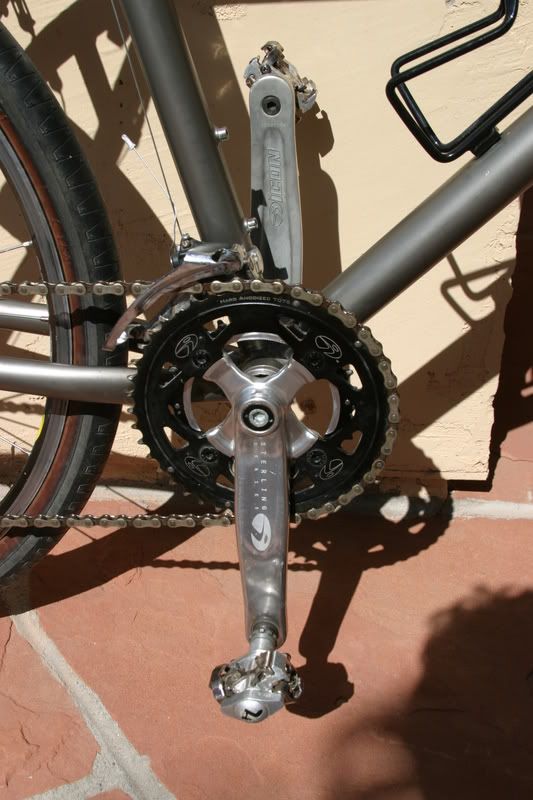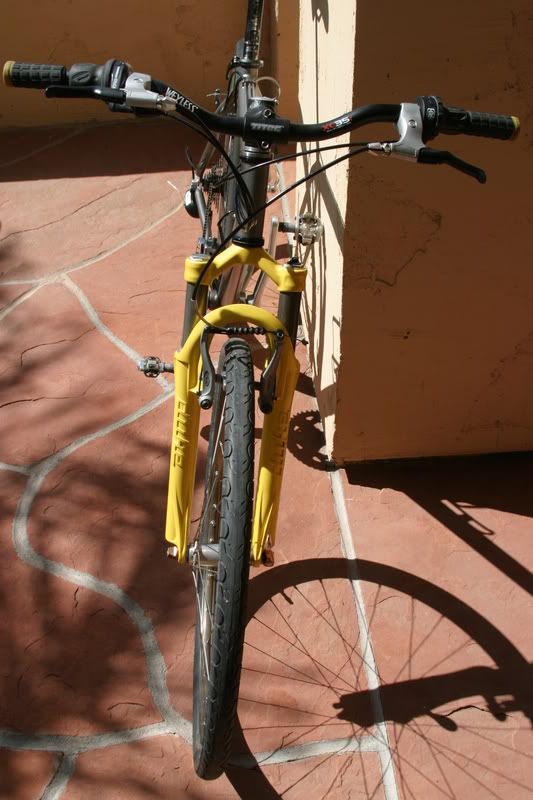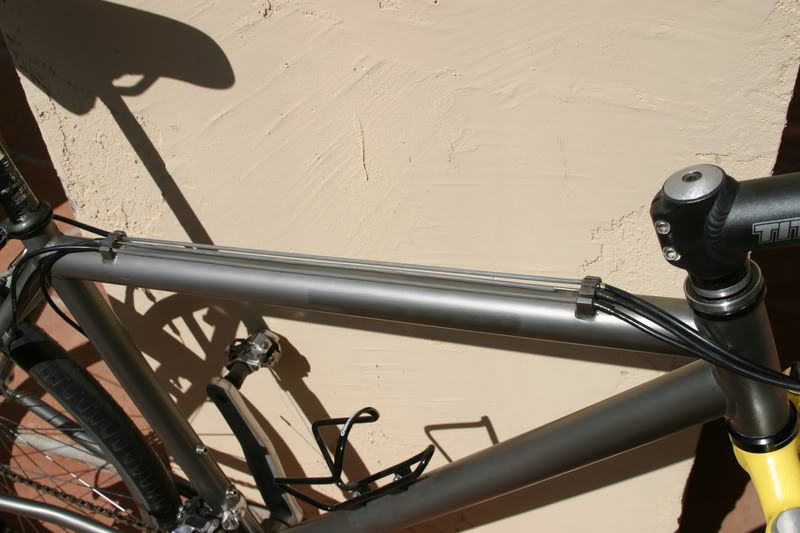 04-20-08, 03:07 PM
Te mortuo heres tibi sim?
Join Date: Aug 2004
Location: East coast
Posts: 3,486
Bikes: hardtail, squishy, fixed roadie, fixed crosser
Mentioned: 0 Post(s)
Tagged: 0 Thread(s)
Quoted: 0 Post(s)
Likes: 0
Liked 0 Times in 0 Posts
That looks like many frames made for a variety of companies in the late 90s-early 2000s. Many companies farmed out their ti frame production to big companies that cranked out frames for a lot of companies. Could be Chinese or domestic. Looks to be a nicely made frame though, whoever did it.

No idea on specific make, but it isn't a WTB for sure. The WTB ti-Phoenix is very distinctive.

04-20-08, 03:33 PM
Banned.
Join Date: Mar 2007
Location: Lexington, KY
Posts: 668
Bikes: Masi Speciale Fixed, Surly 1x1, 2 70's Bianchi folders, Swingbike, Columbia Cruiser 3 spd, Specialized Big Hit and P.2, Cove G-Spot, Xtracycled Bianchi San Jose.
Mentioned: 0 Post(s)
Tagged: 0 Thread(s)
Quoted: 0 Post(s)
Likes: 0
Liked 0 Times in 0 Posts
The brakes have little screws on the side that set spring tension. If the pad is dragging on the rim tighten the screw on that side, if it is sitting too far out then either loosen that side or tighten the opposing side until they are both sitting about equal.