Found a 19" Bridgesone MB-2. I have a 35" Inseam

09-22-08, 05:40 PM
Senior Member
Join Date: Jan 2008
Location: Nashville, TN
Posts: 491
Bikes: Geared Road: 94(?)Giordana Capella - SS Road: KHS Flite 300 Conversion - MTB: '94 Univega CB S8.3
Mentioned: 0 Post(s)
Tagged: 0 Thread(s)
Quoted: 0 Post(s)
Likes: 0
Liked 0 Times in 0 Posts
Found a 19" Bridgesone MB-2. I have a 35" Inseam
---
I have a thread in the Classic and Vintage forum and we're discussing size. I found a local Bridgestone MB-2 with a 19" frame. I rarely come across nice older MTBs. I have a 35" inseam. Would this bike be out of the question? I read that sizing is more lax with mountain bikes. If I should have a 21"-22" frame, could I possibly swing it. Maybe with a lot of seatpost and a tall, long stem with riser bars? How many of you prefer a considerably smaller frame?
Just looking for opinions! Sorry for cross posting!
Here's the bike. It already has a pretty tall stem.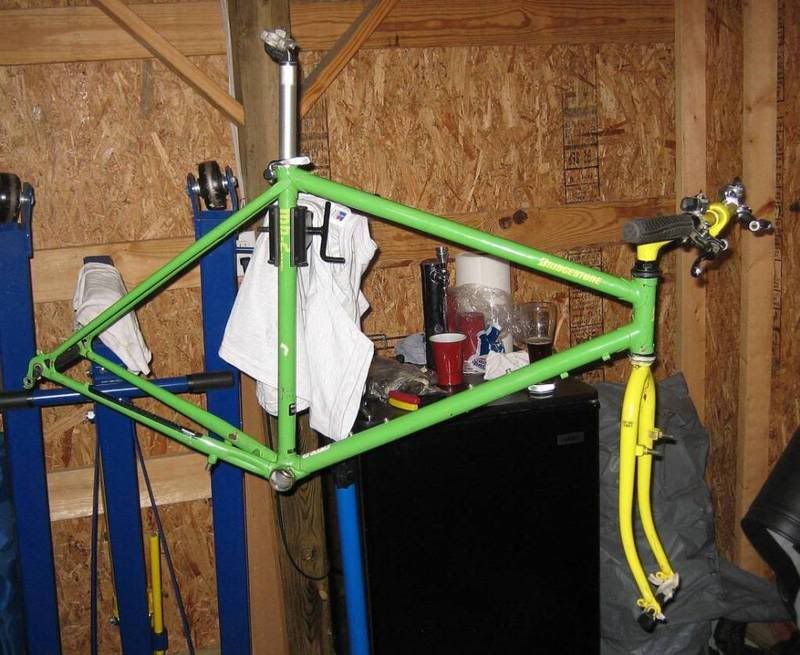 Thanks!
-Eric

09-22-08, 05:52 PM
i bunnyhopped your mom
Join Date: Sep 2008
Location: your mom's place
Posts: 162
Bikes: Mongoose Raid, 2 mole yoro's, and a Diamondback Grind
Mentioned: 0 Post(s)
Tagged: 0 Thread(s)
Quoted: 0 Post(s)
Likes: 0
Liked 0 Times in 0 Posts
my inseam is 32, and I ride a 22'' frame. it's supposedly too big for me but it's actually fine. this should be okay if you raise the seat and stuff. you are right, with mountain bikes, the size is more lax.