oldie: my WTB Phoenix project

12-04-10, 05:36 PM
Senior Member
Join Date: Oct 2005
Posts: 1,266
Bikes: (Koga) Miyata, WTB, Fat Chance, Mountain Goat, Grove, Verlicchi, Rafty, Panasonic, Vitus, Gazelle, Batavus, Zieleman, Presto, Peka, RIH, Reus, Vittorio, Simon, Duell, Fongers, Concorde, Alan, Zebrakenko
Mentioned: 4 Post(s)
Tagged: 0 Thread(s)
Quoted: 13 Post(s)
Likes: 0
oldie: my WTB Phoenix project
---
I am enjoying MTB'ing for over twenty years now. From late 90s on I sticked with the material I already had and all that was bought 'new' were classics of yesteryear. This WTB Phoenix is one of the last projects I did.
This was how it looked when I picked it up >>
Setup as commuter for someone who used it to pedal between his home and his work: musician at Amsterdam philharmonic.
I decided I wanted it to look different and setup for another surpose.
Good inspiration >>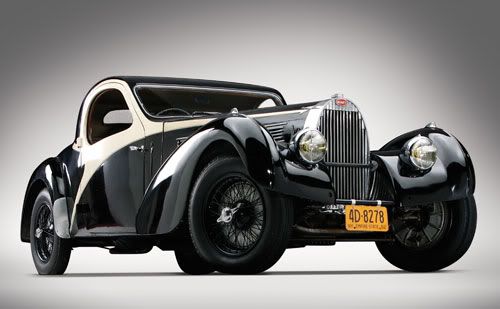 Bugatti T57c Atalante. Old Bugatti stood for
Arte - Forme - Technique.
Actually the WTB Phoenix is its equivilent on two wheels and human powered.
The result >>
Deep gloss black with mouse grey lower section of Type II fork.
The lettering is sprayed on in mouse grey with a silver outline (dt).
For people not familiar with the WTB: The Phoenix frame is handcrafted by Steve Potts, one of the three founders of WTB. The other being Mark Slate and Charlie Cunningham. Frame design of the Phoenix is heavily influenced by the later. From late70s/early 80s on Charlie Cunningham contributed a lot to the way how our mountainbikes looked like in the upcoming decades.
The frame is extremely slooping. A 15" counts as Medium. The philosophy is that the slooping top tube delivers clearance for manouvrability and that the configuration of the relatively short OS tubing in the tight triangles deliver efficient power transfer, while the long seatpost offers some vertical forgiveness. Viola.
The frame is put together using the welding and brazing technique. Brazing for example with the fillet brazed chin at headtube-downtube connection for improved impact resistance and durability.
Of course the WTB comes with WTB's own patented Grease Guard system. Through the Grease Gooser gun the grease enters through ports, travels through circuits, presses old grease out ...and viola your bearings run with fresh new grease

The following parts use Grease Guard:
- WTB New Paradigm hubs
- WTB New Paradigm headset
- WTB New Paradigm bottom bracket
- WTB Toggle- and Rollercam
- Suntour XC Pro pedals (Suntour acquired license from WTB)
The tail of the frame is 140mm wide and the hub is the matching example for this frame. This is done to reduce dish and creating a stronger wheel. They initiated this with the introduction of the 8 speed system.
The fork is a Type II with Speedmaster studs for in this case the Toggle cam brake. The rear uses a Roller cam that sits mounted under the chainstays. The Phoenix with studs for the cams was officially denoted with 'Phoenix SE' (SE for Special Edition).
A Race Face EX 4130HT stem is holding a Groovy Cycles custom bend ti bar (thanks Rody

). The Race Face stem is not the only Canadian touch to this bike. The other is the Syncros crankset.
The next project will be a 80s Gazelle Champion Mondial ATB with Campagnolo Euclid.

12-05-10, 06:22 AM
Senior Member
Join Date: May 2007
Location: Flagler Palm Coast, FL
Posts: 1,959
Bikes: 1986 Fuji Allegro 12 Spd; 2015 Bianchi Kuma 27.2 24 Spd; 1997 Fuji MX-200 21 Spd; 2010 Vilano SS/FG 46/16
Mentioned: 0 Post(s)
Tagged: 0 Thread(s)
Quoted: 5 Post(s)
Likes: 0
Liked 0 Times in 0 Posts
Inspirational work, bravo, thanks for sharing the photos.

12-05-10, 09:54 AM
Senior Member
Join Date: Oct 2010
Location: Paulina, LA
Posts: 50
Bikes: 2009 Cannondale F4 with Lefty Speed DLR, 2010 Trek 1.1
Mentioned: 0 Post(s)
Tagged: 0 Thread(s)
Quoted: 0 Post(s)
Likes: 0
Liked 0 Times in 0 Posts
Good work on the bike. The information you provided was also nice. I like the new paint scheme much better than the old one.

12-05-10, 10:01 AM
Bike Junkie
Join Date: Jun 2005
Location: South of Raleigh, North of New Hill, East of Harris Lake, NC
Posts: 9,553
Bikes: Specialized Tarmac, Specialized Roubaix, Giant OCR-C, Specialized Stumpjumper FSR, Stumpjumper Comp, 88 & 92Nishiki Ariel, 87 Centurion Ironman, 92 Paramount, 84 Nishiki Medalist
Mentioned: 1 Post(s)
Tagged: 0 Thread(s)
Quoted: 47 Post(s)
Likes: 0
Beautiful paint job and nicely re-done. You should post that over on the C&V vintage mountain bike thread as well.
Was that the same Cunningham that joined Nishiki for a few years?
__________________
Roccobike BF Official Thread Terminator

12-05-10, 12:49 PM
Senior Member
Join Date: Oct 2005
Posts: 1,266
Bikes: (Koga) Miyata, WTB, Fat Chance, Mountain Goat, Grove, Verlicchi, Rafty, Panasonic, Vitus, Gazelle, Batavus, Zieleman, Presto, Peka, RIH, Reus, Vittorio, Simon, Duell, Fongers, Concorde, Alan, Zebrakenko
Mentioned: 4 Post(s)
Tagged: 0 Thread(s)
Quoted: 13 Post(s)
Likes: 0
Thanks all
I already posted it in the C&V MTB topic, but I doubt whether many noticed it. The topic seems very much centered around mid range bikes.
The Cunningham you are referring to is Richard Cunningham. He has been editor of MTB Action, was involved in the design of a couple Nishiki models and were the man behind Mantis. Charlie Cunningham is covered on this site >>
www.cunninghambikes.com
You will notice his Cunningham bikes show a lot resemblance in design and tech with this WTB Phoenix.
Charlie is married with Jacquie Phelan - another MTB legend (also under the link)
Thread
Thread Starter
Forum
Replies
Last Post

Posting Rules
You may not post new threads
You may not post replies
You may not post attachments
You may not edit your posts
---
HTML code is Off
---