A quick review of the 2009 SID Team & Jagwire Cables/Housing

12-09-10, 04:53 PM
Just give'er.
Join Date: Nov 2003
Location: SF Bay Area
Posts: 1,899
Bikes: 04 Scrap
Mentioned: 0 Post(s)
Tagged: 0 Thread(s)
Quoted: 4 Post(s)
Likes: 0
Liked 0 Times in 0 Posts
A quick review of the 2009 SID Team & Jagwire Cables/Housing
---
Hey everyone,
It's been a _long_ time since I posted here. 3-4 years ish. I wonder if anyone is still around from that time...danka24 turned something turned Dannhilator and so on....
Anywho, in the meanwhile, I sold my 04 Scrap frame, got an 08 NS Suburban in green 1.5 years ago.
I also picked up an 05 Devinci Moonracer XTR spec'd for 1200 CAD and a SID Team from 09 for 400, earlier this year.
I don't have a lot of time on me so I'll just do a quick run down on two of the products I've used a lot recently and I'll answer any questions you have about the bikes that I have.
1) 2009 SID Team
Features: Lockout, Lockout threshold adjust, Rebound, Air Shock
Super light, super responsive. Used it at both 80 and 100mm travel settings and both were super snappy and fast. Not nearly as rigid as my Manitou Gold Label, but that's to be expected for a fork under 4 lbs and meant for XC.
It does track well for XC rides and has excellent slow bump sensitivity. The power bulge appears to make the fork less flexy However, I'm not sure how great it is at fast bumps. Because air is some sort of an exponential curve, you lose the shallower slant of the curve alot during sag. Bumps don't trigger very easily, it seems, but it will still easily absorb rocks roots, anything that's bigger than rapid slight depressions.
Due to the price it cost and how much I'm using it, I'm actually letting it go. Replacing it with an old 05 MX Pro that I grabbed for 50.
2) Jagwire Cables
I threw these on a year ago on my bike. I left them completely sealed from front to back (no breaks in the line) and the O rings at the ends of the housing was left intact. After just a month of not-super-heavy use and good weather conditions, housing fibres started coming out of the end of the housing.
I kept using them for another year and the situation didn't get much worse but there was alot of noticeable drag and grainy feeling in the cables. For the price that they retail for (35 bucks for a set of brake housing and cables front + rear in Canada although I got them at a deal for 10 bucks at a close out) I find these to be some of jagwire's not as great products...at least for 35 CAD. For 10...you can't go wrong. Especially since you get a choice of colours..
I recently ebay'd a set of XTR brake housing + cables and I hope they're a ton better.
A very old and unupdated photo of my NS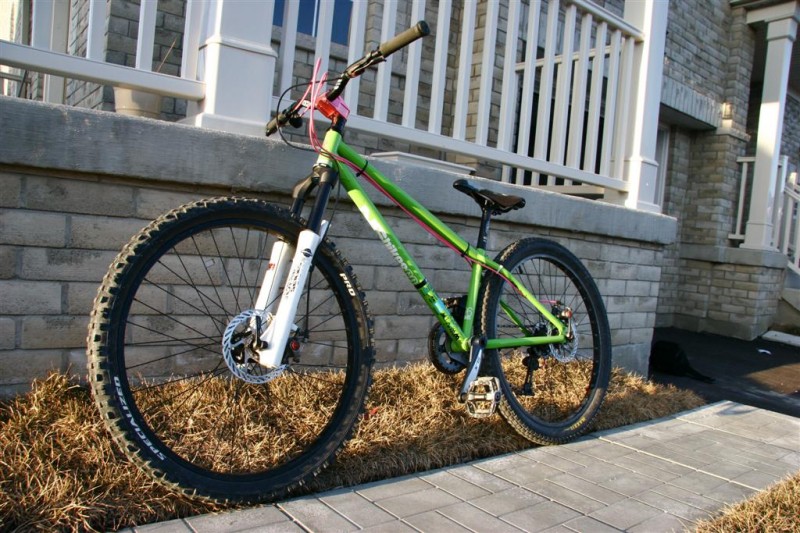 12-09-10, 05:57 PM
one less horse
Join Date: Aug 2003
Location: East Jesus NY
Posts: 5,600
Bikes: are better than yours
Mentioned: 0 Post(s)
Tagged: 0 Thread(s)
Quoted: 0 Post(s)
Likes: 0
Liked 0 Times in 0 Posts

12-09-10, 07:49 PM
Still kicking.
Hey.

Nice bike.
__________________
Appreciate the old bikes more than the new.
Thread
Thread Starter
Forum
Replies
Last Post

Posting Rules
You may not post new threads
You may not post replies
You may not post attachments
You may not edit your posts
---
HTML code is Off
---