DEADBEEF
Join Date: Aug 2002
Location: Catching his breath alongside a road near Seattle, WA USA
Bikes: 1999 K2 OzM, 2001 Aegis Aro Svelte
Posts: 12,234
Mentioned: 0 Post(s)
Tagged: 0 Thread(s)
Quoted: 1 Post(s)
It should fit okay but it also depends on how much exposed rail you have astern of the clamp. That bag is fairly big and I personally don't like those types of bags with the foam insert for the tools. For one thing, the tools tend to dislodge themselves easily and you end up with a jumbled mess regardless of the inserts. I also think that the setup wastes space. I personally prefer a mini-multitool. I have two versions of that wedge bag but without the survival insert. One is a micro sized one and allowed me to carry a bare minimum of stuff. I was able to cram a Topeak Alien, patchkit, a small bottle of lube, some spare links, a presta-schrader adapter, spoke wrench for my Ksyriums inside it. On the outside, I was able to strap a spare tube to the bottom.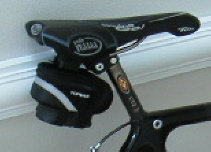 I also have the large sized expanding bag and while I found that it looked huge and ugly on my bike, the biggest concern was that it was very wide and my legs would come into contact with the sides which was disconcerting after about the first 10 miles of riding. Wanting a little more room than the micro while still maintaining some compactness, I decided to switch to the Topeak Aero Wedge (small) instead. Because of its larger size, I'm able to stuff a little more into it. Also, I can stow the spare tube inside it as opposed to strapping it to the outside where it has fallen off before. I now also carry a lightweight retractable cable-lock (Kryptonite Gear Gripper) inside it.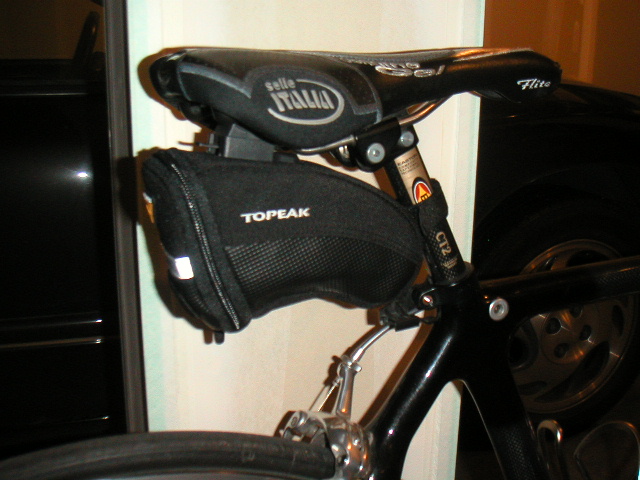 Topeak makes a Survival Aero Wedge but I believe it's the same size as the medium aero wedge which I also have and have found is also too large for my tastes and doesn't quite conform right to my setup.
__________________
1999 K2 OzM


2001 Aegis Aro Svelte
"Be liberal in what you accept, and conservative in what you send." --
Jon Postel
, RFC1122
---
Last edited by khuon; 11-01-04 at

03:33 AM

.